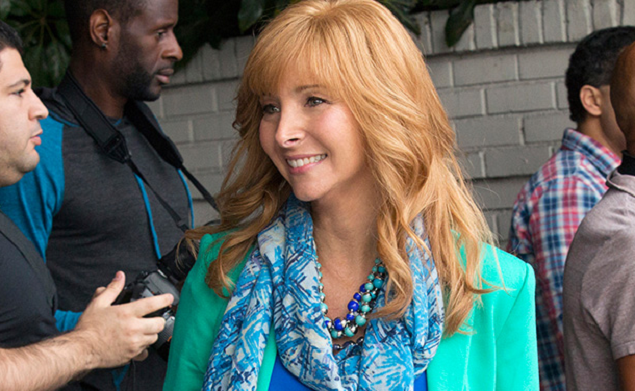 For anyone who wasn't a fan of the original Michael Patrick King HBO comedy The Comeback when it first aired in 2005, I would beg you to watch the first episode of its belated second season. No, it's still cringe-worthy comedy about an egotistical older actress, Valerie Cherish (Lisa Kudrow) trying to parlay her short-lived, decades-old hit into a current career. But now we're seeing the world from her point of view. Consider this speech in Sunday night's episode, given by Valerie as she reads for Mallory, a character based on herself as conceived by her former Room & Bored co-writer, Paulie G. Valier gets word that his new film, "Seeing Red," is based on their experiences together, and while she goes down to the studio with the intent of suing him, she ends up reading for the part of herself.
"You think I'm this dried-up middle-aged woman. Look at the jokes you write. Look at the tracksuit you make me wear. All saying the same thing: I'm old. I'm annoying. I'm unfuckable. Well, I'm not the joke. You are, Mitch. And instead of spending all your time trying to make me the joke, why don't you do your job and write me one, huh? A real joke, Mitch! Not you and your boys off in a room making fun of an old woman's pussy. Yeah, I heard you. I heard what you think of me. I heard it. Well maybe you, and everyone in television—whoops, said it wrong. OK. Well maybe you and everyone in the television business can't see me as desirable. But there are plenty of men out there who—but there are plenty of men out there who would still want to fuck an old lady like me. So fuck you, Mitch. Just fuck you. And fuck you!"
In each reading of that final line her voice goes up an octave to a half screech directed at the man who made her life such a living hell on R&B and is now collecting a paycheck for her life story. The moments uncomfortable because even in her ownership of the moment, Valerie can't say what she really feels. She needs to be reading a script written by this man; she needs to "audition" to play herself.
Still: That "fuck you Mitch!" Is the saving grace of The Comeback, and Kudrow and King have done well to hit that note early on in their new episodes. Because my problem with the first iteration wasn't that Valerie was unlikable or unrelatable (I mean she was both, at times, but that was beside the point): it was how the show was by equal terms nasty, contemptuous, and pitying of its lead. That faux-documentary style felt dated even then; another way to catch characters muttering dismissive barbs through tightly clenched teeth or rolling their eyes behind Valerie's back. (Or to her face.) And the twist of the knife was that Valerie was not nearly as daft as she had to pretend to be in front of these network assholes, nor as delusional she had to be in her confessionals. Unlike the oafs on The Office or Kenny Powers, Valerie knew everyone was making fun of her. It didn't feel fun. It felt mean.
I like my comedies dark, but The Comeback was nihilistically bleak. Even worse, it made its audience complicit in the show's cruel judgment towards Valerie and her more irritating qualities. I have no problem watching a show about "unlikable" people (since the opposite is hard to find the opposite these days in all these male anti-heroes). I am comfortable with my anti- heroines being flawed women; being "annoying" women; being spoiled and privileged and petty women. I mean shit, I'm not holding a Best Friend Audition. (Yes I am. later. My place.)  i just want some compelling TV.
But The Comeback wasn't comfortable (at least not initially) with this kind of protagonist. Valerie's needed to know her place. How dare she think of herself as still a star! The Comeback became a series of unfortunate ways she could be publicly mocked and ridiculed while seething through he fake Hollywood megawatt smile.
As Tyler Coates put it in a brilliant piece on Decider.com: "Valerie Cherish doesn't really deserve our derision, but The Comeback seems bent on making us find her awful. And there's something really unfortunate about that: making the object of our ridicule a middle-aged woman who is, by all accounts, a nice person, and simply working in an industry that already treats people like her as disposable."
Now moments have been changed. Valerie is finally getting back some of her agency. She is biting back. She is saying "Fuck you Mitch." Valerie might be having a "comeback," but it feels like we are meeting her for the first time.