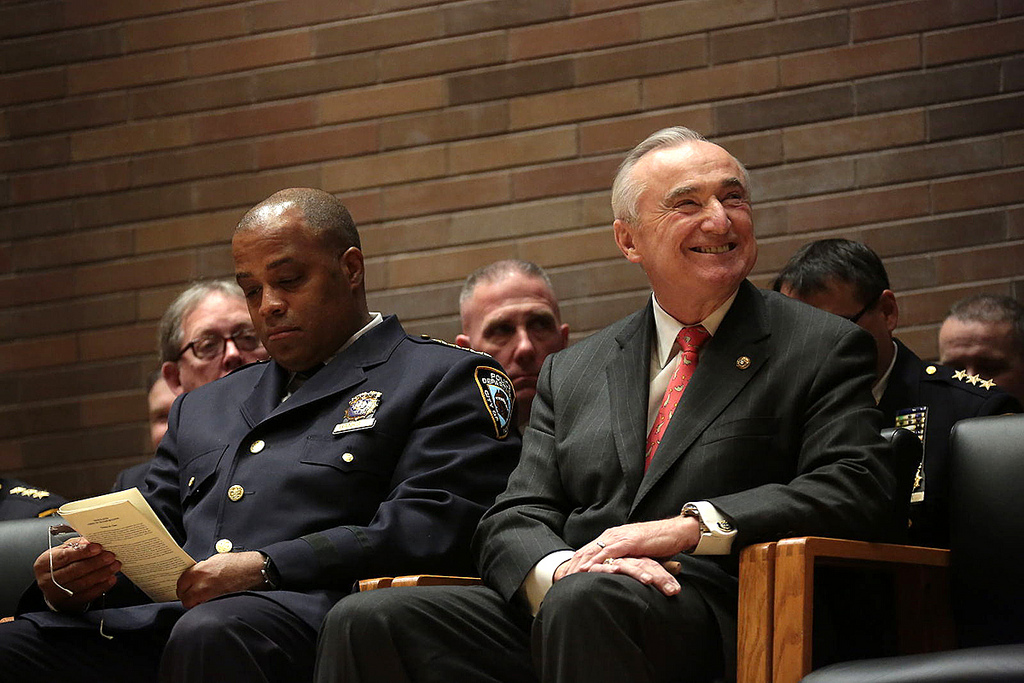 Former Chief of Department Philip Banks broke his silence on his abrupt resignation this evening — saying he stepped down because he believed a promotion to first deputy commissioner would have taken him away from "police work and operations."
"In this case, while serving as First Deputy Commissioner would have been an honor, I felt that the position would take me away from where I could make the greatest contribution: the police work and operations that I love so much," Mr. Banks said in a statement. "While Commissioner [Bill] Bratton and I both made good-faith efforts to bridge that gap, we were not successful. For that reason, I informed the Commissioner that I could not serve in that role, and he graciously accepted my decision."
Mr. Banks, who has been with the department for 28 years, was the NYPD's top uniformed officer and the highest-ranking black police official. He stepped down Friday morning, just days before he was set to start the deputy commissioner job — which was stripped of much of its power under former Commissioner Ray Kelly. Several news outlets reported late last week that while Mr. Banks had been promised the office's duties would be beefed back up — but balked when he realized that wouldn't be the case.
His statement was released shortly after Mayor Bill de Blasio convened a Gracie Mansion press conference with Mr. Bratton to assail the recent news reports surrounding Mr. Banks' resignation and tension among NYPD brass and City Hall — with the mayor and commissioner taking particular issue with a New York Post story that reported Chirlane McCray, Mr. de Blasio's wife, was furious about Mr. Banks' departure, and never trusted Mr. Bratton and fought his appointment.
Mr. Banks's departure has worried a slew of city politicians and police reform groups, and Mr. de Blasio said himself Friday night he was disappointed by the choice. Mr. Banks is the second high-ranking NYPD figure to leave the department in recent months: he was set to replace former first deputy commissioner Rafael Pineiro, the department's top-ranking Hispanic official, who retired in September. Both Mr. Banks and Mr. Pineiro were both on the short list for commissioner.
In his statement — which described his resignation as a "difficult decision" — Mr. Banks noted the swirl of questions surrounding his decision.
"While I recognize that I was a public servant, I am a private person. However, in light of the attention my decision has received and the ongoing inquires it has generated, I thought it was in everyone's interest that I make a few points," Mr Banks said. "Since I feel that attention should be on how to make the finest police department in the world even better, I ask everyone to understand that I will not be commenting on this any further."
The former chief said he'd always be grateful to the department, and that he believed it was Mr. Bratton's right and responsibility to pick his own personnel and assign them duties.
Many have pointed out a lack of diversity in police brass with Mr. Banks' departure — at a time when tensions are high over the death of Eric Garner in police custody. On the other end of the spectrum, police union heads have assailed the mayor as paying too much attention to what advocates like Rev. Al Sharpton think and have accused him of making the city less safe and alienating rank-and-file cops.
But despite his decision to leave — and despite those attacks on the NYPD from both sides — Mr. Banks said he thought the department was in good hands.
"I am at peace with my decision and ready to begin the next chapter. I have every confidence that Mayor de Blasio and Commissioner Bratton will continue to build a department which every New Yorker can be proud of," Mr. Banks said. "While I will no longer be part of that worthy mission, I believe we should all support them."