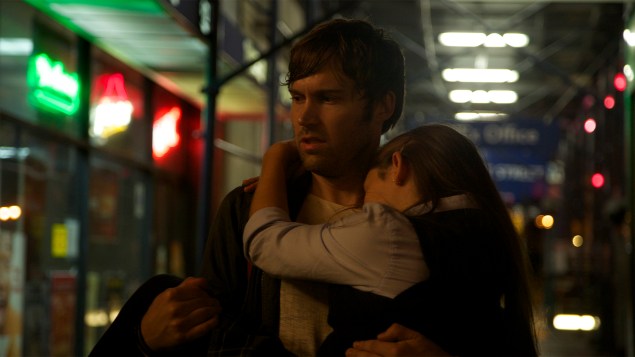 Shawn Christensen is an attractive young actor who makes a misguided and mistaken entry into independent filmmaking with a dreary, dark and desultory little night foray through the bars, bowling alleys and subways of New York after midnight in Before I Disappear. He also wrote the miserable script and directed, unwisely. He deserves a better vehicle, and if he can do so many jobs at the same time, I can only wonder why he hasn't given himself one.
---

BEFORE I DISAPPEAR ★
(1/4 stars)

Written and directed by: Shawn Christensen
Starring: Shawn Christensen, Emmy Rossum and Ron Perlman
Running time: 93 min.

---
Told in a series of unfinished letters to a girlfriend who has dumped him, Before I Disappear has a promising idea: a man named Richie who has just slashed his wrists in a bathtub of blood gets a phone call from his sister Maggie, whom he hasn't seen in five years, pleading with him to pick up her daughter Sophia after school. So he bandages his cuts and staggers through the ordeal, dropping her off at her mom's penthouse apartment alone. Back at his own sordid pad, he swallows 20 sleeping pills and prepares to die again but they only make him feel like a bag of rocks. When he calls the doctor in a panic, he finds out the pills were menopause medicine.
But before he can settle on a more efficient way to commit suicide, his niece calls again to tell him her mother is still not home and she's scared. He heads out again, and before he can get Sophia to bed, Maggie calls again with bad news. She's in a holding cell at the police station and he's stuck with the kid until Maggie's arraignment at 4 a.m. Naturally, he does what any uncle in the throes of suicide postponement would do. He drags the child through a series of sleazy drug dens and sordid toilets until he reaches the one where the night before he found the body of a woman who died of a heroin overdose administered by his boss (Ron Perlman).
Up to now the movie only seems like a comedy. It really ratchets up the laughs when the craggy, werewolf-faced Mr. Perlman, who has made a career out of playing monsters, says, "Death isn't just a destination for you. It's a part of you. It's woven into the fabric of your soul. There's nothing you can do but embrace the fact that every day of your life oughta be your last." Doesn't every drug-dealing thug talk like that?
Richie heads home at last, finds a new razor blade and climbs into another tub of blood, but wouldn't you know it? The pesky phone rings again, and this time … but why continue? This movie dropped dead an hour ago. Mr. Christensen the director betrays Mr. Christensen the actor too many times to count, but it's worth noting that his eclectic tastes in source music includes Beethoven's "Fur Elise," Bizet's "Habanera" from Carmen, and Billie Holiday. The rest of it typifies the kind of experimental home movies that open every Friday and disappear without a trace three days later. This one was produced by Fuzzy Logic Pictures, a company hell-bent on living up to its own name.