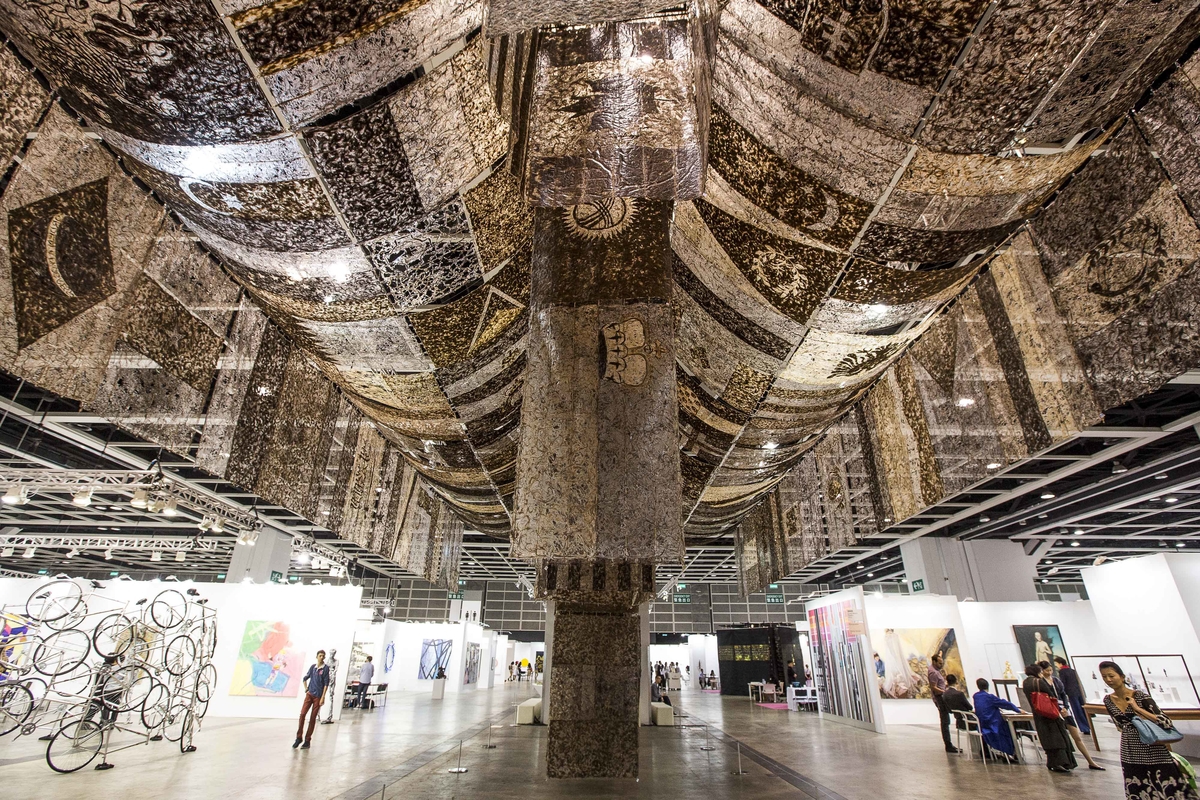 This March, everyone will get on very long flights heading toward the third edition of Art Basel Hong Kong. And so now we have the list of everyone participating, which is a total of 231 galleries across all the sectors. That's 14 fewer galleries than last year, but for the most part the list is very similar, with a few notable newcomers from New York: Andrea Rosen Gallery, Skarstedt, Eleven Rivington, and Tyler Rollins Fine Art. Gladstone Gallery, Dominique Lévy Gallery, and Sprüth Magers are all coming back after a break.
The full lists for the Galleries, Insights and Discoveries sectors are below. The fair takes place from March 15 – March 17.
GALLERIES
Delhi Art Gallery
Kukje Gallery / Tina Kim Gallery
Lelong Editions
Galleria d'Arte Maggiore G.A.M.
Galerie Urs Meile, Beijing-Lucerne
Galerie nächst St. Stephan Rosemarie Schwarzwälder
Shanghai Gallery of Art
Susanne Vielmetter Los Angeles Projects
INSIGHTS
100 Tonson Gallery | Yuree Kensaku
Gallery 55 | Noritoshi Hirakawa
A Thousand Plateaus Art Space | Chen Qiulin
Athr Gallery | Ahmed Mater, Dana Awartani, Ayman Yossri Daydban, Nasser Al Salem
Yumiko Chiba Associates | Keiji Uematsu, Norio Imai
Gallery EM | Nakhee Sung, Hyungsun Chang
Yoshiaki Inoue Gallery | Jiro Yoshihara
Michael Janssen Berlin-Singapore |Yukinori Yanagi
Michael Ku Gallery | Luo Jr-shin
Nanzuka | Hajime Sorayama, Keiichi Tanaami, Harumi Yamaguchi
Nature Morte | Subodh Gupta, L.N Tallur, Faig Ahmed
Pékin Fine Arts | Chen Shaoxiong, Wang Luyan
Project Fulfill Art Space | Yu-Cheng Chou
Misa Shin Gallery | Tadashi Kawamata
Gallery Side 2 | Takeo Hanazawa, Udomsak Krisanamis, Yuko Murata
Standing Pine | Kenji Sugiyama
dianne tanzer gallery + projects | Yhonnie Scarce
Gallery Isabelle van den Eynde |Mohammed Kazem, Hassan Sharif
Wei-Ling Gallery | Anurendra Jegadeva
Gallery Yamaki Fine Art | Takesada Matsutania, Tatsuo Kawaguchi
Yavuz Gallery | Pinaree Sanpitak
DISCOVERIES
ARATANIURANO | Hiroyuki Oki, Motonao Takasaki
Blindspot Gallery | Trevor Yeung
Carroll / Fletcher | Karmelo Bermejo
Eleven Rivington | Mika Tajima
Hales Gallery | Rachael Champion
Hopkinson Mossman | Oscar Enberg
Darren Knight Gallery | Jon Campbell
Kraupa-Tuskany Zeidler | Guan Xiao, Katja Novitskova
Francesca Minini | Mandla Reuter, Alice Ronchi
Mujin-to Production | Tsubasa Kato
Night Gallery | John Patrick Walsh III
Galeria Plan B | Achraf Touloub
RaebervonStenglin | Kilian Rüthemann
Raster | Olaf Brzeski, Aneta Grzeszykowska
Shrine Empire Gallery | Samanta Batra Mehta
Star Gallery | Ling Wen, Yan Cong