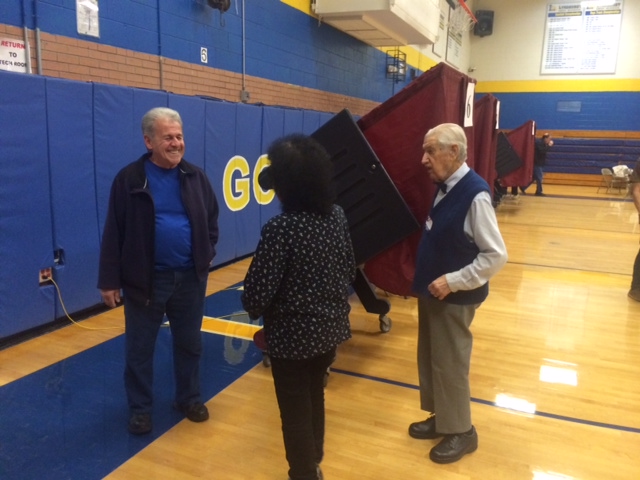 LYNDHURST – Lyndhurst High School sits not far from where Bergen Democratic Chairman Lou Stellato lives and where Republican Bergen County Executive Kathleen Donovan grew up. On the day when voters decide to keep Donovan in or install her Democratic challenger Jim Tedesco, the views expressed from Lyndhurst voters regarding the Bergen County Executive's race did not paint a clear picture of where south Bergen voters' loyalties lie.
"I think turnout has been high, and it's my civic duty to come out and vote," said Joan Harrington, 80, who works for the Bergen County government, outside of the polling station in the bright sunshine on Tuesday. "Naturally, I voted for Kathe Donovan. She's done a good job, she's honest, and she's good to the people."
"I think this whole election is a referendum on President Obama, including with health care. My health care insurance went up over $3,500 in the last two years. That's the key to me," said Carmelo Roman, 57, a state code enforcement officer. "As far as the county, our money needs to be spent on our streets and on our school systems. Our kids are first. Name recognition is important, too."
Roman declined to say who he voted for in the county executive's race before he left his polling place with his family.
"A lot of people are tired of the status quo and broken promises," said Roman. "Even without the good weather, you're going to get good turnout because people are really concerned about what's happening."
Other voters who spoke to PolitickerNJ also seemed to express mixed feelings about the county executive vote.
"I vote for who I know. I go by what I read in the paper and from the flyers that show up. But politicians are politicians," said Joyce, a retiree in her seventies who used to work in market research, shrugging as she left the polls, also declining to indicate who she voted for. "I'm a Democrat, but not 100 percent. It depends on who runs. This is when I read to see what they do."