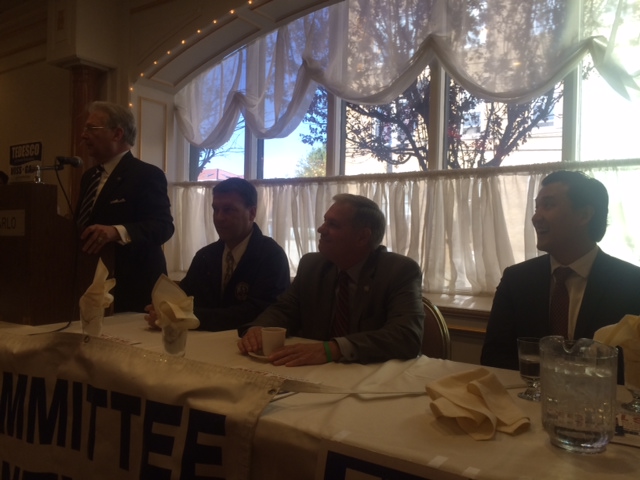 LYNDHURST – Bergen Democratic Chairman Lou Stellato stood before more than 250 politicos and Democratic Party faithful on Monday morning and made both a declaration and a vow.
"South Bergen has been taken for granted," said Stellato at his annual election-eve breakfast at the San Carlo restaurant in Lyndhurst. "We've got to get out the vote. I'd rather lose with an 80 percent voter turnout that win with a 30 percent voter turnout. You've got to vote. Bergen County is bigger than five states. We're the real deal."
The importance of Bergen County on a statewide level was evidenced by the presence of U.S. Cory Booker (D-NJ) and U.S. Rep. Bill Pascrell (D-9), who are seeking reelection.
But political observers around New Jersey are particularly focused on two Bergen-based races: Democratic Freeholder Jim Tedesco's attempt to oust Republican incumbent Kathleen Donovan, and Democrat Roy Cho's bid to unseat GOP incumbent U.S. Rep. Scott Garrett in the Fifth Congressional District. Approximately 70 percent of the Fifth Congressional District's voting population lives in Bergen County.
"Everyone here in Bergen County has really believed in what we can do," said Cho, 33, an attorney who lives in Hackensack. "We've energized a base in Bergen County that has not been energized. We're really surprised a lot of people. We represent the ideals and values of the American Dream, the values that my [Korean] immigrant parents taught me."
"I'm from Bergen County. I was raised in Bergen County. I raised my family in Bergen County. I've served Bergen County," said Tedesco, 61, a former Paramus mayor who was flanked by Democratic freeholders David Ganz and Joan Voss, who are seeking reelection. "It would be an honor to serve you as county executive."
South Bergen Democrats will have to answer the call in particular against Donovan, a Rutherford resident who was raised in Lyndhurst, on Tuesday. State Sen. Paul Sarlo (D-36), whose district covers south Bergen, put the pre-election scene in perspective.
"We're blue-collar, and that's OK," said Sarlo. "Enough of the eggs and coffee. Now let's go out and work."