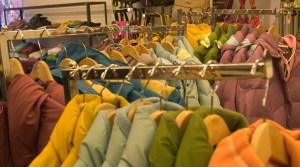 It's hard to be a huge corporate brand sometimes! Always moving to new places, always meeting new people, always having to care about money, but acting like you're not the type who has to ever care about money. And then, of course, there's the delicate image maintenance: needing to be accessible but not too accessible, exclusive but not too exclusive, fun but not too much fun.
Worst of all, you can't just waltz into a neighborhood anymore, least of all a Brooklyn neighborhood, and expect to be your perfectly focus-grouped, market-feedbacked self. No, now you must be yourself but also "Brooklyn." Which violates not only every rule of big corporate chains—that you should always be the same, no matter where you are—but also the cardinal rule of coolness, which is to never act like you're trying to be cool.
Brooklyn-bound brands, however, can't seem to resist.
Hence, the Williamsburg Starbucks, which celebrated its grand opening yesterday with "partners" stationed by the door telling customers that it was "the coolest Starbucks you're ever going to go into," as reported by DNAInfo. This, apparently, translates to curated decor from local artists, performances by local musicians and a long wooden table for coffee workshops. "One of my goals for this store is for it to really be a neighborhood coffee shop that just happens to be called Starbucks," the manager told DNA.
Though one of the people visiting the shop as a "masochistic experiment" (how cliche) complained to the news site that the Brooklyn bespoke look was "somehow uglier to me than if they constructed a run-of-the-mill Starbucks."
It's not the only awkward foray into fitting in that corporate retailers have made of late. J. Crew, which opened in Williamsburg at the end of September, tried to woo the neighborhood with a limited edition "Greg LaMarche for J.Crew" tote bag, food carts and that old standby, art from local artists. Notwithstanding the neighborhood's dwindling population of local artists. There was also a truly cringe-worthy attempt to reach out to the local community with craft days (a.k.a. Satur-DIYS) on mini-Pinata making and flower arranging.
Of course, some brands, though loath to pass up a good expansion opportunity, are more wary of exposing their carefully cultivated images to potential ridicule. Diesel, for instance, sneakily opened an outpost under the name "101" mixing Diesel products with "Brooklyn-made soy candles, New York-themed nail polish and other products of local artisans," according to Crain's.
But most are not so subtle. Even when they're trying to be subtle. Urban Outfitters, ahem, Space Ninety 8 as it prefers to be called, and Gant have tried to draw possibly-dismissive locals with in-store bars and cafes, figuring, perhaps not incorrectly, that the way to a hipster's heart is through his liver, particularly if King's County whiskey tastings are on offer, as they are at Gant. Though perhaps not when you brag, as Gant's CEO did to Crain's, that the Williamsburg store provides "a new home to hang out in, and a real sense of community."
And Williamsburg's Whole Foods, if the store's Gowanus location gives any clue, will no doubt be a veritable celebration of all things Brooklyn, from Maast Brothers chocolate to an abundance of local crafts brews.
What's unclear is whether there's any point in making the effort. Will a few cursory Brooklyn touches make locals any more likely to patronize a chain store or will they simply see the overtures as patronizing? Is all this effort for tourists, who might be duped into thinking Urban Outfitters of Starbucks tres Brooklyn? Should free classes and events in the service of "getting to know our neighbors," as J. Crew referred to their craft days, be enjoyed as simple giveaways, or examined for signs of greater meaning or moral failing? And don't most of us shop at chain stores anyway? Even if we "hate" it when they open in our neighborhoods?
As for chain stores, no doubt, it can be disorienting to go from being the coolest kid in the mall to discovering that the mall isn't cool anymore, just as so many high school jocks are dismayed to find their powers of persuasion much diminished in college. Nor, as we've pointed out before, are chains the only Brooklyn stores capable of being obnoxious. Still, for brands dipping their toes for the first time into Brooklyn's proverbial waters, we might recommend, with an eye to preserving dearly-held corporate dignity, the hackneyed advice which has fallen on the deaf ears of countless teenagers: just be yourself.