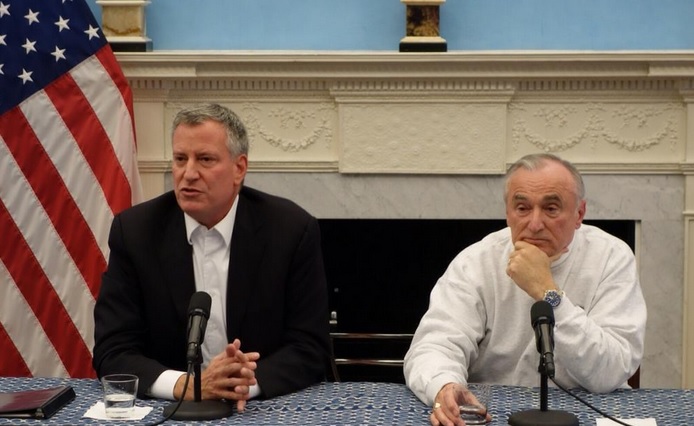 There will be no kumbaya moment for Mayor Bill de Blasio and the New York Post.
Mr. de Blasio and his Police Commissioner Bill Bratton ripped into the tabloid today for telling "flat-out lies," targeting a spate of recent stories which claimed bad blood between Mr. Bratton and a top department official led to the official's abrupt departure and that Mr. de Blasio's wife, a key member of his administration, never wanted Mr. Bratton as the city's top cop.
"I want to say a few words about some of the falsehoods that have been reported over the last few days–accounts that could not have been more wrong about the facts," Mr. de Blasio said at a hastily called press conference with Mr. Bratton at Gracie Mansion.
"Unnamed sources who make up entire conversations in their heads and tell flat-out lies. That doesn't help anybody. That misinformation does not help anybody," the mayor fumed.
The Post, a right-leaning newspaper which has a chilly relationship with the liberal mayor, reported in a front page story today that Chirlane McCray, Mr. de Blasio's wife, never trusted Mr. Bratton and fought his appointment. The news came on the heels of the Friday resignation of Philip Banks, the outgoing chief of department, after he was set to be promoted to be the second highest-ranked official in the NYPD.
Mr. Banks did not feel he would have enough authority under Mr. Bratton, according to multiple reports, and stories have continued to surface about a rift between the mayor and his police commissioner, who once served under Republican Rudolph Giuliani. The mayor and police commissioner repeatedly denied there was any friction between Mr. Banks, the department's highest-ranked minority, and Mr. Bratton. Multiple elected officials voiced their concern after Mr. Banks said he was resigning.
Mr. Banks weighed in himself on his departure shortly after the press conference.
Mr. Bratton was equally irked by the Post's reporting.
"The relationship we have is extraordinary," Mr. Bratton said. "The misrepresentations of the last several days … it's disgraceful."
Mr. Bratton railed against the "fabrications" in the reports and, like the mayor, wholly repudiated the tabloid's "sourcing." The top cop asked reporters why they were "trying to damage" the NYPD.
"I'm not going to be distracted, Commissioner Bratton is not going to be distracted, the NYPD is not going to be distracted," Mr. de Blasio said.