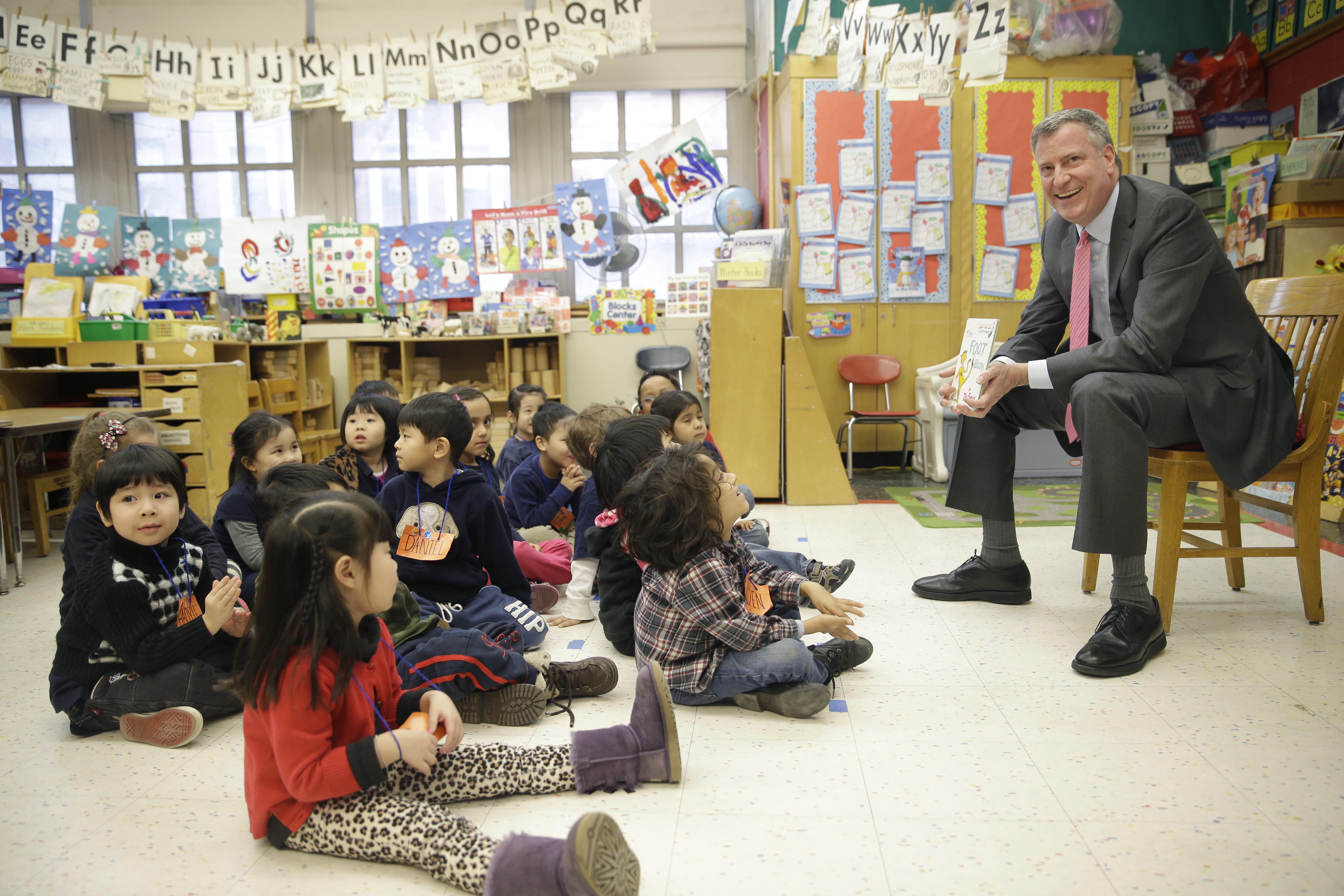 Mayor Bill de Blasio laid out his vision for boosting the city's most challenged public schools today — assailing the previous administration for writing off struggling classrooms and saying he would instead spend $150 million to boost nearly 100 schools.
But while he sharply criticized the closure of schools by Mayor Michael Bloomberg, Mr. de Blasio said he wasn't ruling out the possibility of more closures down the line.
"We will literally move heaven and earth to help them succeed, but we will not wait forever. If we do not see improvement after three years – and after all of these reforms and new resources – we will close any schools that don't measure up," Mr. de Blasio said in a speech at an East Harlem high school. "It's that simple."
In lengthy remarks that often focused on his own experience as a public school parent, the mayor rolled out his "School Renewal Program," which will turn 94 of the city's lowest-performing schools into "community schools" a model long-pushed by Mr. de Blasio that offers social services targeting entire families like food pantries, English-language classes for parents, or mental health and even dental help.
"We're going to do something different. We're going to do something that bluntly has rarely been tried. We're going to give these schools the tools they need to succeed, plain and simple," Mr. de Blasio said.
Each of the struggling schools will also offer an extra hour of class instruction, something the mayor said teachers agreed was necessary to turn schools around.
"Every student in a renewal school will get an extra hour of instructional time, every school day," Mr. de Blasio said. "Now let me be blunt: I know that will make a lot of students unhappy, but there's no way, no better way, to get students on the right track, to help them overcome the challenges, than putting them in the classroom with a capable teacher longer each day — this is the difference-maker."
But even as he left the door open to closing schools — and to changing principals or teachers in schools that are failing — Mr. de Blasio sought to juxtapose his plans for the 94 struggling schools with how the Bloomberg administration approached schools and school closures.
"These are the schools that are most in need of help, and that we will rush help to right away — and the kind of schools that were written off in the past," Mr. de Blasio said. "These schools were written off first with neglect, in so many cases these schools were committing educational malpractice and the help didn't come."
Schools were also written off in a second way, Mr. de Blasio said — when they were slated for closure, often to the dismay of teachers and parents who felt they had little input. The schools themselves did not go away — but the staff, principals and school name would completely change after a three-year phase-out period, and buildings were sometimes split into multiple small schools.
While Mr. Bloomberg and his administration touted the method as giving parents more and better school options, Mr. de Blasio today echoed criticism from many teachers that the schools hadn't been given the opportunity to succeed.
"A lot of schools were simply and abruptly shut down, based on a single standardized test, and that was wrong, and there was not an effort to save them and turn them around that really would have made a difference," Mr. de Blasio said.
Of the 94 schools targeted for the intensive intervention, 43 are in the Bronx, 27 in Brooklyn, 12 in Manhattan, and 12 are in Queens. They were identified by the state as "Priority" or "Focus" schools, showing low academic achievement for each of the last three years and ranking in the bottom 25 percent of city schools on state exam scores, according to the city.