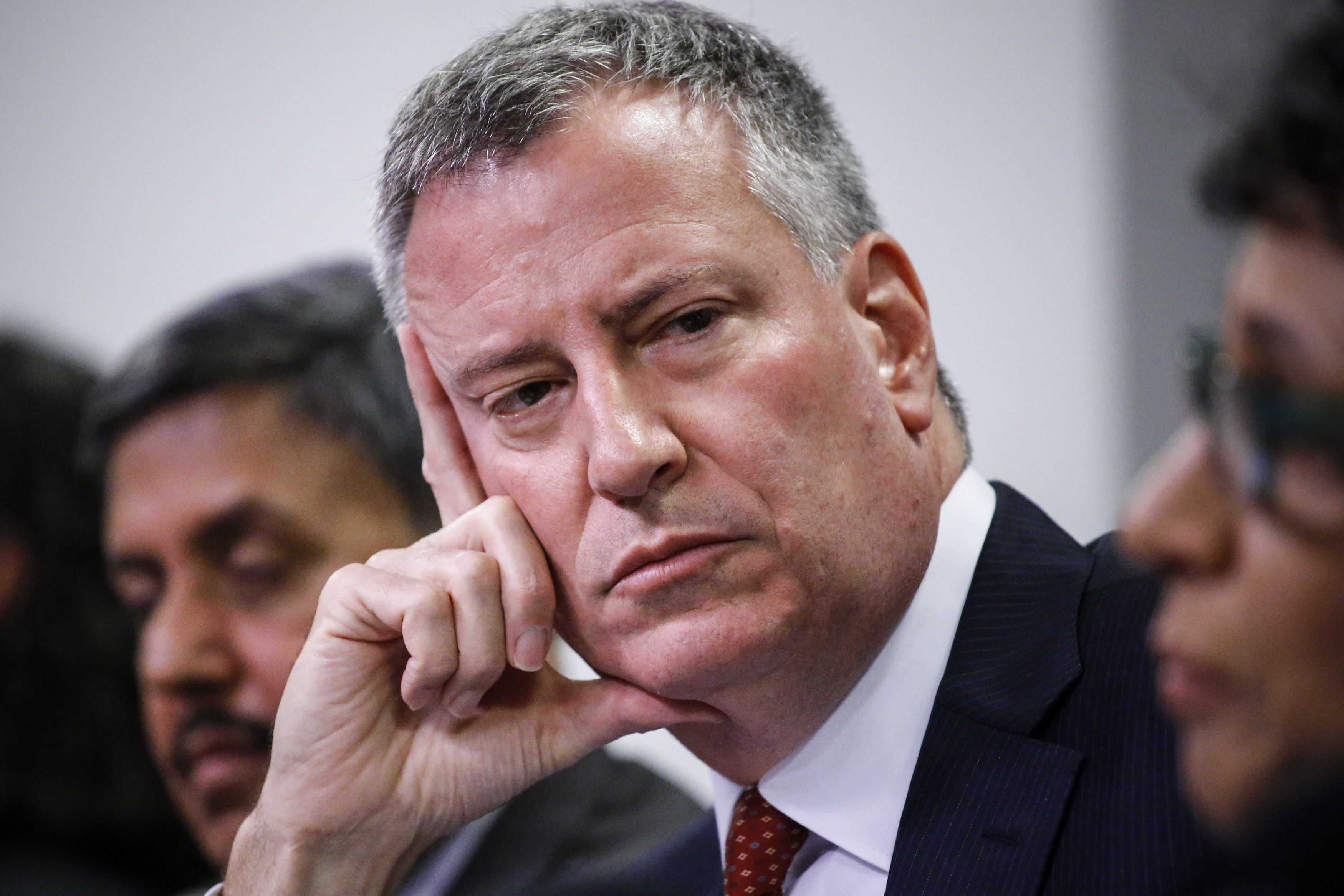 He wasn't intentionally tardy–just sleepy.
Mayor Bill de Blasio said a "very rough night" of little sleep, in addition to fog, kept him from arriving on time to a Wednesday morning memorial service commemorating the anniversary of Flight 587's crash in Belle Harbor, Queens.
"I was just not feeling well this morning. I had a very rough night, woke up sluggish and I should have gotten myself moving quicker," Mr. de Blasio told reporters today at an unrelated press conference in Manhattan. He apologized several times for his lateness. "It's my responsibility."
Mr. de Blasio was close to 20 minutes late this morning to the memorial service, commemorating the plane crash's 13th anniversary. Relatives of the victims were furious–one person at the service tweeted, according to Gawker, "this fucking Dumass mayor bill de blasio , is showing up late . Kill urself."
He was reportedly so late he missed the moment of silence held every year 9:16 a.m., the time the flight crashed. "Since he's not here, we should start reading the names (of the dead). This is a disgrace," one man said at the ceremony, according to the Daily News.
A spokesman for Mr. de Blasio attributed the lateness to the fog his police boat encountered on the way to the Rockaway peninsula. Mr. de Blasio confirmed that account today, but when pressed on why he didn't just leave earlier knowing the weather conditions, the mayor copped to not being able to sleep.
"I just woke up in the middle of the night, couldn't get back to sleep and felt really sluggish and off-kilter this morning," he said.
Mr. de Blasio said "previous efforts" to use a police boat from Gracie Mansion to another location had gone swimmingly. The boat "had proven to be a real time-saver. Unfortunately, this time the fog caught us off guard," he said.
Tardiness has long been an issue for the mayor. After he was elected last November, Mr. de Blasio raised eyebrows by arriving at events 30 minutes or even an hour late. In January, he told the Observer he was "very comfortable" with his constant lateness, chalking it up to how busy he could get as mayor.
Mr. de Blasio was more blunt in an interview with the Times several months later, dismissing punctuality as a hallmark of people like former President George W. Bush, a Republican the liberal Democratic mayor dislikes. Mr. de Blasio also drew fire for the slow pace of his administration appointments.