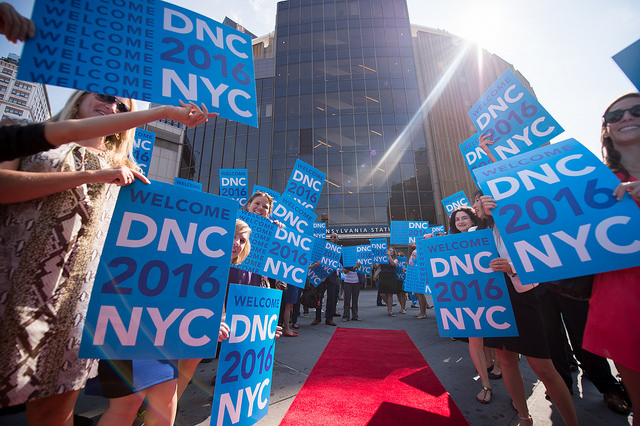 Mayor Bill de Blasio hailed an announcement today that New York is one of the three cities still in contention for the 2016 Democratic National Convention, telling elected officials and prominent Democrats that the city would be, by far, the best host for a convention.
"The Democratic National Committee … recognized our strengths, some of the things we bring to the table that are so powerful," Mr. de Blasio said at City Hall. "We are a diverse city, stronger for our diversity–8.4 million people representing all that is good about the United States of America."
"We're the nation's media capital and capital of so many other parts of our economy and our society. And we are a city moving in the right direction–and that's important," the mayor added.
Mr. de Blasio had coincidentally–according to his own account–called a convention-themed meeting of civic leaders today when the DNC announced that New York, along with Philadelphia and Columbus, Ohio, was now a finalist for the convention. Mr. de Blasio spoke briefly in front of reporters before they were ushered out of the City Hall's Blue Room–only Mr. de Blasio and Senator Charles Schumer's remarks were delivered with reporters present.
Also joining the mayor were Brooklyn Borough President Eric Adams, Congresswoman Yvette Clarke and Council members Laurie Cumbo and Brad Lander. Mr. Schumer, a longtime Brooklyn resident like Mr. de Blasio, waxed poetic about the borough and the Barclays Center, the arena that will potentially host the convention.
Each pol promised a surge of economic activity if the convention came here, repeating many of the same points they first put forth in August, when DNC delegates visited Brooklyn.
"Brooklyn is an example to us all, an example to America," Mr. de Blasio said. "Brooklyn's success will also be Queens' success, the Bronx's success, Staten Island's success making us a more perfect union."
Mr. Schumer praised local delicacies like Nathan's hot dogs and Junior's cheesecakes, predictably dismissing the Philadelphia cheese steak. Economics, too, were on Mr. Schumer's mind.
"This convention means a four letter word: jobs. J.o.b.s," Mr. Schumer said, spelling out the word.
"I thought you were going to say 'cash,'" Mr. de Blasio quipped.
"That would be too Brooklyn," the senator replied.