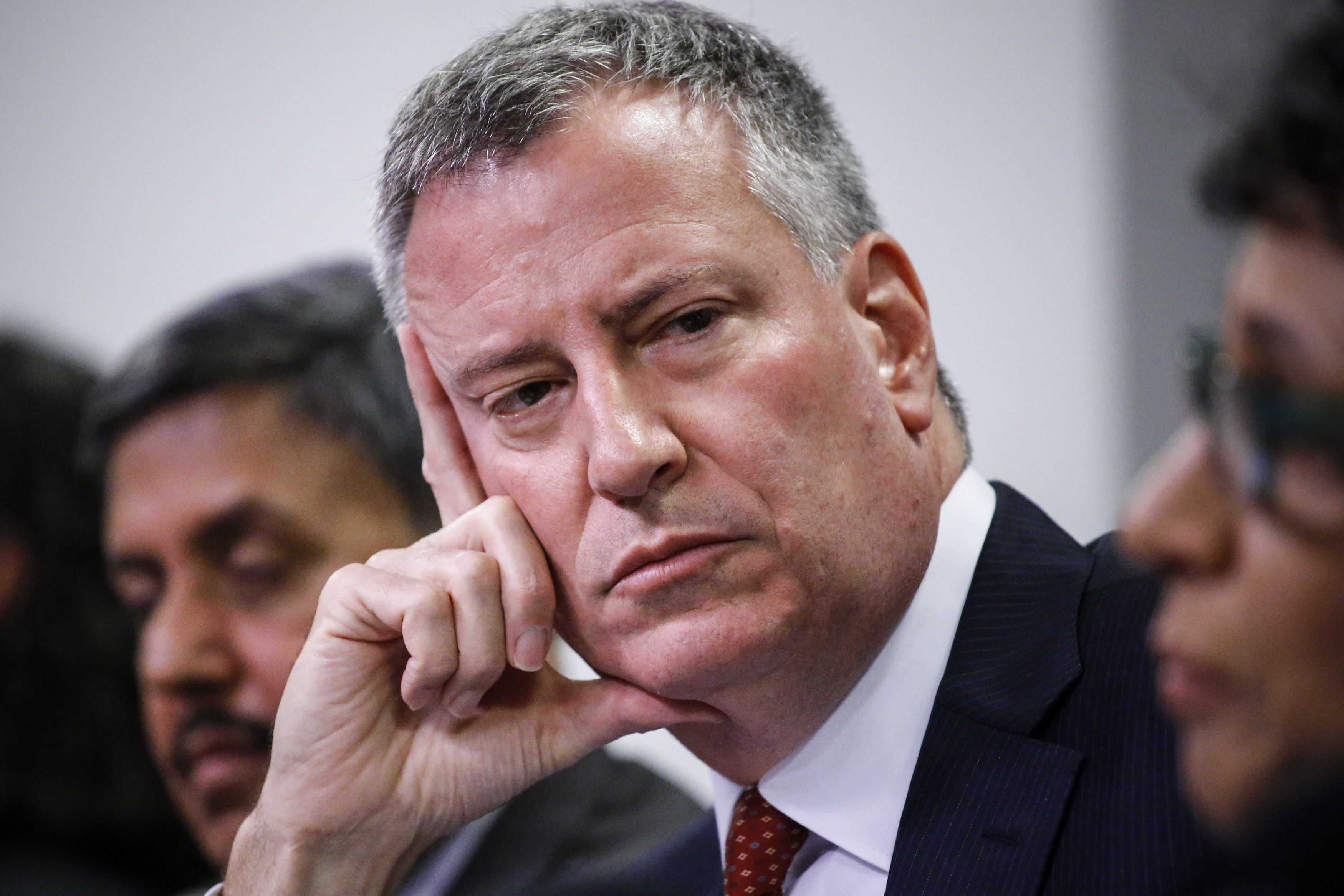 Mayor Bill de Blasio said today he was "very sad" to see the violent response in Ferguson, Mo., after a grand jury's decision declined to bring charges in the police shooting of an unarmed teen–and emphasized he believed peaceful protest could affect the change people were seeking.
"I was very, very sad. I think everyone feared something like this might happen and, lo and behold it did," the mayor told reporters today at an unrelated press event in the Bronx.
After a Missouri grand jury last night declined to indict police officer Darren Wilson, who is white, in the shooting death of unarmed Michael Brown, who was black, demonstrators took to the streets in Ferguson. The outpouring quickly turned violent, with cars set ablaze and stores looted, despite pleas for calm from both Brown's family and President Barack Obama.
"It's a sad day for America that people chose to pursue violence when it's quite evident that not only did the family not want it–it's not gonna get anyone anywhere. We have to make profound changes in our society. We have to make profound changes in our city. But they will not be achieved through violence–they'll be achieved through a peaceful protest. They'll be achieved through legislation. They'll be achieved through elections. And this city is actually is an example of that," Mr. de Blasio said.
The decision in Ferguson comes as New York grapples with two high-profile deaths of black men involving police — Eric Garner, who died as cops tried to arrest him for selling loose cigarettes in Staten Island, and Akai Gurley, shot in a Brooklyn housing project last week in what police have called an accident. Those incidents come after many months of rising tension between police and communities of color over tactics like stop and frisk.
But the mayor pointed to reforms underway in New York both before and after Garner's death–including reductions in stop-and-frisk, a decline in marijuana arrests, and the re-training of the police department.
"All because the people demanded it through peaceful means. That's how peaceful change occurs. I hope that lesson will be learned in this process," Mr. de Blasio said.
While Mr. de Blasio said he found the footage from last night "disturbing," he stopped short of criticizing the grand jury's actual decision — something other lawmakers have done.
"I don't make it a point of critiquing the judicial process. I don't think that's productive," the mayor said. "But I think there's a much bigger point here: that we have to make changes."
A grand jury in Staten Island is currently considering whether to bring charges in Garner's death, which occurred after an officer used what the police commissioner has said appeared to be chokehold–prohibited by the department–to bring him to the ground. Mr. de Blasio would not say whether he thought the grand jury should bring charges in that case, either.
"I don't pretend to know the facts of an investigation. I think it's very, very important for people in public life to respect the investigatory process, the grand jury process, and any other investigations or follow-up that may be undertaken," Mr. de Blasio said. "There's a lot of effort being put in to ensure that there is both a thorough investigation and an appropriate outcome."
Last week, Mr. de Blasio urged New Yorkers not "to connect the dots" between the deaths of Garner, Gurley and Brown. But since then, many voices in New York–including Rev. Al Sharpton, a frequent ally of the mayor's–have drawn direct lines between all three.
"I just have a different view. I don't fail to understand why people would" connect the three, Mr. de Blasio told the Observer. "I just have a different view. I think each and every incident is different. I think the underlying issues we're facing are what we really need to focus on." 
The mayor went on to reiterate the need for even deeper reform to the police-community relationship in the country and city, while touting again the progress he said had been made here.
"The individual incidents are tragic, and we feel them so deeply and every one of them needs to be fully investigated, needs fully to be adjudicated through the court process–but the heart of the matter is: are we changing the way we do things? In this city, we are changing the way we do things. We have a lot more work to do, so and that's what I'm solely focused on," he said.