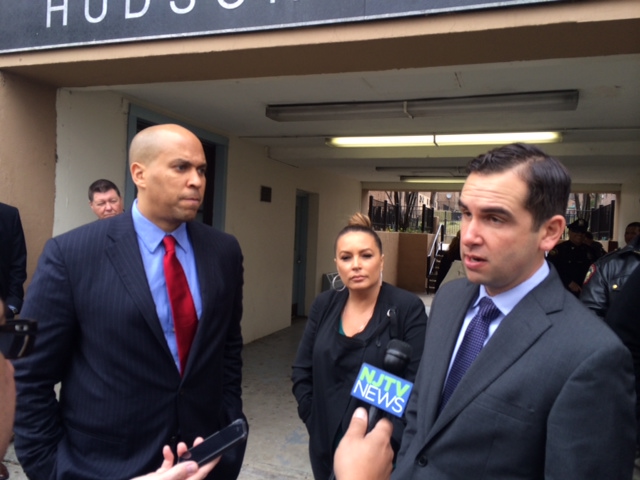 JERSEY CITY – U.S. Sen. Cory Booker (D-NJ) and Jersey City Mayor Steve Fulop paused to reflect on America's state of affairs the day after a Saint Louis County, Mo. grand jury declined to indict Ferguson Police Officer Darren Wilson in the fatal shooting of 18-year-old Michael Brown in the Saint Louis suburb of Ferguson in August.
"First and foremost, a young man died, and we should give our hearts, sympathies and prayers for the family and for all those in the community who are impacted by this. But the challenge now is what will come of this," Booker said on Tuesday after helping to serve a Thanksgiving meal at the Garden State Episcopal Community Development Corporation in Jersey City. "Will we descend into political factions and into violence, or are we going to find ways to come together and do the work that needs to be done?
"We have a criminal justice system that undeniably impacts different populations in different ways. We do not have equal justice," Booker continued in reference to the controversial shooting of Brown, an African American, by Wilson, who is white. The shooting led to rioting in Ferguson in both the immediate aftermath of the incident and last night, as well as protests around the country protesting the lack of an indictment. "We need more widespread innovations in policing, including [body] cameras and with law enforcement tactics across the country, to make our police practices more fair and more just."
Booker noted that other aspects of the legal process will continue with regard to the Ferguson shooting, including a federal investigation and potential civil suits filed by Brown's family.
"The case should not close in terms of its impact on all of us," Booker said. "The rule of law is something that we have to put our faith in. That said, I'm one of the people that called for the [federal] Dept. of Justice and the [U.S.] Attorney General to do further investigations. The family has asked that there is no violence, whether it's in Ferguson or across the country. That is not going to solve anything. What we should be doing is beginning to figure out what we can all get behind that is going to advance to our criminal justice system."
Fulop noted municipal governments have to work with federal initiatives to improve law enforcement practices across the country in the wake of the Ferguson shooting.
"One thing that we've tried to do from the Jersey City standpoint is [improve] diversity in the police department," said Fulop, who had joined Booker in serving a Thanksgiving meal, on Tuesday. "Sometimes, the laws and civil service tests are obstacles to getting a police department to truly reflect the diversity in any city. We've [made] a lot of changes in the last year working worth the federal government in order to make that a reality here.
"There were peaceful protests here in Jersey City earlier today. That's what this country is about," Fulop, a potential 2017 Democratic gubernatorial candidate, added, noting that Jersey City, Newark and Paterson are going out to bid together to ensure that all three municipal police forces will have the use of body cameras available in 2015. "We're working to make sure community relations between the police department and the community are as strong as ever. That's something that we can learn from what happened in Ferguson."