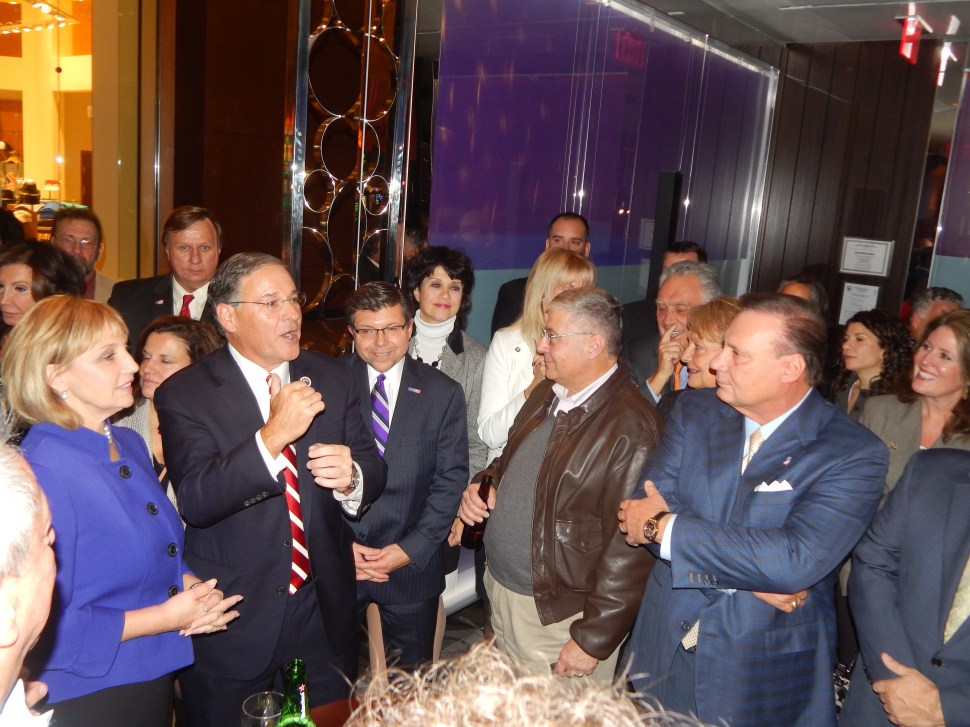 ATLANTIC CITY – Refusing to be outshone by the three-ring circus on the Democratic side of the city, Assembly Minority Leader Jon Bramnick (R-21) put together a function at the Borgata that not only drew his chief rival for the GOP nomination for governor in 2017, but beloved former Gov. Brendan Byrne.
"Hello, governor," Bramnick grinned as Lieutenant Governor Kim Guadagno entered the packed party room.
They made nice for now.
At this moment, they are the two leading contenders to succeed Gov. Chris Christie for the GOP.
But not many wanted to talk about that here.
"I support Chris Christie," said state Senator Tony Bucco (R-25) when asked about guv 2017.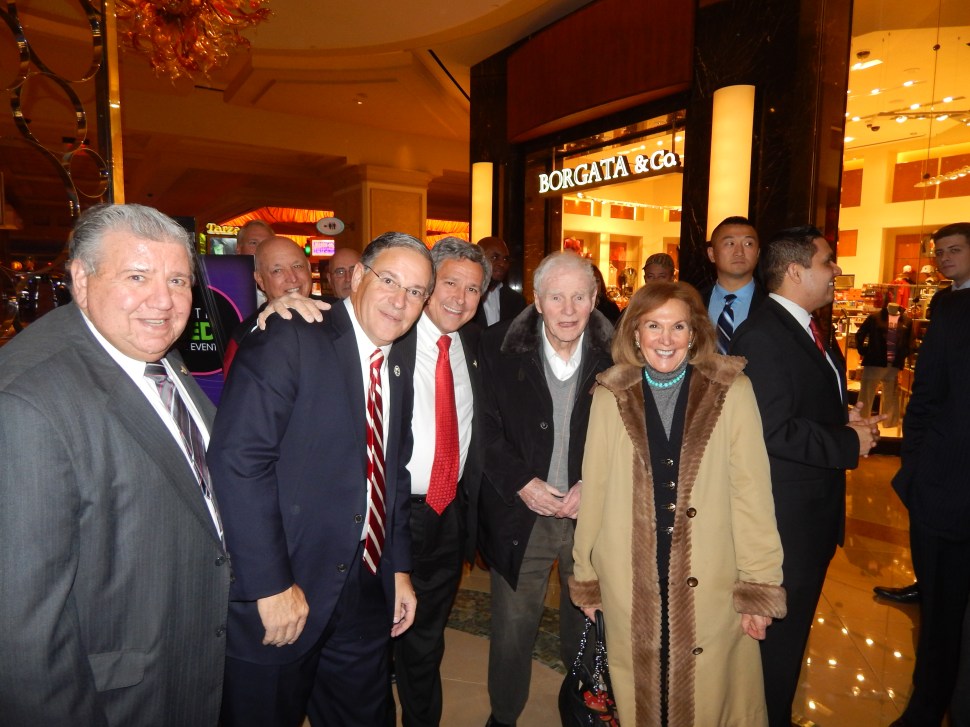 In brief but animated remarks to the crowd, Bramnick promised an Atlantic City comeback, a battle cry with force behind it – then strained credulity in his next breath with a roaring promise of Republicans taking back the legislature in 2015.
The place offered a smart cross section of GOP players from around the state.
Veteran Morris County GOP Chairman John Sette was in the room.
State Senator Kip Batman (R-16) was here, and so was Assemblywoman Donna Simon (R-16).
Assemblyman John DiMaio (R-23) attended, and so did Assemblywoman Holly Schepisi (R-39), Assemblyman Declan O'Scanlon (R-13), Assemblyman Tony Bucco (R-25), Assemblyman Bob Auth (R-39), and Republican State Party Chairman Sam Raia.
Mayor Don Guardian arrived with goodwill for Bramnick.
So did Monmouth County GOP Chairman (and Sheriff) Shaun Golden, who on Nov. 4th strengthened his party's hold on power in the big Central Jersey county.
He's a county chairman (pictured, right, with Bramnick) in demand right now.
Bergen County Sheriff Mike Saudino also partied with Bramnick.
In the fall, he backed Democratic challenger James Tedesco over Republican incumbent Kathe Donovan in the Bergen County Executive's race, which Tedesco won.
Is he still a Republican, PolitickerNJ wanted to know.
"Of course, of course," Saudino said. "I had to do what I did. I'm not a punching bag. I'm glad to see her gone, but it's bittersweet because we [the GOP] lost the top spot [county executive]."