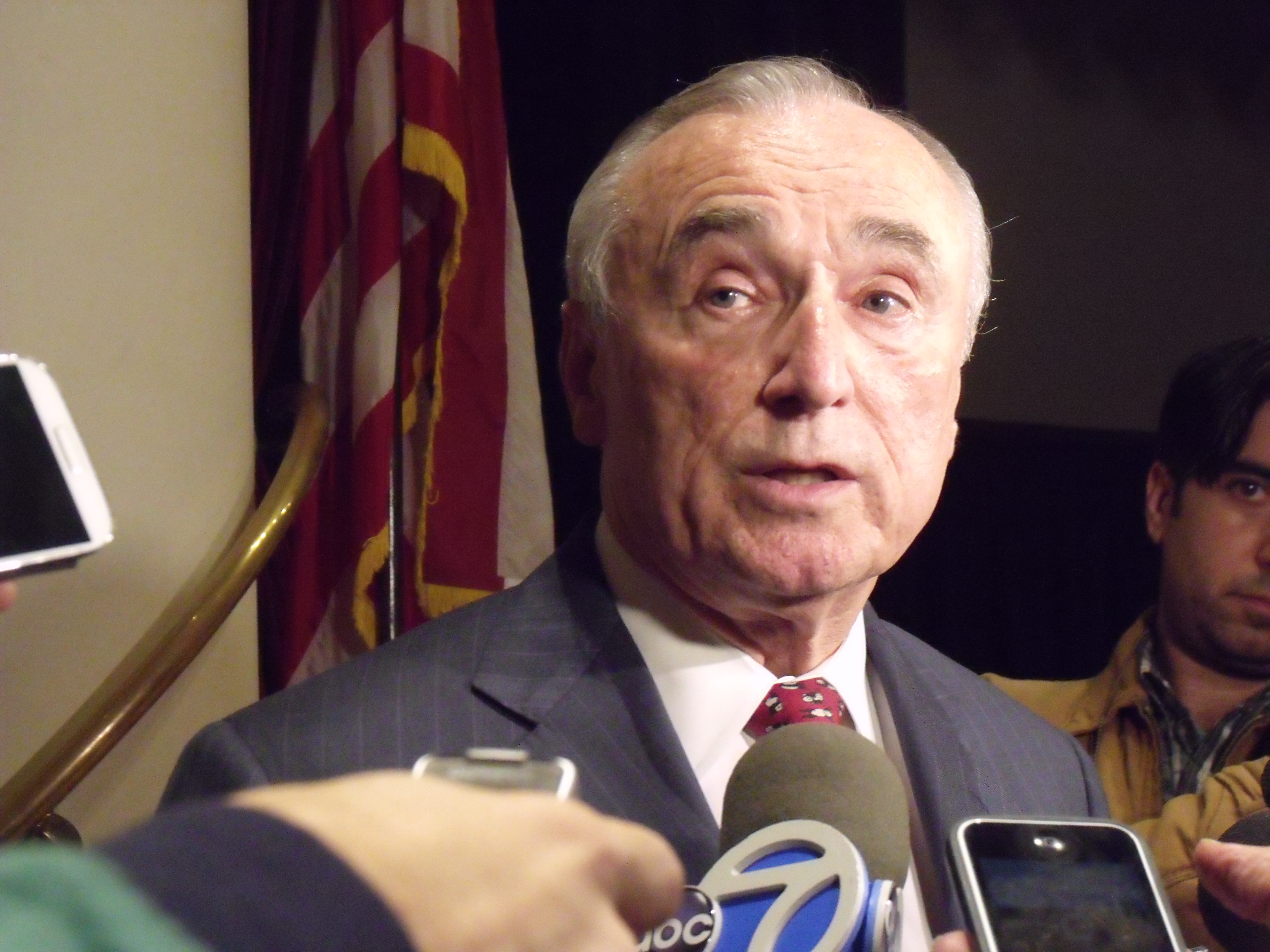 As many are focused on the grand jury's decision in the police shooting of an unarmed man in Missouri, New York City Police Commissioner Bill Bratton tonight shot down "inflammatory rhetoric" in the wake of a police shooting in Brooklyn.
"This city should be quite proud of itself and its ability to deal with these types of incidents. We deal with them lawfully. There is an investigation being conducted by Mr. Thompson's office, [Brooklyn District Attorney] Ken Thompson, and we'll go where the truth takes us, the facts take us," Mr. Bratton told reporters after a speech at New York University Law School.
Akai Gurley was shot and killed last week by a rookie police officer, Peter Liang, in the darkened stairwell of East New York's Pink Houses, police have said. Mr. Bratton spoke little about the incident during his hourlong talk at the college — at one point hastening to point out it is under investigation — but after his remarks echoed the mayor in trying to differentiate between that shooting, the apparent chokehold death of Eric Garner on Staten Island, and the shooting death of Michael Brown in Ferguson, Missouri, where a grand jury will report tonight whether they will indict the officer involved.
"It is, still I believe, an unfortunate tragic accident that resulted in the unnecessary loss of a life, an innocent life as i've described," Mr. Bratton said of Gurley's death. "So based on the DA's investigation, as well as our own internal affairs investigation, I think we'll come to an understanding of exactly what happened. It doesn't change the outcome, but it might allow us to review some of our practices training procedures."
But what wasn't helpful, Mr. Bratton told reporters, was the "inflammatory rhetoric" he said was being added to the discourse by people like Assemblyman-elect Charles Barron, who today, not for the first time, called for Mr. Bratton's firing and said the shooting amounted to "criminally negligent homicide."
"I don't pay any attention to anything Mr. Barron says. He is an incendiary device that is — what is he trying to do to this city?" Mr. Bratton asked. "His rhetoric is outrageous, and he should be ashamed of himself."
Mr. Bratton was dismissive, too, of a small group of about a dozen demonstrators from various groups organized as "New Yorkers Against Bratton" who interrupted his speech with shouts of "Don't shoot!" and "Bratton must go!" The police commissioner seemed non-nonplussed by their presence.
"Well, that's the entertainment for this evening," he told the crowd. "I don't have any popcorn."
The Brooklyn police shooting comes not only as tensions rise in in Missouri over Brown's death, but as a grand jury here in Staten Island approaches its own decision in the death of Garner, who was also black. Garner's death ignited controversy over the NYPD's relationship with communities of color and Mr. Bratton's broken windows policing. It also prompted promises of police re-training.
Mayor Bill de Blasio said last week he did not think "it's necessarily right to connect the dots" between the death of Gurley and Garner, nor to connect them further the death of Brown, which has sparked sometimes violent clashes between protesters and police in Missouri.
Today, Mr. Bratton said those who see connections between the three deaths are "entitled to speak their minds."
"But each situation is a very different circumstance," he cautioned, with the accidental shooting at the Pink Houses vastly different from Garner's death, which came as police tried to arrest him and he resisted.
But in addition to Gurley's death raising questions about vertical patrols, many have wondered why Mr. Liang reportedly had his gun drawn as he entered the stairs during the vertical patrol in the Pink Houses.
But Mr. Bratton said it is at an officer's discretion when to draw a weapon.
"They, as always, will be held accountable to that in terms of explaining their decisions, and if the decision is an inappropriate one, it's something we'll address in a review," Mr. Bratton said. "You can't anticipate every situation, and that's why you train them to use discretion."
Mr. Liang was paired with another rookie police officer during his patrol, according to reports — new officers are often used to flood dangerous areas, including housing projects. But that's something Mr. Bratton has long said he wants to end, in favor of pairing probationary officers with more seasoned cops on patrols of dangerous areas.
During his remarks, Mr. Bratton said that will simply take time. The academy graduates roughly 900 officers at a time; finding 900 seasoned cops to work with them on tough beats will likely involve both training and union negotiations, he said. It will take about a year and a half, he said.
"You don't just snap your fingers," Mr. Bratton said.