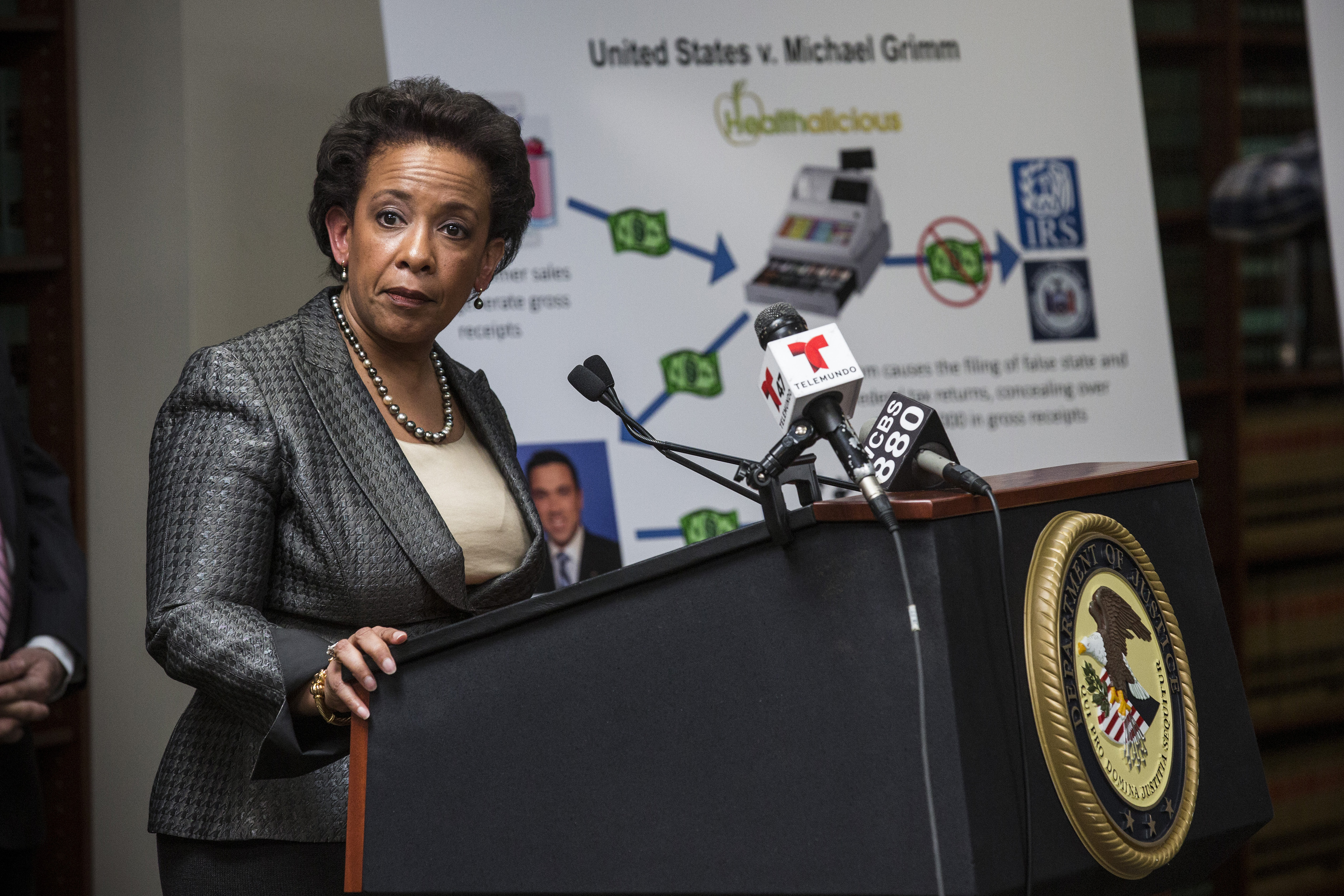 President Barack Obama is reportedly on the verge of nominating  U.S. Attorney Loretta Lynch to serve as his Attorney General — and Brooklyn District Attorney Ken Thompson said today there's no better choice.
"Loretta would be simply superb as U.S. Attorney General. She's very intelligent, she's an extremely hard worker, she possesses the utmost integrity, and she's fundamentally fair towards all," Mr. Thompson told the Observer in a brief telephone interview.
Mr. Thompson and Ms. Lynch served together in the U.S. attorney's office for the Eastern District of New York in the 1990s, during Ms. Lynch's first tour there. The two worked "very closely" on the successful prosecution of the police officers accused of sodomizing Abner Louima, a case on which Ms. Lynch took the lead.
Multiple news outlets have reported Ms. Lynch has risen to the top of Mr. Obama's short list for the job, and CNN reported today that she would be his nominee, though no formal announcement has been made. Of course, the job requires confirmation by the U.S. Senate — but Ms. Lynch has cleared that hurdle twice before to hold the U.S. Attorney job.
She was first confirmed in 1999, when President Bill Clinton nominated her. She left after two years to enter private practice but was nominated by Mr. Obama and confirmed again in 2010.
And Ms. Lynch might be an easier sell to Republicans than some of Mr. Obama's other options — she is not a member of the president's inner circle and she has held a relatively low-profile during her tenure as U.S. Attorney.
"If anything, she has already been confirmed by the U.S. Senate, and she should be confirmed easily this time, if it's a fair process," Mr. Thompson said. "I think she lets her work speak for herself. She is more concerned about promoting justice than promoting Loretta."
At least one person, however, has called Ms. Lynch's fairness into question: Congressman Michael Grimm, whom she hit with a 20-count indictment on tax and mail fraud. Mr. Grimm's office has asked the court to toss out the charges, arguing he is the victim of a "selective and vindictive" prosecution. Mr. Grimm, who cruised to re-election Tuesday, has repeatedly called his 13-point victory a "referendum" on Ms. Lynch and the Eastern District.
But the judge in Mr. Grimm's case has been reluctant to buy Mr. Grimm's argument — and so was Mr. Thompson, who pointed to many examples of Ms. Lynch prosecuting Democratic politicians and called her "eminently fair."
"No one gave Loretta anything easy. She fought to go from humble beginnings in Greensboro, N.C., to Harvard, and then to Harvard Law School, and then to rise through the ranks of the United States Attorney's Office in Brooklyn," Mr. Thompson said. "It was not easy, and she did it because she is very smart and she is very fair."
Last week at a ceremony in the Brooklyn federal courthouse, U.S. District Chief Judge Carol Bagley Amon made reference to Ms. Lynch's chances at the nation's top law enforcement job — and made it clear she believed such an appointment would be well deserved.
Mr. Thompson said Ms. Amon wasn't alone in that hope.
"There are many federal judges who believe that Loretta would be outstanding. I think what judge Amon said is really what many of us believe — that the president and the country cannot find a better person than Loretta Lynch to serve as attorney general."
If nominated and confirmed, Ms. Lynch would be the first black woman to hold the attorney general post. She would replace Eric Holder, the first black attorney general, who is stepping down.