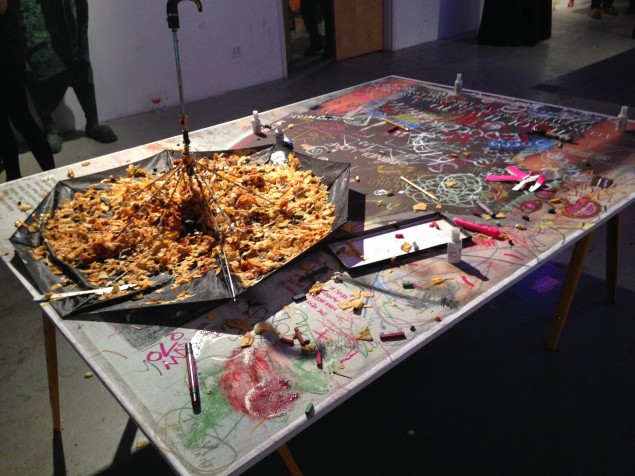 Last night, the Bruce High Quality Foundation (BHQF), the New York-based anonymous art collective, threw the exact antithesis of the typical benefit event to raise funds for its five-year-old free art school, the Bruce High Quality Foundation University.
Inviting people to its sixth floor studio in Industry City, an industrial complex of warehouses-turned-commercial spaces in Sunset Park, it put on a scrappy evening of debauchery called "NOT FOR PROFIT," a fundraising event that coincided with an auction of donated artworks by Charline Von Heyl, Joshua Citrella, Torey Thornton, among others, hosted by Paddle 8.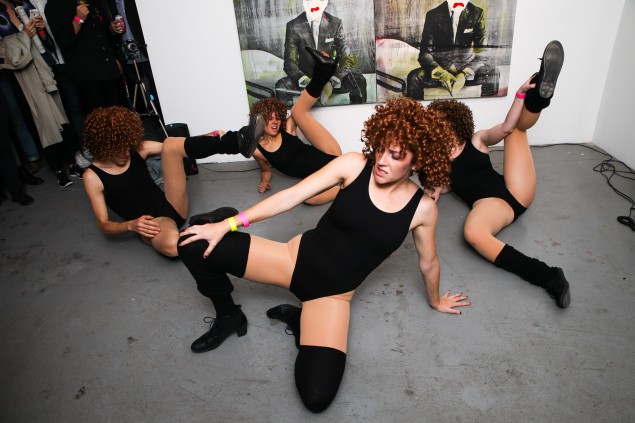 Eschewing the classic canapés, it instead offered guests tortilla chips with nacho cheese sauce, Goya black beans, salsa and dollops of sour cream in a broken $2 umbrella turned upside down into a makeshift bowl. Voila—nachos for everyone!
Artist Chloe Wise and model Ashley Smith were spotted in the crowd, which gathered quickly to include artists like Lucien Smith. In one corner, a foursome of afro-wigged performers in leotards and legwarmers became maniacs on the dance floor writhing to the theme song from '80s cult film Flashdance, Michael Sembello's Maniac, followed by a performance by a band called Dinner.
In the Green Room, artists Dustin Yellin and Jayson Musson (aka Internet-based art philosopher Hennessy Youngman) mingled. Some 30 minutes later, Blood Orange's Dev Hynes, the night's headliner, and the only man who could make gray sweatpants and a turtleneck look cool together, showed up.
He went on stage, performing a one-man show with his keyboard and tiny electric guitar. By the end of his set, he had the crowd gathered closely around him, dancing like there was no tomorrow.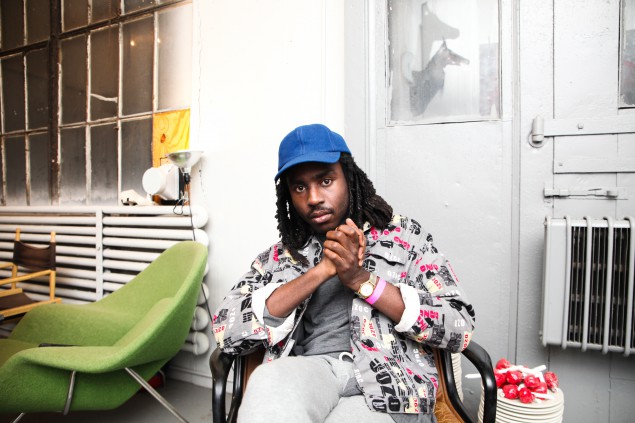 "I used to play shows like this and I used to really enjoy it, but no one ever came," he said after, referring to the era between 2009 and 2010 when he would play at venues like Pianos, Union Pool and Glasslands. Now he plays major festivals like Lollapalooza and Coachella.
We asked him if he owned any pieces by BHQF. "I can't afford it," he answered before showing us the canvas they gave him that night of his own likeness defaced with BHQF's signature scrawling treatment.
"They're doing cool shit, have you been to any of the classes?" he asked.
"No, but we've heard a lot about them," we replied.
He recalled the time he attended a class called "Show and Tell Sculpture Forum" taught by artist Elizabeth Jaeger, who currently has a show up at Jack Hanley.
"People go and they're really invested in it, and they're talking with other artists and they're learning," he explained.
"Everyone who is there, wants to be there, they have no other reason to come," chimed Ms. Jaeger, who attended The School of the Art Institute of Chicago. "People are contributing. It's more like a conversation than a class dynamic."
We circled around the party and passed a Congo line before stopping at the dance floor, where people were grinding to a dub set by Blazer Sound System, before bumping into artist Mr. Musson.
"I'm having fun," he told us. "I'm drunk. I think it's important to support people who try to come up with alternative methods to common pedagogy or institutional education."
We asked a fellow partygoer, a bleary-eyed artist who just moved to New York from London, about the difference between his University of College London art classes and a BHQF University course. "Not much," he replied.
There you go folks, the secret is out. Bruce High Quality Foundation University is how you go to art school for free.