By the time "Banksy: The Unauthorised Retrospective" closed at Sotheby's S2 gallery in London this July, the exhibition had attracted around 18,000 visitors, according to curator Steve Lazarides, along with buyers with deep pockets.
"People that I sold pieces to for £1,500 ($2,400) years ago were turning down offers of £500,000," said Mr. Lazarides, the anonymous artist's only dealer until 2008. "Fifteen years ago in Bristol, I was selling his paintings out of my car."
Mr. Lazarides puts this down to limited supply—Banksy hasn't painted many canvases for six years, existing collectors aren't selling, and new international buyers are interested—but it's also driven by almost unprecedented, savvily orchestrated hype. Street artist Banksy initially chose anonymity to avoid prosecution, not to achieve a mysterious backwards notoriety, but the constant speculation about who he is, whether he is a she or even, in the current leading speculation, a group of artists, has made "him" (for want of a confirmed pronoun) one of the most unique players in the sizzling contemporary market.
But maybe the important question isn't "who is he?" (Artists Damien Hirst, Mr. Brainwash, various Brit graffiti taggers and Mr. Lazarides himself are just a few of the many guesses) but rather, just as an HBO documentary on the artist premieres this week, how seriously should we—and art history—take him?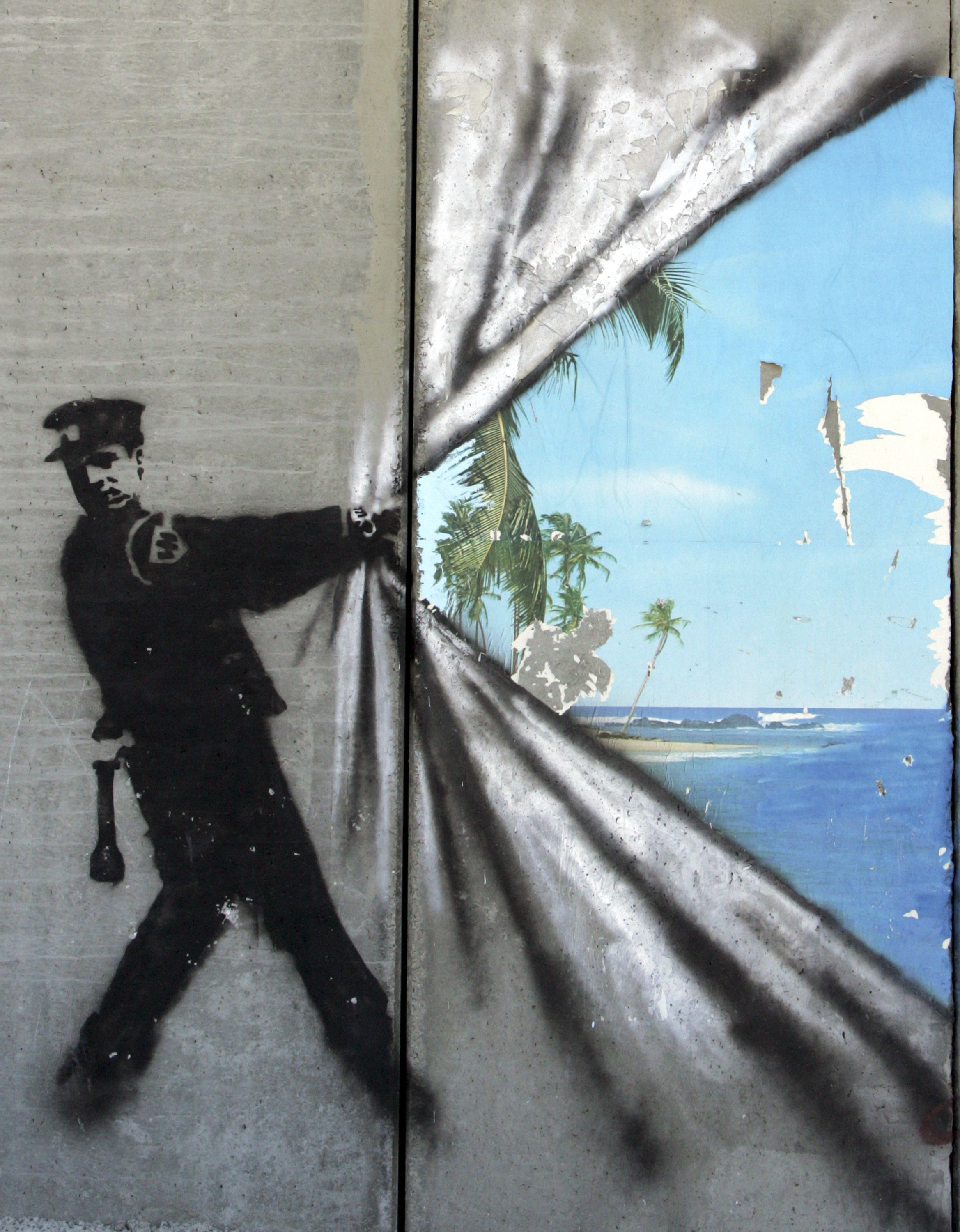 Banksy got started as a graffiti artist in his home town of Bristol, England, a little more than two decades ago, often producing works with a pro-peace or anti-establishment message and dodging the attention of the Avon and Somerset Constabulary, the local police force he lampooned in early canvases. (The city that made considerable efforts to obliterate Banksy works in the early days now promotes walking tours that guide tourists to the locations of his most prominent street art.)
In the mid-1990s, he met Mr. Lazarides, who soon started selling Banksy's paintings and prints. The artist intrigued/exasperated the New York museum community in 2005 by sneaking into the Brooklyn Museum, the Museum of Modern Art and the Metropolitan Museum to surreptitiously hang his own art.
But in 2006, his "Barely Legal" exhibition in Los Angeles (marked by a live elephant painted red with gold fleurs-de-lis) was attended by Dennis Hopper, Brad Pitt and Angelina Jolie, fueling rumors Banksy was connected to the kind of better-known artists and dealers who could pull together that guest list. His Hollywood endorsement was completed in 2011 when his film Exit Through the Gift Shop was nominated for an Academy Award for Best Documentary.
Then his month-long residency in New York last October, teased on his website and via social media, sent residents and reporters on a daily quest to find his latest street art, and resulted in the HBO film Banksy Does New York.  
Banksy's image of guerrilla artist and activist, gifting public art to communities around the world, is carefully cultivated. "He's constantly in the headlines and that's reflected in how his work sells," said Gareth Williams, postwar and contemporary art director at Bonhams, which started selling Banksy paintings in 2003—when he was virtually unknown—for under $2,000. "Buyers love his work, but also love the story of this unknown artist who's taken on the art world and succeeded."
So far this year, 71 of the British street artist's stenciled paintings, prints and sculptures have gone on the block at auctioneers like Sotheby's, fetching a combined $4.67 million, according to Artprice, making 2014 the best year for Banksy's market since its peak right before the recession.
Keep It Spotless, (2007), a collaboration with Mr. Hirst, which sold for $1.9 million in 2008, is still the artist's top auction sale, but Submerged Phone Booth, (2006), that Phillips sold last month for £722,500, became the third most expensive Banksy sold at auction and his priciest sculpture. Muddying the market somewhat, however, is the fact that online marketplace eBay.com lists several hundred artworks attributed to Banksy, a confusing melange of prints, posters and what look like Xerox copies.
Mr. Williams said it doesn't pose a challenge to sell work by the anonymous artist, since Bonhams only sells art certified by Pest Control, the authentication body Banksy set up in 2008 to stamp out fakes and to sell his new work. (Pest Control's website warns: "Please be aware that because many Banksy pieces are created in an advanced state of intoxication the authentication process can be lengthy and challenging.")
Editioned, small-scale black paintings on white canvases, like the ones Banksy sold for $60 in Central Park last year, currently fetch between $65,000 and $120,000, while larger, unique paintings, particularly those with colored backgrounds, go for more.
A small amount of Banksy street art is cut out of walls each year and has been removed from places ranging from Palestine's West Bank to London's East End. Few auctioneers  or galleries will touch this work. Those that sell these have had mixed success, especially as the artist has condemned this practice as "disgusting."
New York's Keszler Gallery acquired five pieces created during Banksy's New York residency, including his Sphinx sculpture, which two opportunist car mechanics trucked out of Queens, as shown in HBO's documentary.
None have sold, but Stephan Keszler isn't worried. "Some of the most expensive works we've sold were with us for two or three years," he said. He sold Banksy's celebrated Girl with balloon, removed from an east London photocopy shop this year, to a collector at Art Silicon Valley art fair three weeks ago for a "high six-digit" sum. Mr. Keszler, who has sold Banksy street art from $70,000 up to $1.15 million, fetched for Slave Labour Boy sold at a private London auction last year, said price depends on the work's size, scarcity and fame.
One major caveat: The interest in Banksy that motivates Mr. Keszler to transport 8,000-pound chunks of wall cross-country has still not encouraged art historians or the biggest U.S. museums to embrace his work. Continued (price) appreciation of Banksy as an artist hinges on street art being taken seriously as crucial to 20th and 21st-century art. Banksy was included in LA MoCA's crowd-pleasing 2011 "Art in the Streets" show but former director Jeffrey Deitch, the show's curator, has since left.
"Jeffrey supported street artists like Keith Haring from the beginning," said Mr. Lazarides, "but he's one of the few establishment figures that has." Mr. Lazarides says some museums show artists such as Banksy, JR and Shepard Fairey "alongside the best contemporary art," but thinks others shun street art for being too easily understood and too populist. He believes the museum community will eventually come around, much as the market has. 
Mr. Lazarides recently unearthed a price list from 2000 with Banksy canvases listed at £49.99, £79.99 and £129.99. "If you bought two, you got a third half price."