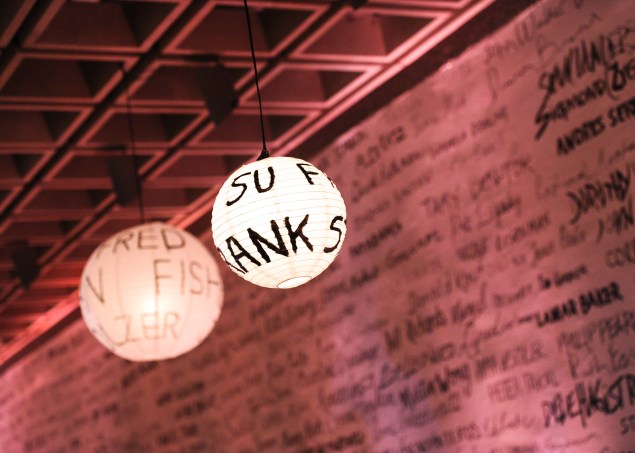 When the Whitney opened in 1966, Ada Louise Huxtable filed a column in The Times reviewing the design of its building. "At the moment, the most disliked building in New York is undoubtedly the Whitney Museum," she wrote. Yikes! And now, nearly 50 years later, the Brutalism of the Breuer Building is no less brutal, but with the whole operation packing up and moving to a shimmery Renzo Piano near all the shimmery stilettos stumbling through the Meatpacking District, people are getting pretty teary-eyed about the all-concrete prison-looking thing on Madison and 75th.
The Whitney Biennial was loudly cast as "the last Biennial in the Breuer Building!" "Jeff Koons: A Retrospective" filled the grey spaces with so many day-glo Krazy Koons Kreations one nearly forgot how the whole building looks like it should housing convicted felons instead of progressive art. And then last night, the long goodbye actually came to an end: the Whitney Gala and Studio Party shut the place down with a very loud sense of finality.
During cocktails, the bar was assembled from a bunch of moving boxes. Because the Whitney, it's moving! And projected on the walls were the views that one will see when on the top floor of Mr. Piano's building, which is to say New Jersey. Because the Whitney, it's moving—moving to a place with a view of New Jersey! Hey, because the Whitney is moving, let's make cookies with the names of our beloved artists on them—Claes Oldenburg, Ellsworth Kelly, Cindy Sherman. I made a mental note to come back and get a CIndy Sherman cookie at some point, because why not, right? And then a few floors down, at the dinner, the walls were scrawled with all the names of the artists who have every been shown at the Whitney, and it's the complete list, because the Whitney is…OK, you get it.
"I hate the fact that they're leaving," Chuck Close said to me, as a jazz singer crooned a not-so-swinging version of "Light My Fire" in the background. "All they had to do is put the permanent collection here."
Well, maybe it's not that simple, but, sure, Chuck. Then his assistant extended her arm, phone-in-hand, and snapped a selfie with Mr. Close, who smiled big and then without missing a beat went on again waxing nostalgic.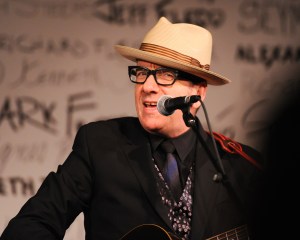 "My very first retrospective was here, so it's very sad to see it go," he said.
And that's very touching and all, but I can't really say I feel the same way about the Breuer Building. Then again, I never had a retrospective of my work here. What have I done at the Whitney? I used to go to punk shows in the courtyard. The biennial was always cool. Plenty of great parties. I think I made out with a gallery assistant in that stairwell once?
Well, at least last night gave me one more pretty cool memory from Mr. Breuer's brutally Brutalist building: seeing Elvis Costello perform. 
"They asked me to play hit tunes, which is difficult because I don't have any," he deadpanned after singing "Everyday I Write the Book" (which actually is his only top 40 single, believe it or not). "Heaven forbid they have any contemporary art at the Whitney!"
And just as Mr. Costello relied on the old favorites during his set, all the established Whitney art stars came out in force for the dinner. At one table you had Brice and Helen Marden, at another Lawrence Weiner and Jonas Mekas, at another Jeff Koons and Julian Schnabel and Cindy Sherman.
"It's sad, a little bit," Ms. Sherman said to me. "I think back to many Whitney biennials when I was very young, and how crowded it was, and how insane it would be to try and get through it…—now I would avoid it because it's so crowded. I avoid those kinds of openings."
Speaking of Ms. Sherman, I wonder if she knew that there were tiny confections upstairs bearing her name. After the dinner, up the stairs we went, and then the Studio Party was in full swing, the Breuer Building raging for the last time in a long time, and once we got the cookie, we got knocked and dropped it. The cookie shattered in two. Oh well.