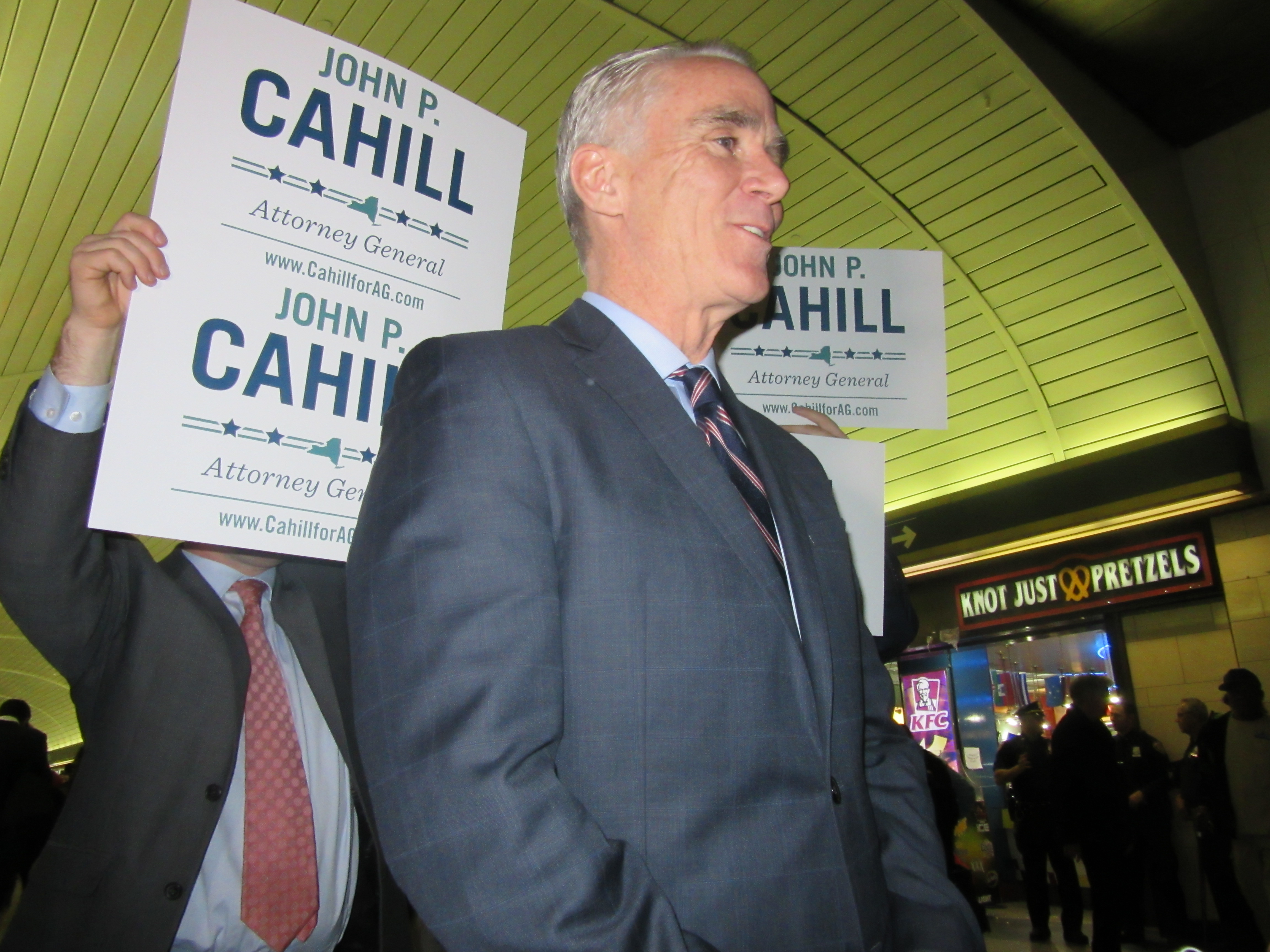 Rob Astorino, the Republican candidate for governor, and attorney general hopeful John Cahill, a fellow Republican, both said they think that strong showings from a trio of Long Island Republicans will boost their own fortunes.
The pair today argued that GOP State Senate contenders Michael Venditto and Tom Croci, along with House contender Lee Zeldin, a GOP state senator, will help bring out Nassau and Suffolk County voters for their top-of-the-ticket races against Gov. Andrew Cuomo and Attorney General Eric Schneiderman.
The two Republicans campaigned separately in Penn Station during the evening rush hour, meeting and speaking to commuters headed for the Long Island Rail Road. Both foresaw a surge in Republican votes in the suburbs, thanks to Mr. Zeldin's neck-and-neck race with Democratic Congressman Tim Bishop, and the anticipated easy victories of Mr. Croci and Mr. Venditto for the vacant seats of Mr. Zeldin and former GOP State Senator Charles Fuschillo, respectively.
"Across the board, our voters are their voters, and their voters are my voters," said Mr. Astorino. "Turnout is everything, and our vote is coming out tonight."
Mr. Astorino, the Westchester County executive, argued he shares a suburban kinship with Nassau and Suffolk County residents, and rattled off a list of common concerns.
"I'm from Westchester, we're very much like Long Island. Taxes matter, the economy matters, good education matters, Common Core we got to get rid of, that's why Long Islanders are going to vote for us," he said. "Long Islanders are going to vote to lower their taxes, lower their utility rates, enough is enough with the Sandy victims out of their homes, people leaving, jobs leaving."
Mr. Cahill praised his GOP peers for their strong campaigns, which he argued had activated the base
"Their message about lower taxes, driving out the Republican and Independent and moderate Democratic vote, I think that's going to help everybody on the Republican/Conservative lines," Mr. Cahill said. "The message is resonating there."
Mr. Croci has maintained double-digit leads in opinion polls over his Democratic opponent, environmental activist Adrienne Esposito. Mr. Venditto's Democratic contender, Nassau County legislator Dave Denenberg, dropped out after reports surfaced that he had bilked clients of his law firm out of millions of dollars–but his withdrawal was too late in the race for him to be removed from the ballot and replaced.
Mr. Zeldin trailed Mr. Bishop for most of the race, but the most recent poll showed him sprinting ahead.