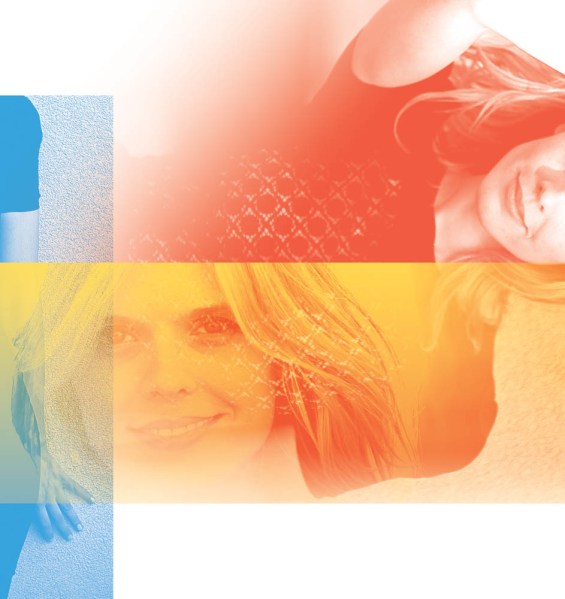 "I've been wanting to set you and James UP
for ages," Grandma Franco tells me again the other morning.
"You still can," I whisper.
Grandma Franco, a close friend of my 91-year-old grandmother, has long dangled the famous grandson carrot. Ruddy-cheeked with a flash of cobalt glass-blown earrings, her enthusiasm is infectious "I'm having such a blast with James," she said excitedly while balancing on her cane. "He brought me on that Kimmel show."
"I'll YouTube it," I promise.
I can't decide if her palpable joviality is offensive or admirable given the current circumstances; she offers to play matchmaker at my grandmother's funeral.
I didn't speak with my grandma often but I loved her. Growing up, my family and I would visit her every Thanksgiving in Shaker Heights, Ohio, and I'd speak to her every few months by phone. Over the last several years, I could tell she wanted me to settle down. When I told her I was picky, she cautioned me not to wait too long. I did not want to hear that. I chalked it up to her 1950s values, but I secretly hoped, at least for her sake (and probably mine), that I'd be married before she died. Instead, just days before my grandmother passed, Josh, my almost boyfriend of almost three months, broke up with me. My emotions welled up, forming an avalanche of loss. I couldn't discern for whom I mourned.
I met Josh at the McNally Jackson Bookstore Café in Nolita.  There was only one free seat and it was in front of him. He said, "Hi" and after three hours of banter and flirtation, he bought me his favorite book, A Life on Sandpaper by Israeli novelist Yoram Kaniuk. I read the opening lines aloud: "There had been a war and I was wounded. When I got back I was remote and detached from everything, didn't speak for days and would draw on the walls because I'd killed people before I'd kissed a girl." I stared right at Josh and thought, "This is the man for me."
Josh promoted himself as an oral sex expert. Those proved not to be empty words. Once, when he was going down on me and it wasn't happening, self-consciously, I said, "It's O.K. if you're getting bored."
"I was just starting," he said from between my legs.
"Take your time then," I said, leaning back again.
"Watch this."
He applied a small amount of pressure with his chin just above my pubic bone and fingered me. Then he licked me precisely and ferociously. Quickly, he brought me closer to a crescendo that seemed impossible to imagine just minutes before. After his grand finale, I exploded, gasping for breath. The French call it La petite mort for a reason.
But Josh could be slippery. He later warned me that he was a great lover but a lousy partner. Those were not empty words either.
As much as I tried to press my chest into his and find his eyes through the motion of our bodies, I'd often felt as if I was grasping at an apparition. He held me at a distance.
One night when I slept over, I had a nightmare. I lifted the blanket off his bed and hundreds of bugs scurried out. I wondered if it had to do with the 200 women he told me he had slept with or his penchant for threesomes and orgies, which all seemed to take place at Burning Man.
Our last lunch was at Lafayette on Lafayette. I told him I wasn't sure if there was a future. He agreed instead of fighting for me. He was "damaged goods." Part of him didn't want to lose me, but the other part, the bigger part … I told him I wanted to be with someone who wanted me with all his parts.
I deserve that, he allowed. Then he asked if we could be friends. Utter nonsense. "Maybe when I don't care anymore," I said, crestfallen.
Three days later my grandmother was dead and I was on my way to Shaker Heights.
As two muscular gravediggers lowered Grandma's coffin into the ground before the sun had warmed the day, I put my hands in my coat pocket. My brother wraps his arms around his wife. My mother watches somberly as my father steps forwards to begin his speech.
"Mother," my father clears his throat, "was a wonderful woman and this is a tremendous loss." He chokes up and fumbles with a piece of paper. "I'm going to say a prayer. It's called the Shema."
The only other time I've ever heard my father speak Hebrew is when he taught my brother and me the Hanukkah candle lighting prayer. It's just that he forgot a verse, which I discovered while trying to impress a Jewish ex-boyfriend.
His emotional tribute got me. One day, I will stand where he is, and I don't think I will be able to bear it. Not alone.
At the gravesite, I wanted Josh—or at least a more accessible version with equal pussy-eating prowess—by my side.
Dazed and hungry, we're back at my Aunt
Sarah's house for shiva. Legions of children run around. My three older cousins had kids in their early 20's and the eldest is already in high school. I want to scream, "Life, slow the fuck down." I eat my bagel and cream cheese instead.
Grandma Franco corners me. "How was LA?" she asks, "I know your grandma worried about you."
"It was a great life experience," I tell her.
"It takes a miracle to make it in Hollywood," she says, putting her hand on my shoulder, "James got lucky."
Aunt Sarah interrupts: "Grandma's jewelry, belts and scarves are on my bed. Take what you like."
I excuse myself to paw through her possessions. I'm looking for something similar to the 18-karat-gold bracelet she had given me several years earlier. It had made me feel close to her, which sometimes proved difficult.
But things got tough in LA. I didn't want to sell it but I was behind on rent. I drove to Cash for Gold on Melrose and returned twice because the first time I couldn't go through with it.
"Would you sell it as-is?" I asked the woman who worked there.
"No, honey. We'll melt it."
The price of gold was at an all-time low. I got $600 cash and bawled the whole drive home.
My phone vibrates with a Facebook group message from Josh.  He's invited me—and 35 others—to his Winter Soup Party next Saturday because "it's that time of the year again!" Five people are "Maybes" and 19 are "Going." I want to text him, "Fuck Your Soup!" but then I catch a glimpse of myself in the bedroom mirror and laugh. I'm wearing my grandmother's wide-brimmed sun hat, two of her Hermès scarves around my neck and a strand of her pearls. I look like one hot mess.
On the drive home to New York, I realize I never said goodbye to Grandma Franco. How's she going to set me up?
I smile, thinking of her gusto. The problem is, lately I've been identifying with loss more than living.
For kicks, I tweet at him, "Hey James, our grandmothers were good friends. Want to go on a date? Message me. ;)"
Hope never dies.