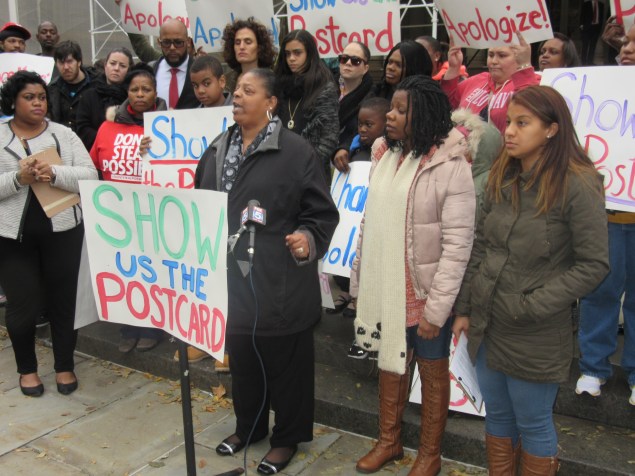 Families for Excellent Schools, a powerful pro-charter school group, demonstrated today outside City Hall against claims by Schools Chancellor Carmen Fariña that charters recruit high-testing students by mailing them special postcards.
Three mothers and one grandmother of special needs children attending charter schools spoke at the event as other supporters, including children, waved signs reading "Show Us the Postcards" and "Chancellor: Apologize!" All denied that the schools–which receive public funding, but are run as private institutions–used any such methods to reach out to them, and slammed Ms. Fariña and her boss, Mayor Bill de Blasio.
"She does not have the proof to back up her allegations. So how can you go out here making false accusations without having proof? I know for a fact that charter schools work and that they do not act on the allegations she is proclaiming. Why? Because my grandson was not tested when he was accepted into the charter school," said Brooklyn resident Anyta Brown, a grandmother of seven and member of pro-charter group Students First New York.
"Her and Mayor de Blasio should not make this a political arena. Our kids are not politically suave. They do not know what is going on. What you need to do is give us an apology to the ones that have voted you in the position that you in," she added.
The rally was in response to a series of charges Ms. Fariña lodged at a Crain's New York event last week, where she claimed that charters sent recruitment mail only to children who tested in the upper brackets on state exams, and that they purged low-performing kids back into the public school system prior to the yearly testing season.
None of the family members at today's presser took questions, and reporters were instructed to speak to FES Executive Director Jeremiah Kittredge. Mr. Kittredge refused to address Ms. Fariña's latter claim, or say if there were any plans for a lawsuit against her for defamation.
"That's not what today was about," Mr. Kittredge said.
Ms. Fariña's office would not directly address the claims she made last week or the exact substance of today's protest.
"We believe in promoting inclusion and equity in all aspects of education and celebrate the successes of our all of our students. In her comment, the chancellor gave voice to concerns that parents and a diverse range of stakeholders have raised," said spokeswoman Devora Kaye. "There is no question a great many charter schools excel at serving English language learners and children with special needs, and in some cases serving them exceptionally well. We will continue working to ensure all students—whether they attend district schools, charters or parochial schools—get the best education. All these kids will be the future of this city together."
The de Blasio administration has long been critical of charter schools, but the companies behind them have been able to successfully circumvent his efforts to charge them rent for the use of public school space by appealing to state officials like Gov. Andrew Cuomo and Senate Co-Majority Leaders Dean Skelos of Long Island and Jeffrey Klein of the Bronx.
One of the city's largest charter chains, Success Academy, is currently the subject of an audit by Comptroller Scott Stringer.
Updated to include comment from Ms. Kaye.