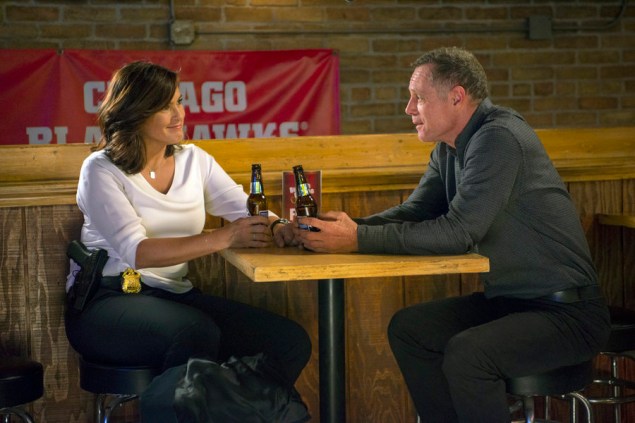 This Tuesday night's episode of Chicago Fire kicks off a two night, three episode storyline that arcs through that show as well as Law & Order: SVU and Chicago PD. All three shows air on NBC and are productions of Wolf Films, headed by procedural guru, Dick Wolf.
In fact, it was Wolf himself who came up with the idea for the trilogy, says SVU Executive Producer Warren Leight. "He knew it would be good for all three shows."
But that doesn't mean that Leight and Chicago Fire/Chicago PD Executive Producer Matt Olmstead didn't have their reservations about the endeavor.
"I think my first reaction was anxiety," admits Leight. "I know the fans will like it, but I know how much extra work is involved and also, legitimately these are two different kinds of police shows and I wasn't sure how the cross-pollination would work."
Olmstead agrees but adds that there's a certain amount of excitement that comes with tackling such a large-scale production. "There's a great quote that says, 'If you don't have butterflies before you go on the stage then you should get out of the business.'  To that end, you can get into a routine and while it's nice to get into a groove or a rhythm, but then you're throw a curve ball and in creative endeavors, often times that's when you do your best work because you're pushed outside your comfort zone."
After Wolf laid out what he was envisioning, the two EPs immediately got started breaking down the elements needed to make the project succeed. "What Warren and I did was jump in," says Olmstead. "I knew what I was going to hand off to him at the end of Fire and he told me what he was going to hand back to over to me at PD and then we fine-tuned and figured out the logistics."
Breaking down the actual writing duties initially fell along show lines, but those lines blurred a bit as the process progressed. "Each show's team wrote their episode but Matt and I were on the phone a lot in the initial plotting stages," explains Leight. "Showrunners are all about control so it's very hard for a showrunner to let someone else write their lines, so we checked in with each other."
"We sent the [Chicago PD] script to Warren to vet since he knows the [SVU] characters better than we do," says Olmstead, with Leight jumping in to add, "If there was something I felt was wrong for one of our characters in the PD part, I made my opinions known." But Olmstead assures that the street went both ways. "There was a respectful vetting of both scripts. When I read the SVU script of our characters, it sounded very true, so there weren't any doubts."
With all of the intense plotting and extensive character examination that transpired prior to production, both Leight and Olmstead want to ensure fans that this is a legitimate cross over between the squads and that characters won't be simply popping up for a random scene here and there on each of the three shows.
"We've participated in disappointing crossovers before. We're guilty of that, "admits Leight, to which Olmstead agrees, and adds, "Last season we had a substantial amount of time with [Detectives] Rollins and Fin in our squad room, but our [Detective] Lindsay character only did one scene with the SVU team so it wasn't really a true crossover."
This time, Head Gamesman Wolf was very clear about what he wanted to see, says Leight. "You want to see Voight and Benson, you want to see Batman and Superman together for an extended period, working through things. So that's what we're doing here."
To ensure that all of the players were integrated was no easy scheduling feat and required significant time away from home base for each of the actors. "We had Kelly [Giddish, Detective Rollins] and Danny [Pino, Detective Amaro] in Chicago for four days and Mariska [Hargitay, Sergeant Benson] there for two days," says Leight. "Then we had [Detective Jay] Halstead and [Sergeant Hank] Voight here for four days and [Detective Erin] Lindsay here for two days. It made production very difficult and it meant our next [SVU] episode had to be a legal one to allow for scheduling."
Shuffling all of the pieces to make the finished product is all for naught if viewers don't check in and committing to three shows is a big ask, something that's not lost on these showrunners. "That's a big fear," admits Leight, "But this is still in the Dick Wolf universe where each episode has to stand alone and also link. You don't want to have a thee minute 'previously on Chicago Fire' to open up 'SVU.' You want that to be as short and clear as possible.  Our episode is stand alone yet the baton passes and there are enough unresolved parts for PD to get another hour out of it. That's an interesting writing challenge – how much to reveal when and how to stage the investigation and the information over 80 minutes. One good thing what we have is that our episode goes right into PD. Our hope that the audience comes and stays for two hours and that we've made it compelling enough for them to do that."
A large part of the continuing storyline will deal with some already established relationships, as well as a few ones.
Detective Lindsay and firefighter Lieutenant Kelly Severide had a relationship that recently ended. How will that affect their working relationship when he calls her in to help investigate a mysterious box recovered from a fire (thus setting the entire three episode storyline in motion)?
"It's an amicable cross. She's not rolling her eyes. She's agreeable," says Olmstead, adding, "It's an interesting cross but it's not fraught with drama or betrayal because, who knows, they may rekindle at some point."
For now though, Lindsay seems to have moved on and has recently been tempted to move her work partnership with Detective Halstead in a more personal direction. Could this trip to New York add to the already slow burn happening between them? "[There will be] further slow burning," says Olmstead, "because, as has been made clear to them by [Sergeant] Voight, he doesn't tolerate in house romances."
The most interesting interaction will be between the two headstrong Sergeants, Benson and Voight, which leads to 'fireworks' between the two, say Leight and Olmstead. "It was fine when they were in New York," chuckles Leight, "And then it went to sh-t in Chicago," admits Olmstead.
Clarifying a bit, Leight adds, "There are two very different types of fireworks that we could be talking about. They have two very different approaches to interrogations and procedure. I think we all know Voight can be more physical and Olivia is a more empathetic detective. Those kind of fireworks take place in both episodes and they are among the most fun scenes in SVU and CPD."
"When the Benson character shows up the first time during a pretty grim investigation there's a smile on [Voight's] face," says Olmsead. "He's happy to see her. There's this immediate chemistry, immediate shared affection between two very similar characters. There's a real bond right away between those two characters."
Could there be more than just 'mutual respect' between Benson and Voight? Olmstead reveals a little behind-the-scenes conversation that he had with actor Jason Beghe about the interaction between the two that might shed some light on the issue. "When [Benson and Voight] have their private moment, what's funny is I was talking to Jason and he was asking if Voight was ever going to have a love interest, and I said I wasn't sure and we always portrayed that he had one true love and that was his wife, who isn't with him anymore, and that he's really married to the job, but when I said, 'you know there's a scene coming up with Mariska,' he said, 'Don't say another word. I know how to play it.'"
Should all three shows continue next season and another three-way crossover come to pass, both Olmstead and Leight learned a few things from this go around, some unexpected and some just plain interesting.
"The most unexpected and rewarding development in filming the crossover episodes was seeing how close the actors from the different shows became," says Olmstead. "Between set-ups they stuck together as a group and they socialized after wrap. It brought the shows closer. "
On his end, Leight experienced something just a bit different. " I loved when the PD guys arrived in our squad room, in their t-shirts and leather jackets that had been flown in from Chicago, and saw our guys in their suits and ties and 'grown-up' clothes.  My guess, the next time PD shows up here, they'll make an attempt; maybe a jacket, at least a button-down shirt.  Something."
The Chicago Fire/SVU/Chicago PD event begins Tuesday night with Chicago Fire at 10pm e/p on NBC.