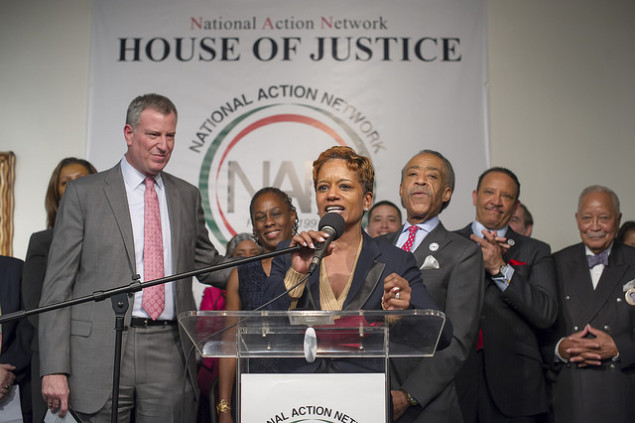 Rachel Noerdlinger, the embattled chief of staff to Mayor Bill de Blasio's wife, announced this morning she will be taking a leave of absence from City Hall.
Ms. Noerdlinger had faced mounting scrutiny in the past few months over her long-term boyfriend's lengthy criminal record, her own tax troubles and her teenage son, who was arrested last week.
"Today I am announcing that I have decided to take a leave of absence to spend more time with my son. These past two months have been extremely difficult for both of us, and his arrest on Friday heightens the need for me to devote my full attention to Khari, my number one priority," Mr. Noerdlinger said in a statement.
"I can handle criticism and scrutiny of me, even when it's mean-spirited—that comes with the territory when you take on the status quo. But increasingly, my son has been subjected to attacks that have nothing to do with the public interest, and everything to do with derailing this administration. I do not want to be a distraction—the work at hand is far too urgent," she added.
Ms. Noerdlinger, a former top aide to Rev. Al Sharpton, said she was still a "proud member of New York's progressive movement" and thanked "everyone" who had helped her "weather this difficult period."
Mr. de Blasio had steadfastly stood by Ms. Noerdlinger's side after a series of news reports surfaced in September about the criminal past of Ms. Noerdlinger's boyfriend, Hassaun McFarlan. Mr. McFarlan pleaded guilty at 15 to manslaughter for shooting and killing a man over a down jacket and in 2005, he pleaded guilty to cocaine trafficking charges and was served time in Massachusetts state prison until being released in 2007. On Facebook, Mr. McFarlan–a vocal opponent of stop-and-frisk–referred to police officers as "pigs."
Ms. Noerdlinger also drew fire for initially omitting her boyfriend's history from city Department of Investigation forms.
The latest blow to Ms. Noerdlinger's standing in the administration and public appeared to be the arrest of her 17-year-old son Khari Noerdlinger on Friday. Khari was arrested on trespassing charges and was revealed to have a history of run-ins with the law.
It's not clear how long Ms. Noerdlinger's leave will last or if she will be returning. She was regarded as a key aide in the administration, both as a chief of staff to Chirlane McCray and a nimble handler of race-related issues.
"The Mayor and First Lady thank Rachel for her service. She has been a great asset to the administration and the people of New York City over the past year, and everyone wishes her all the best during her leave," said Rebecca Katz, a spokeswoman for the mayor.