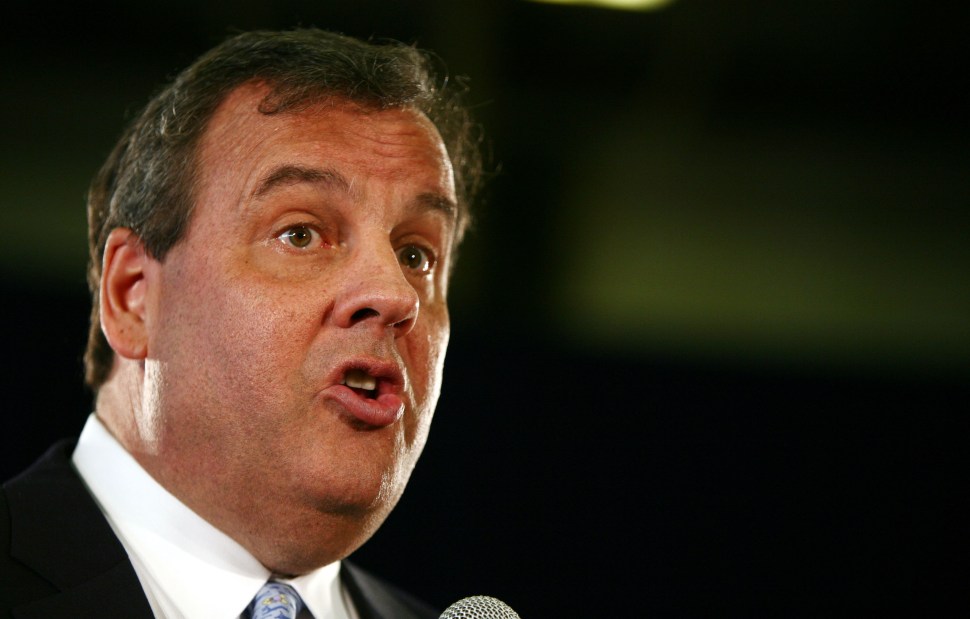 Last month, PolitickerNJ explored the possible scenarios by which Gov. Chris Christie, whose rumored run for the Republican nomination is coming closer and closer to reality, might launch his possible 2016 presidential campaign. Political observers saw two courses of action for the Garden State executive at the time: stay in the governor's seat while quietly raising funds for his presidential bid on the side, or resign from office and face reconciling problems at home with his own personal political ambitions.
Both posed their own sets of challenges for the fledgling Republican hopeful, which included, among other things, managing the delicate balancing act of fundraising for his presidential campaign while still tending to his responsibilities as governor at home. Even under the most desirable state of affairs, which saw Christie staying in office while he raised money on the side, there are serious problems: SEC restrictions forbid federal candidates from accepting campaign contributions from investment firms that do business in their states, making it more difficult to raise funds as a sitting governor than if he had simply resigned.
It now looks like the course is more definitively set, however, if we are to take Christie himself at his word. Earlier this month, Christie was reportedly telling supporters that he will not step down as governor to run for the nomination in 2016 — a move that further bolstered expectations that he will run, and fueled speculation as to how he'll manage it.
Of course, there are other gubernatorial office holders-turned-presidential hopefuls that have made the jump from statehouse to White House campaign trail, both during and after their terms had ended. Some did it successfully — Ronald Reagan (after), Bill Clinton (during), and George Bush (during) come to mind — while others not so successfully — Rick Perry (during), Michael Dukakis (during), and Mitt Romney (after) among them. All handled their situations differently, but a few may offer some insight into how Christie's own bid may play out.
"There certainly are successes and failures either way," said John Weingart, Associate Director of the Eagleton Institute of Politics at Rutgers University.
Running while still in office
Dukakis and Romney present particular useful comparisons for Christie, who retains a close relationship to the latter and who, as PolitickerNJ explored in an earlier piece, faces a similar set economic circumstances at home with the former when he ran for the Democratic nomination in 1988. Weingart noted that both used their governorships on the campaign trail — albeit in different ways.
Governor of Massachusetts from 1975 to 1983 and 1983 to 1991, Dukakis used his time in office to bolster his chances when he ran in the Democratic primary, pushing as a central pillar of his campaign the economic comeback his state witnessed under his tenure (recall the "Massachusetts Miracle", which described the high-tech and financial services industry boom Massachusetts witnessed in the 70's and 80's). Promoting his state's successes — and linking them to his own record as governor — earned Dukakis much admiration and recognition on the campaign trail, though ultimately not enough for him to defeat Republican Vice President George Bush.
Dukakis' strategy is one Christie may try to emulate, and has before, by promoting such accomplishments as pension and benefit reform and economic strides the state made earlier in his term (Like Dukakis, Christie had a name for it, too: The "Jersey Comeback"). But as many political observers have pointed out over the last several months, recent setbacks on the state's economic and financial fronts have put serious strain on the Christie administration, resulting in some of the lowest job approval ratings of the Republicans career and unforeseen credit downgradings for the state. As a result, Christie might have a significantly harder time using the governor's post to improve his chances in a Republican primary.
Running after office
Romney presents another alternative. After serving as governor of Massachusetts from 2003 to 2007 where he instituted such legislation as the state's sweeping healthcare reform, Romney ran in Republican primaries both in 2008 and 2012, eventually winning the nomination the second time around. But Weingard pointed out that unlike Dukakis and other governors who've run for president, Romney ran on a platform noticeably different from his record as governor — a move he was able to pull off because he waited until after he was out of office to run.
"Romney ran on a platform largely different from the one he governed on as governor," Weingart said, noting that Romney mostly drew from his history as a business executive as opposed to state executive in order to curry favor with conservatives. "So if he was still in office as governor I think that would have been even harder for him to navigate than it was when he was out of office as governor."
Christie might not follow Romney in waiting until after his gubernatorial term ends to run for the nomination, but he may choose to similarly distance himself from some of those aspects of his record as governor that may not resonate in a heavily GOP primary.
"To the extent New Jersey is doing less well than other state around the country — that's still a fact that he's going to have to address whether he's a former governor or he's still the governor," Weingart said.
Other challenges
Weingart said that Christie will likely be able to use his status as sitting governor to his advantage, should he run for the nomination — but will have to be careful about how he manages his last few years in office.
"He can look like himself after Hurricane Sandy, or he can look like Kathleen Blanco after Katrina in Louisiana," Weingart said, noting that the governor's office presents Christie with a unique opportunity to show leadership in a Republican primary.
And yet many of the challenges Christie will face in the final years of his tenure, Weingart said, are likely to be completely independent of his presidential plans.
"The difficult issues even if he wasn't running for president are that clout as a second term governor is different. Any governor's clout is different in their final term than it was in their first term," Weingart said. "And with at least one if not more of the Democratic leaders in the legislature wanting to succeed him as governor, they are more interested now in carving out their differences from Christie than they were four years ago. Even if he was not running for president he would have a harder time coming up with compromising agreements with the legislature than in his first term."
Ultimately, Weingart said that no two election years are alike, and this one should shape up to be uniquely interesting.
The next question in all of this? How long Christie will remain in office if his bid for the GOP nomination is successful.