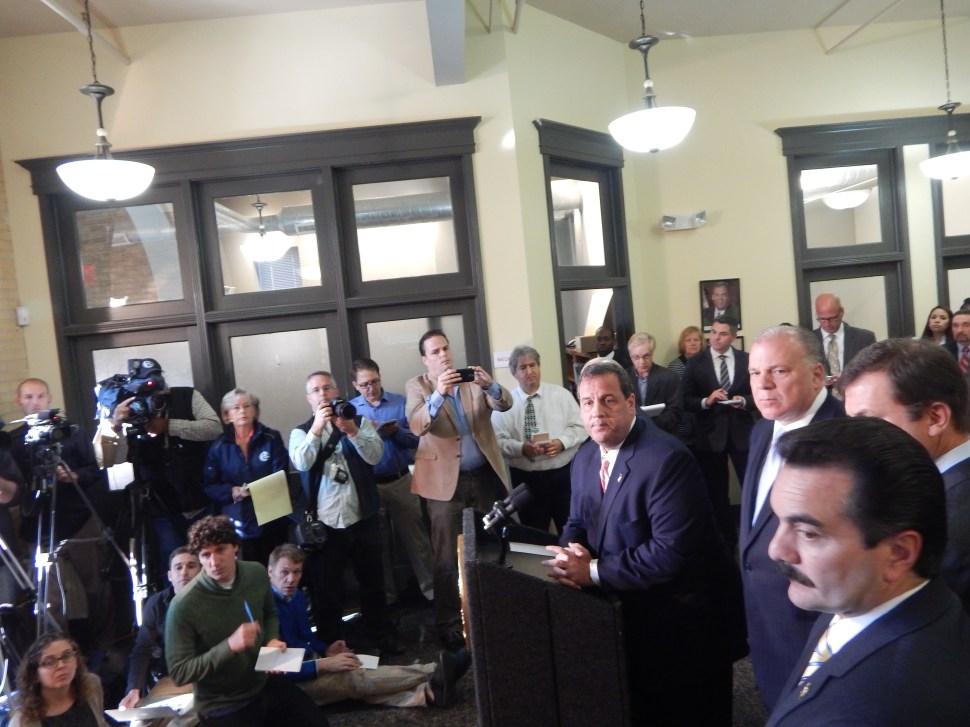 ATLANTIC CITY – There was enough blame to go around.
Sounding a more aggressive tone following a second closed-door summit aimed at addressing ongoing difficulties facing the seaside gambling town, Gov. Chris Christie today found himself criticizing what he called a "history of weak-kneed decision making" that has led to the down-spiraling of Atlantic City's economic situation.
"There has been a history of weak-kneed decision-making that has led us to this point," Christie told reporters after emerging from the hour-long meeting with local and state lawmakers and business people. "So it's a cautionary tale. Sometimes past is prologue."
In addition to a number of economic setbacks — including a serious decline in the city's cash-cow, its gaming industry —  he said much of Atlantic City's current woes can be traced back to a lack of action, particularly over the last several years.
Asked who might fall under that criticism — local, county, or state officials — Christie shot back: "yes, yes, yes."
"Local authorities, state authorities, county authorities, and the private sector," Christie said. "All have made bad decisions over the course of time that have led to the situation we face today. All of them. "
The comments, coupled with other remarks likening the city's situation to that of Detroit's and arguing that there's "no more time to waste" in finding solutions to the problems it faces, were perhaps the strongest words Christie's had on the issue since news of casino closures and employee layoffs began to wrack the city earlier this year and force lawmakers to action.
At their first meeting in September, where lawmakers, including Senate President Steve Sweeney and other leaders in Trenton, convened to come up with ideas to correct the course of decline, Christie brushed off the notion that the city faced certain fiscal disaster, telling reporters that anyone "declaring the demise" of Atlantic City was wrong.
Today, however, lawmakers painted a slightly more dire picture of the beleaguered gambling mecca, one that necessitated immediate action.
"We are in an emergency — this is an economic crisis, we're not exaggerating," Sweeney told reporters following the press conference.
Though he didn't offer concrete specifics, Christie said stakeholders and legislators — including Senate Minority Leader Tom Kean, Assembly Speaker Vinnie Prieto, and Jon Hanson, chairman of the Governor's Advisory Commission on Gaming — brought a number of proposals to the table to that they will consider over the next several weeks. One includes appointing an emergency manager to oversee the city's more immediate problems, while another involved establishing an Atlantic City Development Corporation to spearhead reinvestment projects, to be modeled after the DEVCO of the city of New Brunswick.
Christie said he couldn't estimate exactly what impact these initiatives would have on unemployment and economic numbers in the city — or whether they'd even be adopted — but argued they represented the first steps toward getting the city back on track.
"You can't quantify that right now. The fact is, the first thing you need to do is stop the bleeding," Christie said. "So let's start there. And then you work on recovery. But first you have to stabilize the patient."
Sweeney himself proposed a legislative package aimed at bringing "immediate economic stability" to the city — though Christie today said he saw it as more of a "bundled of proposals" than a real bill. That plan includes allowing casinos to pay a set amount in annual taxes, redirecting the Casino Reinvestment Development Authority's casino assessment to pay down $25 million of the resort's debt per year, and giving the state a greater role in reducing municipal administrative and school costs by $72 million.
"These are real, serious decisions that have to be made," Sweeney said. "We have to fix Atlantic City first, and that's what we came up with on Monday, to try and find a way to stabilize it.. You need to get the foundation right, and then you can go do all these other things we're talking about."