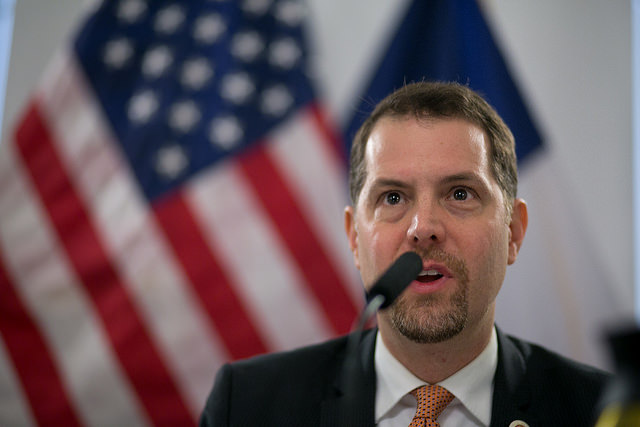 The City Council passed a bill on Tuesday that will help a lot more blind people cross the street.
Under a new bill sponsored by Councilman Mark Levine, the city will be required to install 75 new traffic signals each year that use noises to alert the visually impaired when lights change, tripling the number of so-called Accessible Pedestrian Signals. Construction on the signals will begin in 2015.
Mr. Levine, a Manhattan Democrat, hailed the bill as a major component of Mayor Bill de Blasio's Vision Zero plan to reduce pedestrian fatalities.
"This bill is a huge win for the 380,000 New Yorkers with visual impairments and for Vision Zero. Accessible Pedestrian Signals will not only give these individuals the confidence to cross the street safely, they will also save lives," Mr. Levine said.
In 2012, the City Council passed a law requiring Department of Transportation to install 25 APS devices per year in areas deemed high risk. Currently, 96 of New York's 12,460 intersections currently have an APS installed. It will cost the city $1.75 million a year to meet the new requirement.
DOT initially balked at Mr. Levine's bill, but was swayed when the Council cut the number of required signals from 175 to 75. Mayor Bill de Blasio plans to sign the bill into law.
Manhattan Borough Gale Brewer, who introduced the bill with Mr. Levine, also hailed the legislation. The bill "will expedite the pace at which these important safety features are implemented by increasing this annual requirement to 75 signals, and that's a good thing," she said.