Marquel Martin might have come away empty-handed from the Bachelorette and Bachelor in Paradise, but it looks like everyone's favorite dessert-loving contestant has found a way to capitalize on his reality TV experience.
Besides his always interesting fashion choices, Mr. Martin made a splash in Bachelor Nation for his seemingly unparalleled love of cookies.
Perhaps you'll recall Mr. Martin's first meeting with Andi Dorfman, where he presented her with an enormous tray of the baked goods and urged her to "look to the black-and-white cookie." We're pretty sure he also seized the opportunity of the "Men Tell All" episode to hand out cookies to the live audience, because, in case you missed it, MARQUEL LOVES COOKIES, YOU GUYS.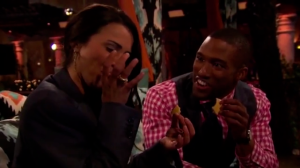 Now Mr. Martin is at it again, today launching a Kickstarter campaign to fund Social Cookie: a bakery that would "[encourage] people to share, interact, and take part in socially trending topics as well as support charities and other good causes with its ever-changing menu." The menu, in case you didn't guess it, would consist of cookies.
"I'm a firm believer in the power of a cookie, and everyone's a firm believer in the power of social media," Mr. Martin told tvDownload over the phone this afternoon. "Why not marry the two and have it make sense?"
So how exactly will the cookies incorporate social media and charity? The campaign page offers some further details:
As an example, the ALS Ice Bucket Challenge recently took over social media. To support the great cause, Social Cookie would come out with a fun and creative cookie inspired by the campaign and from which part of the proceeds would go to the ALS Association.
The cookies would also reflect other popular topics like "holidays" and "seasons," because what's a successful bakery without the ability to cash in on pumpkin spice- and chestnut praline-flavored goods? Still, Mr. Martin said every cookie will contribute, in some way, to a meaningful cause.
"We're definitely going to have your pumpkin spices and every thing like that, but as much as we can work with local, national, and even global charities, we're going to try to attach our cookies with that," he said. "I never want to just be just a for-profit business structure."
Social Cookie would ideally consist of a Las Vegas storefront open 24 hours a day, where customers could purchase cookies in-person. Customers would also have the option of ordering the cookies online.
"[I want the shop to be] representative of my own personality," Mr. Martin, said. "I always do cookies, wine and Netflix. I'm not a huge club-goer anymore in Vegas. I'm very much a homebody. I wanted to definitely create that atmosphere in the shop."
He also suggested the store would be great for "one-on-one dates," because yes, he's now only capable of talking about romance using Bachelorette terminology.
Making Social Cookie a reality will be a daunting initiative. Mr. Martin is looking to raise $50,000 in 30 days. Right now, less than 24 hours in, he's approaching $1,500. Will his costars from Bachelor and Bachelor in Paradise be contributing, we asked?
"I would hope so!" Mr. Martin said. "I'm friends with a lot of them, [but] I'm not one of those guys who expects anything. If they do donate and they do support me, I'm so grateful."