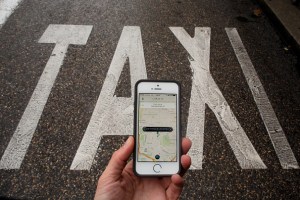 New York City Councilman David Greenfield isn't the first lawmaker who is sick of car service Uber's high prices–New York State Attorney General Eric Schneiderman beat him to it. But on Tuesday Mr. Greenfield took his concerns a step further, by introducing a new bill to limit the company's notoriously high surge pricing, which raises fares by a percentage during peak hours.
The premise behind the car service's surge pricing is to entice more drivers onto the roads during rush hour, holidays, or bad weather by increasing their potential revenue. Despite the disclaimers on Uber's website that there are no hidden costs, which states, "When rates are more than double, the surge confirmation screen also requires you to type in the specific surge multiplier to ensure you understand what rates to expect," Mr. Greenfield says surges are bad news for the customer.
"A yellow cab in New York City may not charge you $225 for $25 ride simply because it's snowing–neither should Uber," said Mr. Greenfield. The councilman alleges that Uber's surge prices could increase the fare by as much as 900%. His bill seeks to reduce that increase to a maximum of 100%.
An Uber spokesperson responded that the brand "worked closely with the New York Attorney General earlier this year on a policy that balances the goal of transportation availability with community expectations for ride affordability during disasters and remains compliant with New York State law on pricing."
That policy, which was developed with Mr. Schneiderman, outlines that their "pricing algorithms" will be capped during natural disasters and states of emergencies. In a partnership with the American Red Cross, 20% of fares with that emergency surge pricing will be donated to the charity.
But with the introduction of this bill just before the holiday season, Mr. Greenfield seems to be asking: what happens the rest of the year?