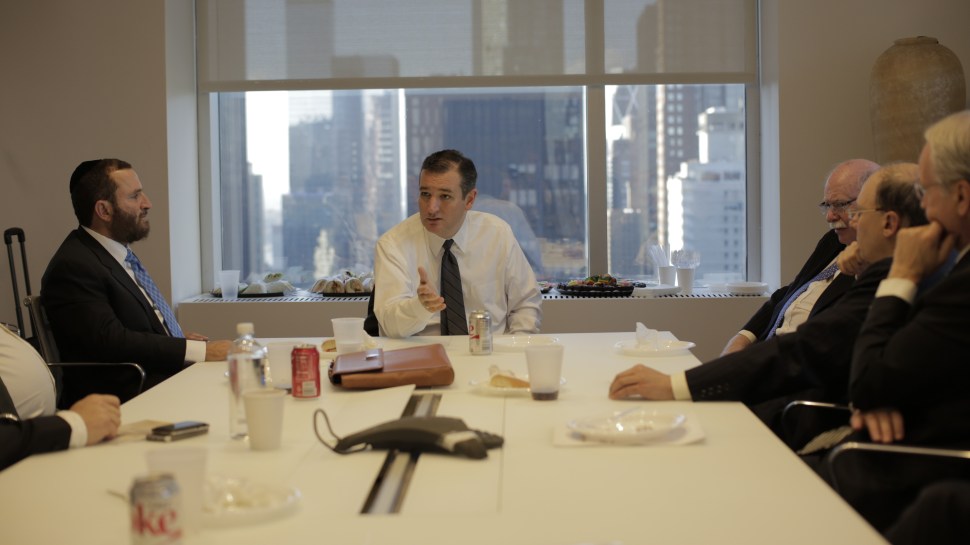 Ted Cruz, the Texan senator rumored to be among a handful of GOP hopefuls sniffing out a run for the Republican nomination in 2016, yesterday gave a detailed reading of his view of the next presidential contest, naming former Florida Governor Jeb Bush, former presidential candidate Mitt Romney, and New Jersey's own Governor Chris Christie as the most likely "moderate" contenders.
According to PolitickerNJ's sister publication, the New York Observer, Cruz has appeared at at least one dinner and a handful of meetings with some of the most prominent members of New York City's Jewish community over the last two days, ostensibly to test support for a run in 2016. From the Observer:
"Last night, Mort Klein's Zionist Organization of America dinner featured Mr. Cruz, known for his steadfast and aggressive support of Israel, in a prominent speaking role. Attendees included Alan Dershowitz, Pastor John Hagee, and Home Depot founder Bernie Marcus. Those who made the scene at a fancy VIP pre-dinner buffet included billionaire Ira Rennert, Congresswoman Michelle Bachmann, former Westchester District Attorney Jeanine Pirro, Public Relations authority Ronn Torossian, Bernstein Global Wealth Management (and recent Observer subject) Jeff Wiesenfeld, plus Rabbis Avi Weiss and Shmuley Boteach. Reviews of Mr. Cruz were uniformly positive as many New York Jews got their first taste of the tea party darling and discovered, to the shock of some, that the Princeton-educated lawyer was rather well-spoken and engaging."
Cruz reportedly touched on a range of issues at the meetings, from how Republicans are characterized by media ("Historically, the media has had two caricatures of Republicans. We are either stupid or evil," he's quoted saying), to how his own reputation as a Tea Party standard-bearer compares with that of the late Ronald Reagan ("I don't think I'm all that conservative. And it's interesting. Reagan never once beat his chest and said 'I'm the most conservative guy who ever lived.' Reagan said, 'I'm defending common sense principles – small businesses, small towns,'" Cruz notes).
He also talked about U.S.-Israel relations (Cruz is an ardent supporter of the country), Senate Majority Leader Harry Reid, and his own electability on the national stage.
But some of Cruz's most interesting comments came when he attempted to size up a 2017 presidential contest. He thinks Hillary Clinton will be the Democratic nominee, and sees a "crowded field" of Republicans contenders — with Bush, Romney, and Christie in what he calls the "'moderate establishment' bucket."
"In my view, Hillary will be the Democratic nominee. And I think Hillary is every bit as radical as Obama is. I don't think Bill is, I think Bill is genuinely more moderate. But I think Hillary is. So how does a Republican win in 2016? Einstein famously said the definition of insanity is doing the same thing over and over again and expecting a different result. If you look at the field in 2016, it's going to be crowded field, there could be a dozen, there could be fifteen. There's one bucket that, for lack of a better word, I'll call the 'moderate establishment' bucket. It'll be some combination of Chris Christie, Jeb Bush and Mitt Romney. My guess is two of the three will run. And my view is whoever's in that bucket will raise tons of money. A lot of donors will rush to write them checks. And yet if the nominee comes from that bucket, the same voters who stayed home in 2008 and 2012 will stay home again and Hillary's the winner."
Both Bush and Christie have hinted at runs in 2016, while Romney has declared definitively that he is not interested in mounting another challenge.