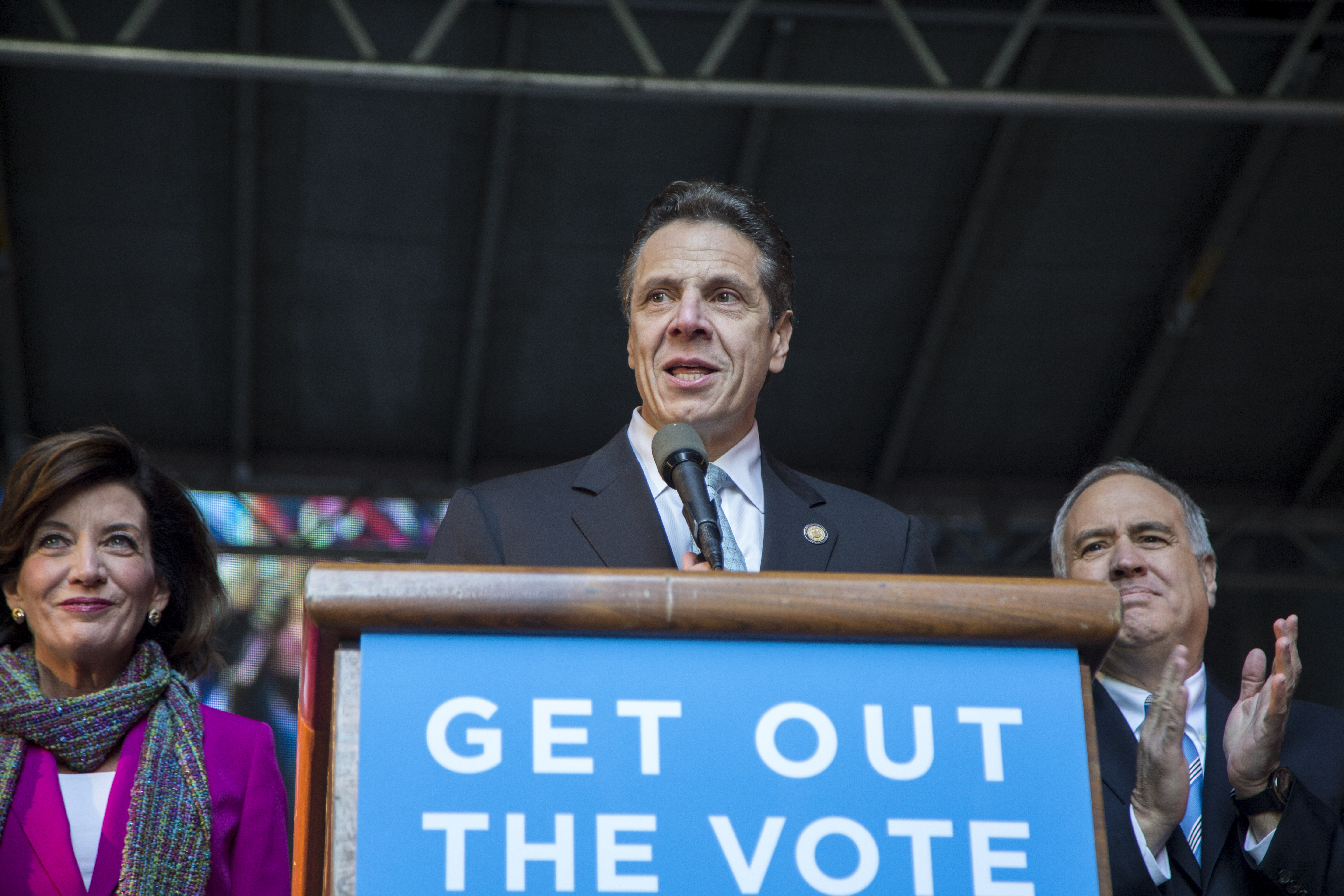 Gov. Andrew Cuomo today argued that it was the nationwide Republican wave based on anger toward President Barack Obama that was responsible for his party's failure to capture the State Senate–and denied critics' claims that he was in any way culpable by failing to campaign for Democratic candidates.
Speaking on the Capitol Pressroom radio program, Mr. Cuomo argued that the GOP's success in picking up key seats to control the upper house of the state legislature was just an extension of the Republican Party's stunning wins nationwide.
"These things tend to run on large currents, and the current was a Republican wave premised on dissatisfaction with a Democratic administration based in Washington," he said. "It wasn't about this state, it was about the national turnout."
Mr. Cuomo did not explain why this same wave did not prevent him from winning an easy re-election against Republican challenger Rob Astorino, or stop the Democrats from gaining seats in the Assembly. But he claimed Democrats failed to make a convincing case to compel people to the polls, and said that they instead relied on unpopular proposals like public financing of elections and on a push to take complete control of the New York legislature.
"There was no real state issues, or state excitement, or state energy," he said. "'Come out for the State Senate' was our big argument. You know, State Senate, it's hard to motivate people about the State Senate."
The governor denied Working Families Party State Director Bill Lipton's assertion that he had failed to keep his promise to campaign for his fellow Democrats, and hoarded his financial resources as potentially strong contenders "withered on the vine." Mr. Cuomo noted that he has long had a fractious relationship with the WFP–despite its endorsing him twice–and pointed out that many Senate Republicans won by double-digit margins, which he argued was beyond his ability to change.
"I think it's unfortunate that they're finger-pointing," Mr. Cuomo said. "It's very hard to do anything that would have that kind of impact on the race."
The governor also claimed the success of his new Women's Equality Party–seen by many as a cynical ploy to divert votes from the WFP–in achieving ballot status would be "an exciting element down the road."
Mr. Cuomo argued that Senate Majority Leader Dean Skelos would continue to come to the table and negotiate with him, and heaped praise on the Republican for his pragmatism.
"I believe he is there to get things done and he wants to get things done," he said. "Government working, getting things done, compromising, he has been very good at that."
The governor doubled down on vows to break up the "public monopoly" on education, empower charter schools and enforce rigorous new teacher evaluations. He lumped the unions opposed to such efforts in with the organization that opposed his passage of same-sex marriage and gun control.
"If you're not willing to pay the price for change, get out of the business. Because the status quo is the worst possible outcome," he said. "When I'm done, I'm going to be most proud of these things that have caused the most heartburn."