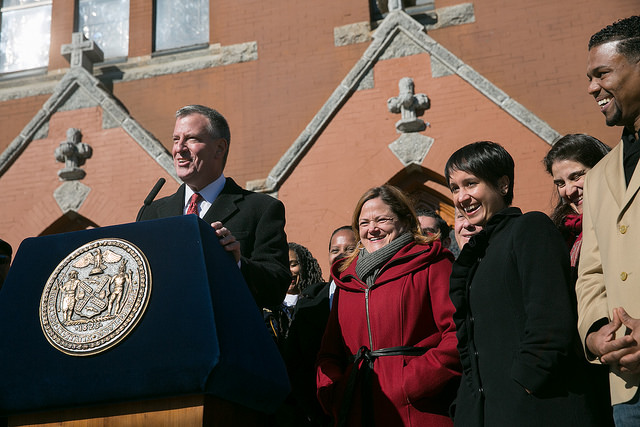 Mayor Bill de Blasio heaped more praise on President Barack Obama for the dramatic action he took on immigration last night.
Mr. Obama's executive action to shield millions of undocumented immigrants from deportation and grant them work permits drew wide approval from Democrats and New York elected officials while angering Republicans, who accused the president of overreach.
"I give him tremendous credit for one, articulating a message and vision that had to be talked about and two, for acting when it's clear Congress will not," Mr. de Blasio said at an unrelated press conference today.
"I think he has every right to do so because we have to end the madness of a system of which we have 11 or 12 million people amongst us be part of our society going unrecognized, unaddressed–we have the biggest open secret in American life not being treated as a matter of policy," he added.
Mr. Obama's action does not give undocumented immigrants a path to citizenship or allow them to receive subsidies from the Affordable Care Act, disappointing at least some immigration advocates. But local elected officials like Mr. de Blasio and Council Speaker Melissa Mark-Viverito were overwhelmingly grateful for the president's long-awaited attempt to reform an immigration system most observers agree needs fixing.
Mr. de Blasio said the action was "crucial" because there are a half-million undocumented immigrants in New York. The mayor announced yesterday he would be convening a summit in December of at least 20 mayors to discuss how Mr. Obama's execution action will be implemented.
The undocumented, the mayor said, will able "to come out of the shadows, finally be able to know their families will not be torn apart, they'll be able to have a better, normal life."
"They'll finally be treated as positive, productive members of this society," he said.