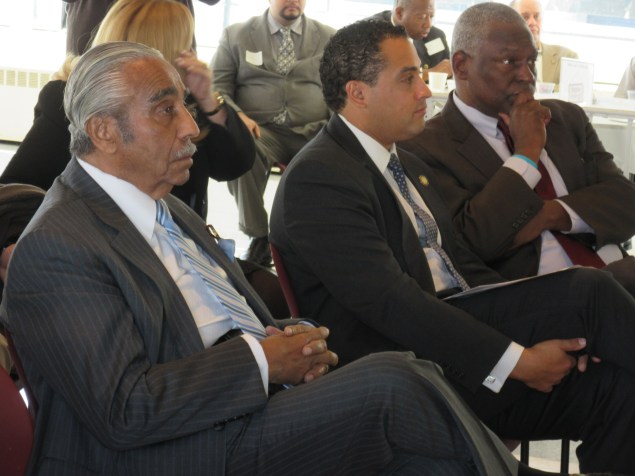 This morning several dozen real estate developers, brokers, lawyers and financial affiliates met in the offices of the Park Avenue law firm Herrick, Feinstein to hear about the implications of the June 2015 expiry of the property tax abatement known as 421-a, a powerful incentive program tied closely to affordable housing construction. Michael McMahon, a Herrick partner and former member of city council—where he sat on the land use committee—presided over a panel, with Jennifer Dickson, a planning and land use specialist at the firm, and State Assemblyman Keith Wright, the chairman of that body's housing committee, slated to do most of the talking.
As it happened, though, after a brief—and punctilious—overview of 421-a's particulars from Ms. Dickson and a general, risible greeting from the assemblyman, the floor belonged largely to the business-focused audience, whose evident angst about the future of 421-a appeared little assuaged by Assemblyman Wright's hesitance to provide specific answers to their questions, or by his seeming nonchalance about the fact that the whether and how of the abatement's renewal are unlikely to emerge with any certainty until the summer.
Nervousness around the fate of 421-a, whose parameters bear strongly on the way many development deals get structured, is understandable. Inaugurated in 1971, the exemption has since become one of New York's most important development tools, undergoing a significant legislative overhaul in the 1980s to better spur the construction of affordable housing alongside market-rate units as city real estate values rose. It's benefited from further refining in later years. (In 2011, there were more than 43,000 421-a condos in the city; the program also covers rental buildings, whose affordable units must be rent-stabilized.)
Today, 421-a, which operates through extending to builders terms of abatement of 10 to 25 years by calculating tax rates according to pre-construction land values—invariably much lower than after buildings go up—requires recipients to build on-site affordable units in market-rate developments throughout Manhattan, in much of northern Brooklyn and in smaller portions of other boroughs. (In the parlance of the Department of Housing and Preservation, affected regions are known as Geographic Exclusion Areas, or GEAs.) Projects are further required to make 20 percent of units affordable, which in the context of 421-a means financially viable for families earning 60 percent of Area Median Income (AMI).
Under current law, developers taking advantage of the 421-a abatement may also reap the benefits of inclusionary housing incentives—with which 421-a shares significant similarities—so long as they meet both programs' stipulations. But whether or not this kind of "double-dipping" will be allowed under a refreshed version of the law is among the issues most prominent on developers' minds.
Ms. Dickson enumerated some others: Might GEAs be expanded? Will 421-a developments require greater affordability, which is to say reductions in AMI levels? Will the number of affordable units required per project go up? (One developer in the audience noted—with barely muted distress—that Mayor de Blasio has indicated that he finds the 80/20 arrangement excessively generous to builders, a cast of mind Assemblyman Wright shares, and one borne out by the recent adjustment of plans for Astoria Cove, whose 1,700 units will include 468 apartments, for low and middle income tenants, for a ratio of 73/27.) Until 2007, 421-a allowed for "certificates," which permitted developers to build affordable units off-site from market-rate projects; might such a provision return? (It's a reprise many in the poor-door beleaguered industry would welcome.)
The assemblyman, however, mostly declined to offer definite answers on these and other issues, subject as they will be to protracted discussions among multifarious parties with diverse interests. "I can't think of any reason that [421-a] should not be renewed," he said, declaring it an "absolutely wonderful program," and offering his ear to the development community in the coming months. More than any one issue, though, the assembled seemed concerned about the uncertainty currently surrounding 421-a, as well as several other real estate-related policies due for reevaluation next year.
David Schechtman—a principal at Eastern Consolidated, a real estate investment services company—rose to describe a deal he'd put together for a nonprofit selling space in Downtown Brooklyn that was falling apartment because the owners had pushed back their move-out date by a month, making the would-be buyer nervous about whether they could commence construction before the current terms of 421-a expire. Later, a developer said, "Essentially, we're in a hiatus. It's unclear whether financing will be available. You can't underwrite unless you know what average rent through a building is going to be."
"If you're looking for certainty," Assemblyman Wright told the crowd, "you're talking to the wrong people—or at least the wrong person. But in terms of influencing a process, that's what rooms like this are all about." The kinds of information the developers were looking for might well not be available until days before the expiration deadline, in mid June. That, he suggested, is simply the way these things work. (The effect of the delay on affordable housing production, if any, got scant mention.) "We are actually very early [in the process]," the assemblyman said. "This is the first real discussion I've had on this issue."