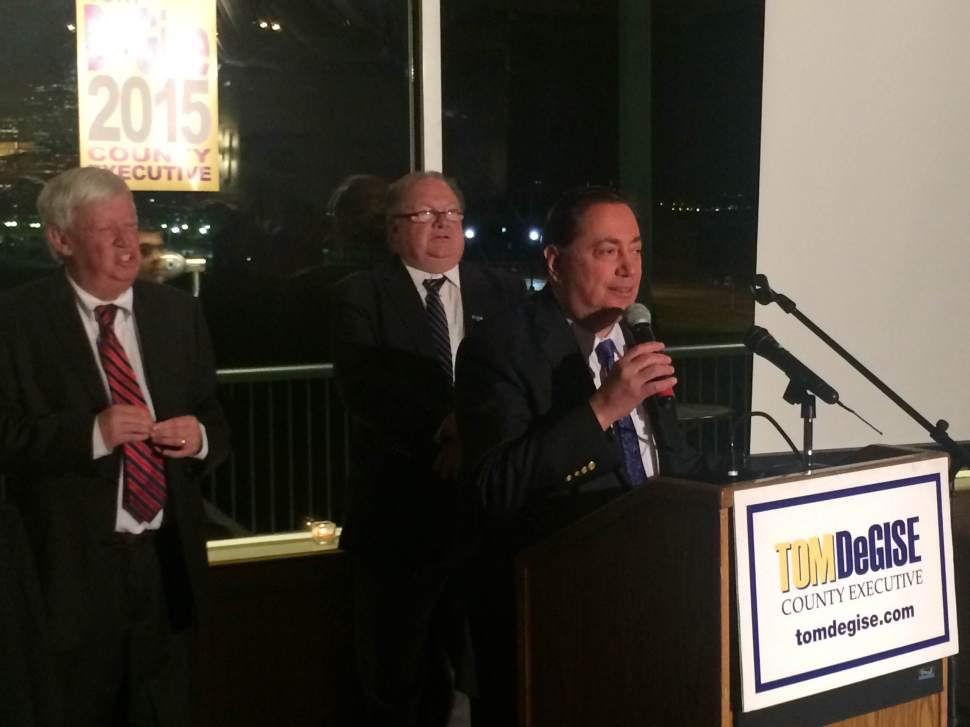 It's over.
Or at least that was the mood projection in a room tonight.
PolitickerNJ did not attend.
But we received word that Hudson County Executive appeared overloaded with power as he made his way to the podium in the face of no 2015 opposition.
A few weeks ago, we received word of telephone signs in Jersey City promoting the candidacy of state Senator Sandy Cunningham (D-31) as county executive.
But sources say Cunningham won't run.
When state senators Brian P. Stack and Nick Sacco (pictured at the microphone, above, with Craig Guy, right, and DeGise) get together, something special is happening. In any event, so argue the allies of DeGise, who said over 500 people crowded into the Liberty House to honor the executive.
DeGise raised well over $125,000 for his campaign, the most successful fundraiser the County Executive has ever held.
Spied in the crowd: Sacco, Stack, Speaker Vinny Prieto (D-32), U.S. Rep. Albio Sires (D-8), Stack, and many other Hudson mayors and leaders as well as a strong show of support from unions including the Laborers, Building Trades, Plumbers, SEIU 1199, Electricians, Carpenters, Sheriff's Officers and more, plus progressive organizations like Blue Wave NJ, NJ Young Dems, Democratic Women's Caucus and more that are not often involved in local Hudson campaigns.