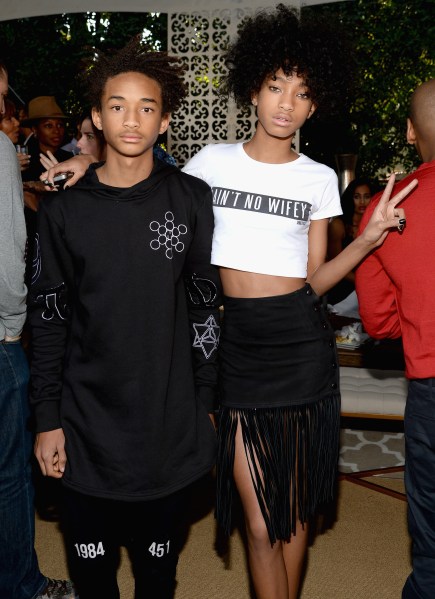 T Magazine: As teenagers, what frustrates you most about society? 
Jaden: Mostly how melancholy the ocean is.
Willow: Exactly, exactly. Actually, what I do with societies is…there are no societies I really like living in so I just create my own societies.
Jaden: Yeah, Willow's been creating societies since she was four.
T Magazine: Creating societies?
Willow: Exactly. Not real societies but the idea that you yourself are a society, and by extension all societies are part of a larger framework designed by a higher being, and that higher being in fact is you.
Jaden: Yeah, because living.
Willow: Right, because living is something you have to do.
T Magazine: …..right. Uh. How has music shaped your young lives? 
Jaden: Willow just released a song, let me quote one lyric: "The." And that's a philosophy that we both share. The word "the" really takes shape if you think of it in terms of how melancholy that damn ocean is, or that tree, or even the ocean.
Willow: And I think, especially in collaboration, we've realized our potential. Our voices together…wow. Like how good pizza sounds that's how good our voices taste together.
Jaden: Like how good ice cream is to touch that's what our voices smell like together.
T Magazine: I'm curious how you both view time.
Willow: Time isn't really as big a deal to us, because after I released "Whip My Hair" I was granted the ability to make time go as fast or slow as I want.
Jaden: Yeah, Willow's been controlling time since she was about 12.
Willow: I can actually control how fast this interview happens and how slow you speak.
T Magazine: Oh my God…
Willow: [bursts into laughter]
T Magazine: I don't know how you did that, but Jesus Christ this is the final question. What's next for you two? 
Willow & Jaden (simultaneous): We want to climb to space.
Jaden: Some space Olympics level stuff.
T Magazine: I'm not sure that's possible…
Willow: No, you see I went to school for a year and realized "Oh, that's why kids are so depressed. They've never climbed to space." I think by the time we're both 60, 70 years old we'll have climbed into space a good amount of times.
Jaden: Because living.
Willow: Exactly.