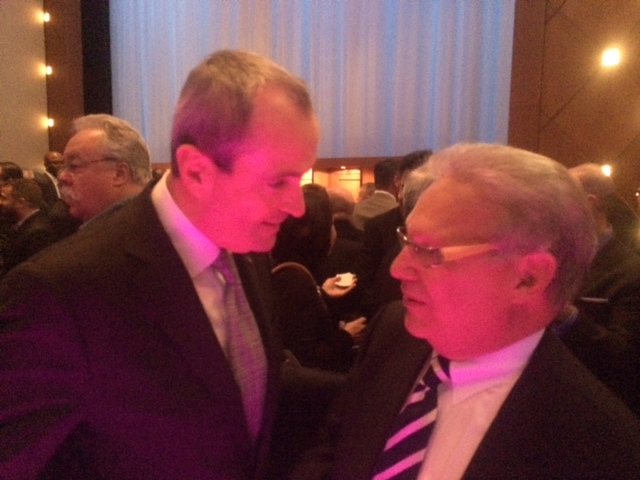 ATLANTIC CITY – Two members of the potential 2017 Democratic gubernatorial candidate sweepstakes arrived minutes apart at Bergen County Democratic Chairman Lou Stellato's League of Municipalities conference party at the Borgata on Wednesday, underscoring the importance of New Jersey's most populous county in any statewide power scheme.
Jersey City Mayor Steve Fulop strode into the event on Wednesday afternoon with his posse, confident as he greeted North Jersey allies such as Stellato and Bergen County Executive-elect Jim Tedesco, who were all smiles after their election triumph earlier this month.
"The turnout speaks to the terrific job that Lou and the team did over the last year," Fulop said as he surveyed the jammed room.
Fulop soon had to sail to state Assembly Speaker Vincent Prieto's (D-32) event close by. Then, in his wake, Phil Murphy stormed into the event like a commando motorboat on the beach.
After glad-handing intently and profusely, Murphy, a former U.S. Ambassador to Germany, headed out for the start of his own party, co-hosted by rock star Jon Bon Jovi at Bally's.
PolitickerNJ chased down the fast-moving Murphy and asked him if his appearance at Stellato's event was indeed proof that all roads to the New Jersey governor's office lead through Trenton.
"I've got a lot of friends in that room," said Murphy, smiling.