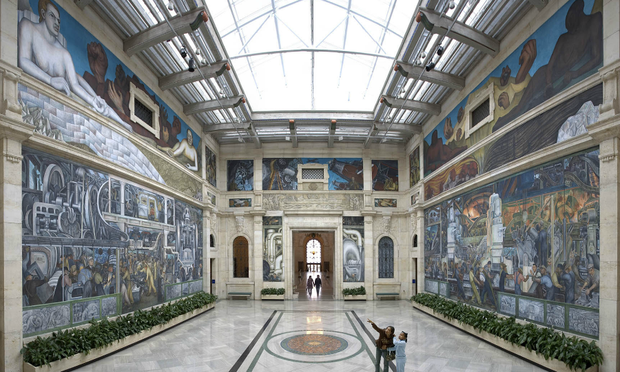 Today, Judge Steven Rhodes approved a restructuring plan for the city of Detroit that will officially allow it to exit bankruptcy in the coming weeks. The Detroit Free Press reported earlier today that the ruling also ensures the Detroit Institute of Arts' historic collection will remain intact, and that it "will not have to sell a single piece of art to pay off the city's debts or reinvest in services."
Chairman of the DIA's board of directors, Eugene A. Gargaro, Jr. said in a press release statement, "While bankruptcy is not a cause for celebration, exiting bankruptcy certainly is, and we are all extremely happy for the citizens of Detroit today."
"We are looking forward to refocusing our attention on art and the future of the DIA," added DIA director Graham W. J. Beal in his own remarks.
The city of Detroit made headlines on June 18, 2013 when it became the largest city in the U.S. to file for Chapter 9 Bankruptcy. In the months since, Detroit emergency manager Kevyn Orr incited fear with threats of pension and health care cuts, and all eyes were on the Detroit Institute of Arts to see if it would have to sell of its rich holdings. Diego Rivera's 1932-33 Detroit Industry frescos, and paintings by John Singleton Copley, James Abbott McNeill, and John Singer Sargent, are among the museum's collection of 60,000 artworks.
The creation of the "Grand Bargain," a plan that would funnel $816 million into the city over the next 20 years from nonprofits, the state, and DIA supporters, quelled fears with the promise of reductions to pension cuts and security for the museum.
Today, it was the "Grand Bargain" agreement that the judge approved. In accordance with the plan, the DIA and its supporters will pay $100 million toward the city's pensions. A press release from the museum stated that its "first payment in support of pensions is ready for transfer to the Fund for Detroit's Future at the Community Foundation for Southeast Michigan." It also affirmed "the DIA's collection and property will be transferred to the nonprofit corporation that has been operating the museum since 1998."
The Detroit Free Press reported that the Judge Rhodes deemed the plan "fair and feasible" and that it would allow the city "to cut about 74% of its unsecured debt, freeing up significant cash to reinvest in services."
Michigan's Governor Rick Snyder said in at today's live press conference, "We have a bright future ahead of us. Let's go get it done."