Having just won his fourth four-year term, the county executive of the most fertile Democratic Party stronghold in the state wants a fifth; talks 2017 governor's race; Gov. Chris Christie's presidential bid; and the latest developments in 2015 legislative politics.
WEST ORANGE – If Lou Stellato received the crown of Caesar in Atlantic City for having marshaled Democrats to fight and win, Joe DiVincenzo demanded the crown in absentia by virtue of having strategized sufficiently to not have to fight – and win.
Stellato positioned his Bergen County executive's candidate for victory earlier this month, while DiVincenzo endorsed Republican Gov. Chris Christie last year, walked unhindered through a Democratic Primary, then turned the general election into a non-event, as he put a 77%-23% (95,574-28,683) beat-down on one Peter Tanella, a Cedar Grove Republican wheeled out in front of the Democratic Party warhorses for the requisite slaughter.
Prior to the election, the countywide candidate in pursuit of his fourth term noted his position on the Democratic Party line. He had close ties to U.S. Sen. Cory Booker (D-NJ) and U.S. Rep. Donald Payne, Jr. (D-10) – as close as his ties to Christie. All three men would occupy that line, and even with his endorsement of Christie around his neck in a Democratic Primary, the line would prevail.
Joe D wasn't down at the League like those reveling others, the handful of hard-partying 2017 gubernatorial hopefuls among them.
"2017 is a long ways off," said DiVincenzo.
So is 2018, but the county executive didn't mind talking about it Friday in Mcloone's Boathouse.
"I'm running again," he told PolitickerNJ, as in – he wants a fifth term on the job, unconcerned – especially based on the results from this year – about an Essex Od of Joe D.
He routinely points to the record.
And he routinely delights in the political supremacy of Essex.
As he watched the League unfold from afar, did he feel they made fools of themselves down there, those would-be successors to Gov. Chris Christie, parading from event to event as if gubernatorial politics matters three years out?
"No, absolutely not," the executive said. "They're doing what's right for them. They're building their name recognition, but this all won't really start until 2016. Look, if Chris Christie runs for president, he will suck the air out of this race. Nobody in their right mind is going to endorse one of these guys right now."
Former Goldman Sachs CEO and U.S. ambassador to Germany romped in friendly fraternity throughout numerous League of Municipalities parties and hosted an event with his friend, rocker Jon Bon Jovi.
On his own, DiVincenzo's sat with him and talked to him.
Is Murphy another Corzine?
"He's got a great personality but I think it's a big problem for him," said DiVincenzo, referring to inevitable comparisons of Murphy to that other Goldman CEO alum, bounced out of office by Christie in 2009.
"He's [Murphy's] got to overcome that, maybe that's why he's doing it early,' he added.
League bar buzz continued to include the possibility of a 2017 gubernatorial run by Booker, a scenario that includes the following upward movement: U.S. Rep. Donald Norcross (D-1) to the U.S. Senate and Senate President Steve Sweeney (D-3) to Congress.
DiVincenzo wouldn't comment on speculative scenarios but again underscored his close alliance with Booker.
PolitickerNJ prodded him on Sweeney, another close ally.
Sources at the League referred to the senate president's misfortune in having to absorb the news from Christie confidant Mike DuHaime earlier this month that the governor will not retire his office early to run for governor. Such a move would have favored Sweeney, who already occupies a chair of power close to the governor's office.
The senate president's party at One Atlantic did not contain the same exuberance as last year, but one source noted the formidable political company in attendance at Sweeney's dinner, including Essex County Democratic Chairman Leroy Jones and Stellato.
"Steve Sweeney is a friend of mine," DiVincenzo acknowledged. "There are thing he has done that have helped not only the state but the county, including health benefits reform and even the 2 percent cap. Everyone is concerned with property taxes, but these things could not have gotten done without Sweeney's and the speaker's support.
"Steve's one that has to be considered, of course," he added.
Just as he considered Christie – and supported him, and continues to vigorously support him. The exec's son's on the state payroll with the New Jersey Department of Education. "When he gives you his word, his word is golden," DiVincenzo said of the governor.
But he can't actually believe Christie has a chance nationally, not with the Tea Party wing of the GOP intent on one of their own? "You'd have to consider him the frontrunner," the Democrat said.
But didn't President Barack Obama drive a stake into Christie the other night with his immigration reform announcement? Christie backed a state-level version of the DREAM Act and – in part through his relationships with Democrats like DiVincenzo and Union City Mayor Brian P. Stack – muscle flexed in last year's gubernatorial election with votes dredged out of Latin quarters. Won't the rightward scramble in a GOP Primary leave the New Jersey governor perilously on the left, and won't the President's move clip the issue for a Republican running in the general election?
DiVincenzo said he believes Christie will gain his strength as a national candidate in part from the relationships he has built. In the case of Latinos, he has a Republican ally in New Mexico Governor Susana Martinez. In Iowa, the governor has the potential to land support from old pal Governor Terry Branstad.
"Politics is about relationships," the executive said.
As for Obama's immigration action declaration on Thursday to protect as many as 5 million undocumented immigrants from deportation, "It's the first time he's stepped up to the plate," DiVincenzo said.
What about in 2009, when he tackled healthcare? "Healthcare – there has to be amendments and things in there that need to be changed," DiVincenzo said.
PolitickerNJ noted that Christie said he would be tougher with some of the tougher guys on the international stage, including Russian President Vladimir Putin. Does DiVincenzo truly believe Christie would be able to better handle someone whom his political mentor George W. Bush claimed was a decent man?
"Anything he says I believe," DiVincenzo said of Christie.
But what about those people who show up to Christie's event, people like local Hurricane Sandy activist James Keady, who get shouted at and disrespected? Does DiVincenzo believe that the pig and grain farmers of Iowa will really back that kind of bluster?
"He is who he is," said the executive of his friend Christie. "He never backs down from what he is."
Putting an exclamation point on his prediction over the summer that Christie won't leave early to run for president – which DuHaime confirmed earlier this month – DiVincenzo went further in his explication of Christie's designs.
"He won't leave the governor's office even if he gets the nomination, because he will not want a governor's election going on concurrently with a presidential election," he said.
PolitickerNJ pulled DiVincenzo back to county and district politics, namely the backroom happenings of the 29th Legislative District and his political relationship with Newark Mayor Ras Baraka.
DiVincenzo did not support Baraka in the May election.
Now people around the mayor would like to supplant establishment incumbents Assemblywoman L. Grace Spencer (D-29) and Assemblywoman Elian Pintor Marin (D-29) (neither of whom supported Baraka's candidacy) with Baraka backers Alturrick Kenney of the South Ward and Hector Corchado of the North.
It's fluid, but those two names surfaced out of League conversation in Atlantic City.
DiVincenzo supports the incumbents, and he is confident of the influence of Essex County Democratic Chairman Leroy Jones, who will ultimately craft the party line.
"Leroy and I will be together," DiVincenzo said.
Kenney told PolitickerNJ earlier this week that the mayor needs lawmakers in Trenton who will support his agenda. But allies of the executives note that Assemblywoman Cleopatra Tucker (D-28) is a prime backer of Baraka. Assemblywoman Sheila Oliver (D-34), Assemblyman Tom Giblin (D-34) and state Senator Dick Codey (D-27) were all in with Team Baraka.
So was state Senator Ronald l. Rice (D-28).
So was Assemblyman Ralph Caputo (D-28).
How can the mayor and/or his allies argue that he lacks sufficient alliances in Trenton when he has that kind of connective tissue to those players in the State Capitol?
County level sources say Jones will be able to shoulder those examples in the name of demonstrating an existing balance of power when he heads into discussions with the mayor.
Sources say if Baraka backs a run by his allies against Spencer and Pintor Marin, the county party chairman could find himself pressured to dump Tucker and Caputo from the line in the name of having to deliver heavy party firepower to a civil war.
If Baraka moves on LD29, the county could move on LD28, sources say.
In trying to remove two, Baraka could lose two.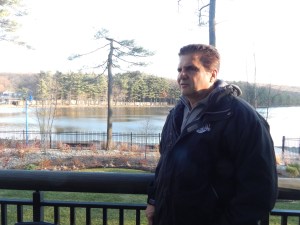 Sources say that dynamic is likely to dampen the mayor's will to run a primary slate.
DiVincenzo lingered on the topic without too much concern.
He backed Christie for governor in 2013 amid threats of a 2014 primary, which never materialized; shape-shifted to the mayor's race, where his candidate lost to Baraka, dealing the county executive his most visible political wound this year.
But that was a nonpartisan contest.
Now Baraka is on DiVincenzo's turf, or so argue the county executive's allies, to a man delighted at the prospect of a primary so they can recoup some of the luster they lost when Baraka beat Shavar Jeffries.
DiVincenzo was moving toward the back door of Mcloone's and onto another subject.
"We have a lot to do, that's why I want to run for a fifth term in 2018," he told PolitickerNJ, stretching his hand in the direction of the Turtleback Zoo.
"The zoo used to have 140,000 visitors each year, that was before I became county executive," he said. Now it's up to 700,000. It's the number one zoo in the state. We brought in sea lions last year. Now we're going to bring in giraffes.
"They'll bring in another 50,000 visitors each year," DiVincenzo added.
Legislative politics didn't worry him.
He would be with Jones, Jones would control the Democratic Party line.
And the line would prevail.