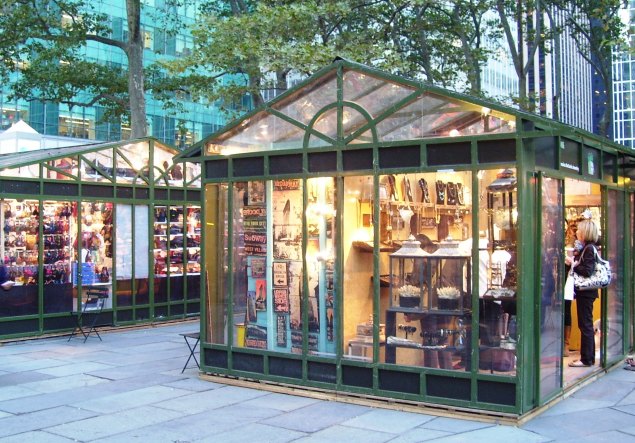 Some years ago, Dan Biederman, the the co-founder and current president of the Bryant Park Corporation, the nonprofit that oversees that park's management, came upon the longtime Chicago mayor Richard M. Daley—then in office—taking notes in Bryant Park. Parks ranked high among Mr. Daley's concerns, and he excelled at their administration. But he could not fathom, Mr. Biederman recently told the Observer, how New York managed to offer free ice skating in the park during the holiday season. "I'm puzzled," Mr. Biederman, who also co-founded the Grand Central and 34th Street partnerships, recalled the mayor saying. "I have no clue."
The solution, Mr. Daley might have guessed, was commerce—the introduction of Bryant Park's Winter Village, a host of temporary shopping and dining options that has arrayed itself behind the public library's main branch between late October and early January for the last nine years. Vendor fees subsidize the skating rink, which draws large, happy crowds, especially, Mr. Biederman said, from outer boroughs. The merchants' effect on the park's mood, however, has not been entirely neutral. (The rink itself, together with Celsius, a two-story restaurant, now stay open through the end of February; formerly sponsored by Citibank, the Winter Village is currently named for, and draws funding from, Bank of America.)
When it was conceived, the skating rink represented for Mr. Biederman at least as much an antidote to latent threats as a festive winter entertainment.
"We were thinking about making the park a 12-month-a-year asset rather than a 7-month-a-year asset," Mr. Biederman said. "We thought, 'Why are we giving up on the park through the cold season?' We were thinking about safety. There weren't many people in it. We thought there was more of a risk of [a violent] incident. Our December attendance numbers now rival those in June, July and August. We have so many eyes in the park through all seasons. It makes crime improbable."
That crime should loom large in Mr. Biederman's thinking might strike new, and even new-ish, arrivals to the city strange. It is a place of sunny lawn and quiet, wrought-iron tables plunged in shade—the province of ping pong-playing financial analysts, classic film screenings and beautiful, tottering fashion interns in bright summer-in-the-city dresses. Tom Colicchio is on the premises in the form of a 'wichcraft kiosk, and a lobster roll at the stately Bryant Park Grill costs $29. It has been called "one of New York's loveliest public spaces."
But Mr. Biederman, who oversaw the park's closure, wholesale revamping and much-lauded reopening in 1992, vividly recalls a different era:
"Basically, it was almost a killing ground—drug-selling, muggings, murders and rapes," he said of the park during the 1970s and 80s. His appraisal is not unusual. Writing about Bryant Park's overhaul in 1993 for the Times, Paul Goldberger called it "a moment of genuine joy" in the "physical fabric of New York," a near-miraculous contrast to the "harsh, dirty dangerous" conditions that were then widespread.
To Mr. Biederman, the park's cold winter dormancy appeared an opportunity for backsliding. Still, he said that the decision to enliven the park's stillness with a skating rink resulted in considerable "brain damage"—myriad headaches over how to put on an attraction that would cost millions of dollars annually; require a careful choreography of marketing, technology, public-private partnerships and traffic and sound-related issues; and which would cost visitors nothing. (For those without their own skates, equipment rentals represent the sole price of admission.)
Some years, Mr. Biederman said, Bryant Park Corp. turns a small profit on the Winter Village holiday shops—a collection of small Plexiglas merchant kiosks with forest green trim, which number 129 this year—that the organization can apply to other programming. Usually, though, the Winter Village's non-athletic attractions produce just enough revenue to cover the costs of the skating rink. (Celsius, an odd, misshapen affair in off-white that rises incongruously near the park's center with a kind of Stay Puft Marshmallow Man effect, makes little money.)
By most metrics, Mr. Biederman's efforts to spur park attendance through the cold season have been tremendously successful. (Though there was a shooting at the skating rink last year.) For all intents and purposes, though, Bryant Park looks and functions during the Winter Village months more like an outdoor mall than a park. Mr. Biederman suggested that the skating rink is used primarily by New Yorkers, while the shops draw a mix of natives and tourists. But it's difficult to imagine many New Yorkers thrilling to either the Winter Village's environment or its wares.
On an overcast afternoon last week, small groups toting guidebooks and backpacks predominated on the walkways on which the shops are set. The huts sold winter accessories, chocolate, inexpensive jewelry and fragrant candles. One sold stuffed animals, another metallic figurines inspired by science fiction films and comic books. A third hawked "edgy," often New York-centric t-shirts, as might be found at a Hot Topic. Through many corridors, the sort of candied cleanser aroma familiar to anyone who has ever been dragged to a Bath and Body Works hung in the air. Around the skating rink, a grungy mat of synthetic royal blue turf had been laid. A woman in pink leather high-top sneakers tugged at the arm of a male companion. "There's a Starbucks across the street!" she cried.
The park was crowded. But it was not vibrant. It was productive, but it was not particularly pleasant—at least not for one visitor who has valued the place in part for its being an exceptional space in a city whose territory seems ever more devoted to the getting and the celebration of stuff. But the mallification of Bryant Park was, after all, the solution to the riddle of the free skating rink, the one Mayor Daley couldn't crack. And it's hardly unique in ceding public space to commercial purposes—Grand Central has its Holiday Fair and Columbus Circle its market; Union Square has often been virtually impassable on weekends for the throngs eager stock up on all manner of organic goods from the Green Market.
Nonetheless, the binary philosophy that appears to underlie Bryant Park's Winter Village—and which many members of the city's corporate upper crust are fond of promoting—that our only choices for urban life are a wholesale embrace of unfettered consumerism or descent into savage, gratified ruin, seems to sell New Yorkers rather short. (No pun intended.)
Then again, Mr. Biederman is not the first to re-purpose Bryant Park's space in effort to lift it from desolation. In the early 20th century, Robert Caro wrote in The Power Broker, the park "had been allowed to become a haven for drunks and idlers. In 1932, the city obligingly trucked away two of the park's principal ornaments, eight-foot-high statues of Washington Irving and James Marion Sims, founder of the first women's hospital in New York, and allowed a 'George Washington Bi-Centennial Celebration Commission'… to erect a flimsy reproduction of Federal Hall, the building in which Washington was inaugurated, in the park and then fence it off and place turnstiles at its corners so that the public would be forced to pay admission to see the hall." The public, however, apparently had less affection for history than today's feels for yuletide tchochkes, and the gambit failed to raise funds: "Bryant Park was not reconstructed—and in January 1934 it was a weed-filled vacant lot."
The bi-centennial commission, Mr. Caro opined in a footnote, was "one of the more hilarious episodes in the city's history," a fiasco of graft and incompetence on a grand scale. City dwellers of the day, of course, likely failed to see the humor.