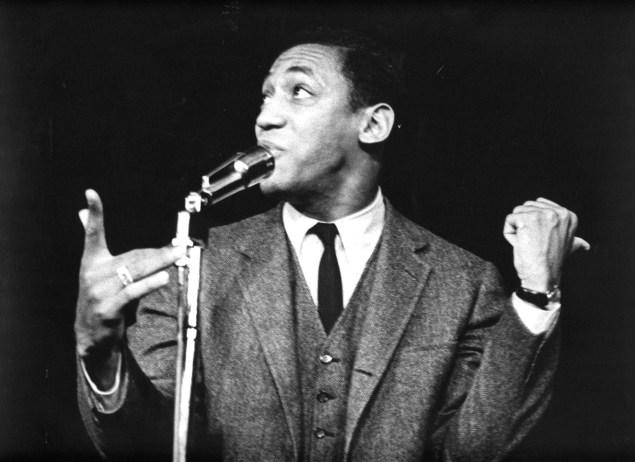 SATURDAY, November 8
For a comedian who has long specialized in mild comedy, Bill Cosby has made a lot of enemies. He wasn't angry enough in the '60s, wasn't profane enough in the '70s, and wasn't black enough in the '80s. Today a new generation of comedians scorn him, for offenses real or imagined. This "not enough" fails to acknowledge the outsize importance of his contributions — introducing Fat Albert and his gang as an animated urban morality play, the value of the Huxtables being No. 1 in American living rooms, the first black superstar pitchman. And you know what? All of that misses the point, too. Which is that… Bill Cosby is funny as hell.
A brand-new biography, Cosby: His Life and Times, has just been written by former Newsweek editor Mark Whitaker on the 30th anniversary of The Cosby Show and it reveals that the beloved Cos could even be edgy.
The book relates a story told by former Virginia Governor L. Douglas Wilder, who met Mr. Cosby after Bill and wife Camille donated $100,000 to a state education fund. Later, Bill Cosby was invited to speak at Virginia's quasi-public William & Mary College in 1993, where he was greeted by former Supreme Court Chief Justice Warren Burger, who was William & Mary's chancellor.
"Burger was wearing his full regalia," Wilder says, "and Cos says to him: 'You've got on more jewelry than Amos 'n Andy!' Can you believe that? To Warren Burger? I almost fell out of my chair!"
There was another side, too, a side that has fallen out of favor in a coarse world. Bill Cosby was a gentleman. Which makes this latest round of accusations all the harder to hear– and makes me hope even more that they're false. On March 5, 1978, Mr. Cosby was filling in for Johnny Carson as guest host on the Tonight Show. One of his guests was an insufferable child star of the time, Quinn Cummings, who had joined the cast of Family as the female version of Cousin Oliver. Miss Cummings had also appeared in the treacly Marsha Mason vehicle The Goodbye Girl, for which she somehow wrangled an Oscar nomination for Best Supporting Actress (maybe the 70s really did need to be more profane?). Anyway, Miss Cummings (who seems to have grown into a terrific adult, it should be noted) was hamming up the stage in particularly obnoxious fashion. It would have been easy for Mr. Cosby to skewer the 10-year-old princess, and one can rest assured that a David Letterman for instance would not have resisted that impulse.
Instead, Bill Cosby humored her and let her jabber away and basically conducted himself like the mensch he always has been.
My mother-in-law was so moved by this show of restraint that she wrote Mr. Cosby a letter thanking him for his decency. He wrote her back.
Bill Cosby will be appearing at Carnegie Hall on selected dates beginning November 8 through June 2015.