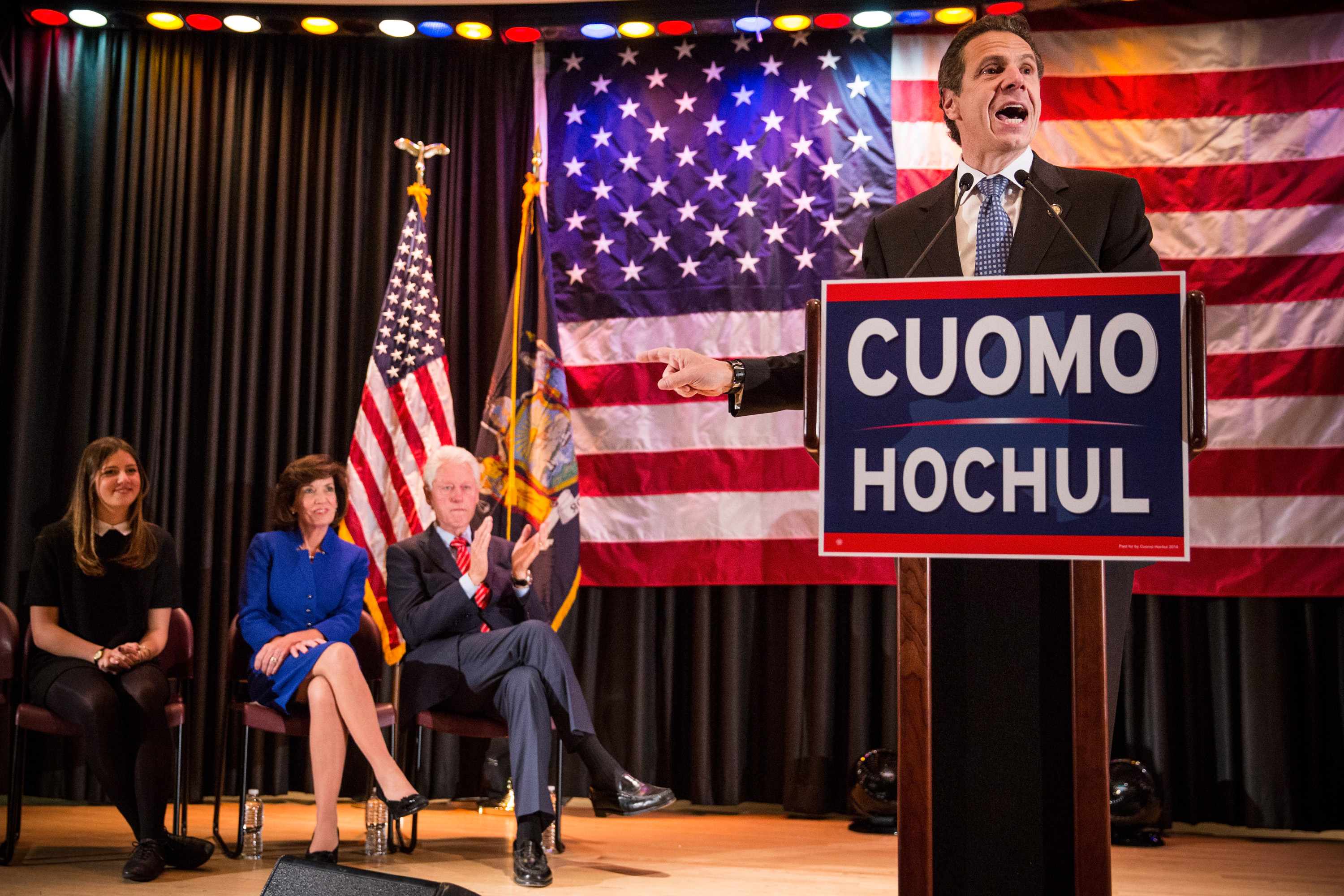 It's trite to write that so much is at stake this Election Day, when every single November has its own set of unforeseen consequences. But Election Day 2014, a midterm year nationally, does have a little zest here in New York.
Control of the U.S. Senate is, of course, at stake, and so is the State Senate. An increasingly unpopular but still plenty powerful governor faces another re-election test after stumbling in the September primary–at least in the eyes of pundits. Republicans throughout the state are feeling giddy about the possibility of knocking off Democrats in the House and successfully defending their incumbents, including a certain indicted, reporter-threatening congressman in Staten Island.
On Wednesday morning, the political calculus of our state and nation could be dramatically altered. Like on Primary Day two short months ago, here is the New York Observer guide to all the madness that's about to unfold in New York State.
Where does Gov. Andrew Cuomo go from here?
Just about everyone agrees, barring catastrophe, Mr. Cuomo is a lock to win re-election. But 2014 is nothing like Cuomo loyalists envisioned when they dreamed up his campaign a year ago. Mr. Cuomo, riding high from the passage of same-sex marriage and several on-time budgets, faced under-funded opponents in Democrat Zephyr Teachout and Republican Rob Astorino. Ms. Teachout, along with a third Democrat, won almost 40 percent of the vote in the September primary, a stunning number for a race that, by fund-raising numbers, was otherwise lopsided.
To add salt in that wound, Mr. Cuomo's memoir–a well-timed tome for a governor who was once considered to be a serious presidential candidate–could not even sell 1,000 copies its first week on the bookshelves. Enthusiasm for Mr. Cuomo, by all accounts, is not very high. Rallies draw only big numbers when loyal labor unions are carted in–real-life Cuomo fanboys and fangirls are hard to find.
But Mayor Bill de Blasio's star power, upstart liberals and unsold memoirs do not mean Mr. Cuomo is withering away like the Wicked Witch. He'll still be the governor, by far the most powerful official in the state, and if he demolishes Mr. Astorino–a 20-point or more margin would likely be preferred–he can still argue to lawmakers and the press that he is popular in the state and worthy of being respected (and feared.)
If Mr. Astorino sneaks within the low double digits, or even single digits, Mr. Cuomo will limp into 2015 and give Mr. Astorino a good reason to challenge him again in four years.
Will Mayor Bill de Blasio's State Senate gamble pay off?
Mr. de Blasio, an old political operative and staunch liberal, went all out to help the Democrats net the numbers they will need to be in the majority next year. He brokered a deal for the Independent Democratic Conference, now governing the State Senate with the GOP, to rule instead with the mainline Democrats after the elections. At the same time, he pushed the Working Families Party to endorse Mr. Cuomo in return for several concessions, including a higher minimum wage for New York City.
His involvement in several pivotal State Senate races (see below) has allowed Republicans to hang him like a liberal albatross on the candidates running in more moderate districts. Groups like New Yorkers for a Balanced Albany, a political action committee for a pro-charter school organization, and Jobs for New York, the PAC of the Real Estate Board of New York, are spending millions to defeat the Democrats. It's hard to turn on the radio or television and not find an ad bashing Justin Wagner, a Hudson Valley Democrat running in a swing district, or Adam Haber, a Long Island Democrat.
If the Democrats win enough seats to sit in the majority with the IDC, Mr. de Blasio will have a slew of friendly legislators with the power to make decisions that will help advance his progressive agenda. He will be cemented as one of the few New York City mayors with the proven ability to constructively throw his clout around upstate.
A loss, while not devastating, will hurt. If the GOP wins enough seats and the IDC goes back on their word to remain in a power-sharing deal with them, Mr. de Blasio will spend much of his first term wrangling with an already hostile, and now much angrier, Republican majority. Just as House Republicans stymie President Obama, State Senator Dean Skelos. the GOP majority leader, will have no reason to cater to Mr. de Blasio. The upside to a loss, as the mayor pointed out, is that the 2016 presidential year promises higher Democrat turnout and a chance to pick up seats.
What is going to happen with the State Senate anyway?
Republicans have a reason to feel confident: From Long Island to Rochester, polls show Republican incumbents and challengers leading in pivotal races that will determine who controls the upper chamber in 2015. But the gaps in most of those six key races appear to be narrowing, at least according to a Siena College poll released on Sunday.
Mr. de Blasio and Democrats are fighting to keep Cecilia Tkaczyk, a state senator who won by a handful of votes in 2012, alive against Republican George Amedore. Mr. Amedore is trying again to defeat Ms. Tkaczyk in an upstate district drawn specifically to elect a Republican. Even Democrats privately feel Ms. Tkacyzk, a darling of city progressives, will more than likely lose.
Ditto Mr. Haber, a Democrat taking on Long Island State Senator Jack Martins. The Nassau County district has elected Democrats before, but the collapse of Democrat Dave Denenberg's campaign in a neighboring district did not do Mr. Haber any favors. Mr. Martins, like Mr. Amedore, has held consistent and commanding leads in the polls.
State Senator Ted O'Brien, a Rochester Democrat, trailed Republican Richard Funke, a former television reporter, by 9 points in a November 2 Siena poll. Mr. Funke previously led the incumbent by a stunning 25 points in an earlier poll, giving Democrats hope that the momentum is with Mr. O'Brien. However, the swing district elected Republicans previously and a lower midterm turnout could mean the older, more affluent GOP coalition will have the edge there.
The true toss-ups are in the Hudson Valley and Buffalo. Justin Wagner, a Democrat, almost defeated Republican State Senator Greg Ball two years ago in a district just north of the city. The proud conservative is not seeking re-election, giving Mr. Wagner another shot at defeating a Republican, this time Yorktown Councilman Terrence Murphy. Mr. de Blasio lent an operative to Mr. Wagner's campaign and Mr. Murphy has benefited from hefty independent expenditures on his behalf. Either candidate can easily win.
In Dutchess County, State Senator Terry Gipson, a Democrat, is locked in a tight re-election fight against Republican Sue Serino. Mr. Gipson won a bruising three-way race two years ago where a Conservative Party candidate split votes with the Republican incumbent, Stephen Saland. Without a spoiler, Mr. Gipson's road to victory is tougher in a purple district where Mr. Cuomo and Mr. Astorino are also running neck-and-neck.
The oddest race of all is in Buffalo, where State Senator Mark Grisanti, a Republican, lost to a primary challenger in September. Mr. Grisanti, who voted for same-sex marriage in 2011, is a close ally of Mr. Cuomo's and is now seeking re-election on the Independence Party line. He is facing Democrat Marc Panepinto, Republican Kevin Stocker and a Conservative Party candidate in a four-way race. Mr. Grisanti is open to the idea of joining the IDC if he wins and Democrats see the wild-card race as a potential pick up.
The math can be confusing. If the Republicans net two seats, they will have an outright majority with 32 members. If the Democrats, who number 27(28 if you include the indicted John Sampson, a state senator booted from the conference after indictments), net zero seats but don't backslide, they can form a majority with the five-member IDC.
Does Michael Grimm crush Domenic Recchia Jr. in NY-11?
The Siena College poll showing Mr. Grimm, a Republican, leading Mr. Recchia by 19 points on Halloween night was a true shocker. When Mr. Grimm was indicted on fraud and tax evasion charges in April and his fund-raising streams dried up, Mr. Recchia was viewed by some as a favorite to win the Staten Island and Brooklyn-based seat.
Months later, the hot-headed Grimm appears to be running away with the race. Despite a massive fund-raising advantage and the strong support of the Democratic Congressional Campaign Committee, Mr. Recchia–a former Brooklyn councilman–has stumbled on the campaign trail, committing enough gaffes (not knowing anything about a crucial free-trade agreement, chalking up a foreign exchange program as a foreign policy credential) to warrant a Daily Show segment. Mr. Recchia is hiding from the press and inspiring little confidence among the Democrats hungry to oust Mr. Grimm.
Still, with a robust get-out-the-vote operation and non-stop television ads, Mr. Recchia can potentially make this race much closer than the polls show–and even win. If Mr. Grimm triumphs, he will go on trial next February and hinted he would resign if found guilty. Democrats and Republicans are already whispering about a potential special election sometime next year (paging Nicole Malliotakis, Michael McMahon and Michael Cusick) even though this race hasn't been decided.
Beyond the 11th District, it could be a good day for House Republicans in New York. In addition to Mr. Grimm's probable survival, Republican Elise Stefanik is poised to win the North Country seat held by retiring Democrat Bill Owens. Syracuse Congressman Dan Maffei, a Democrat, may fall in a swing district that punishes Democrats in midterm cycles and rewards them in presidential years. Long Island Congressman Tim Bishop, a veteran of tough re-election fights, could lose to Republican State Senator Lee Zeldin.
Is the Working Families Party in trouble?
The WFP had a banner year in 2013, playing a role in just about every major city election and coming out on top. This spring, they flexed their muscles and nearly bucked Mr. Cuomo to endorse Ms. Teachout, angering the Machiavellian governor and nearly tearing their party–a coalition of labor unions and liberal activists–apart.
The upside of endorsing Mr. Cuomo means the WFP will net the 50,000 votes necessary to remain on the ballot for the next four years. The downside? An unhappy liberal base and a governor who hates them anyway. Their union flank wasn't pleased that the WFP spent so long grooming Ms. Teachout in secret and liberals across the state may throw their protest votes to Green Party candidate Howie Hawkins, who can build on his 2010 showing. It also didn't help that several WFP-backed contenders lost competitive legislative races in September.
To allegedly spite the WFP, which Mr. Cuomo labeled a "fringe" party last week, the governor crafted the Women's Equality Party as yet another downballot line voters can support the governor on. Unlike the WFP, Mr. Cuomo is trying to raise awareness about the WEP and wielding a surrogate, former Council Speaker Christine Quinn, to boost the party's legitimacy. Even if the WEP doesn't get the 50,000 votes it needs to become an official party, it can potentially suck votes from the WFP.
For all the leverage the WFP carried into 2014, they could net fewer votes than the Green Party or other minor parties and slide further down the ballot for future elections. That's a possibility the WFP is dreading.
The leftovers
After barely surviving his 2010 race, State Comptroller Thomas DiNapoli had the breeziest statewide campaign of them all this year. Up against Republican Robert Antonacci, a poorly-funded candidate participating in the state's matching funds pilot program, Mr. DiNapoli is expected to win with ease.
Attorney General Eric Schneiderman is similarly favored, though his road to re-election has been tougher. John Cahill, the former chief of staff to Republican Gov. George Pataki, ran aggressive race against Mr. Schneiderman, trying to tie Mr. Cuomo's Moreland Commission scandal to the attorney general, who deputized its commissioners. Assuming a comfortable re-election, the ambitious Mr. Schneiderman–who never rules out a run for higher office–could begin to mull a serious gubernatorial bid. Given Mr. Cuomo's struggles with liberal Democratic primary voters and the chilly relationship between the two, the Upper West Side progressive may look make his move sooner rather than later.
Then again, Mr. Schneiderman, along with Mr. DiNapoli, will hold his election night party with Mr. Cuomo in the same Manhattan hotel. They are allies–for now, at least.