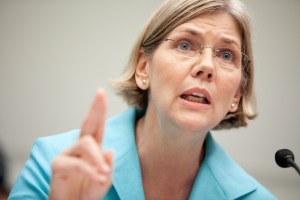 Elizabeth Warren continues to indicate that she will not run for President in 2016, but in recent months has moved from Shermanesque statements like "There is no wiggle room. I am not running for President," in July, to equivocating. In October, she told People Magazine "If there's any lesson I've learned in the last five years, it's don't be so sure about what lies ahead. There are amazing doors that could open."
It still remains unlikely that Ms. Warren will pursue the Democratic Party's presidential nomination in 2016. There are many reasons. Despite her popularity among the activist wing of the Democratic Party, she would almost certainly lose in the primaries to a better-funded, more experienced Hillary Clinton who enjoys widespread support throughout the powerful organs of the Democratic Party establishment. It is, of course, possible that Ms. Warren could defeat Ms. Clinton (others have), but it would be a very difficult challenge for the Massachusetts Senator.
Ms. Warren's decision not to become a candidate at this time, also helps her politically and may actually improve her chances of being her party's presidential nominee in 2016. By not running, Ms. Warren has, instead of immediately being seen as a threat to Ms. Clinton and the party establishment, made herself a resource for the Democratic Party. Given that, it's easier for Ms. Warren to emerge as the voice of progressive Democrats nationally and in the Senate. Yesterday, she was formally recognized in this capacity as Senate Democratic Leader Harry Reid appointed her to a leadership role in the Senate.
For Ms. Warren, this is much better than becoming a candidate and immediately feeling the wrath of a very well funded and well organized political operation supporting the non-campaign of almost-candidate Hillary Clinton. That wrath could close off fund-raising possibilities, close ranks of Clinton supporters of against Ms. Warren and effectively end her campaign before it started.
By not becoming a candidate, however, Ms. Warren leaves two potential paths to the nomination open. The first is simply to quietly continue to build her reputation and her fund-raising networks, as she continued to do this week with her appearance at the Democracy Alliance meeting, until she is better positioned to battle Ms. Clinton. The second is to be poised to run if Ms. Clinton does not become a candidate, which would lead to a vacuum within the Democratic Party. Ms. Warren is in as good a position as any Democratic politician, and in a better one than most, to step into a breach.
The 2016 race for the Democratic nomination was always going to be complicated by the presence of an extraordinary well known, powerful and indecisive frontrunner. Senator Warren, and every other prominent Democrat, must make strategic decisions about the race in that context. Thus far, Ms. Warren has played it smart, keeping her options open while avoiding turning into a target for attacks from within her party.
Lincoln Mitchell is the national political correspondent for the Observer. Follow him on Twitter @LincolnMitchell.