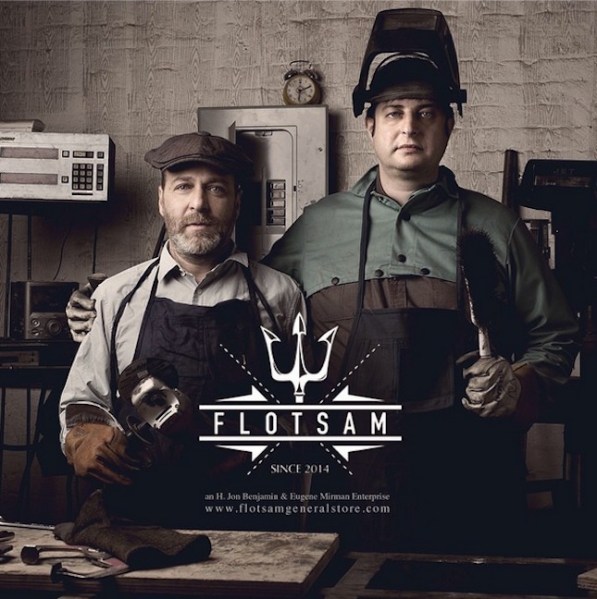 It's the age-old Christmas question that has dogged generations: what do you get for man or woman who has everything? Like all of society's problems in the digital age, the answers lie in the wisdom of celebrity-endorsed lifestyle blogs. This season, for example, Gwyneth Paltrow's Goop has scouted a thoughtful, monogrammed, earthquake preparedness kit with organic snacks for $350 (i.e., for one, a loved one's survival will cost an additional $50.) In the same price range, newcomer guru Blake Lively's Preserve offers the Olga Holiday Teepee, which updates the traditional seasonal yurt with "a energetic hand-printed geometric pattern." Additionally, the grand dame of gift guides (that is, the one that is not Martha Stewart), Oprah Winfrey suggests that an Ashton Kutcher-designed Yoga Tablet is an ideal way to express around $500-worth of your feelings.
If, however, these trinkets feel a little impersonal and predictable, fear not – comedians Eugene Mirman and H. Jon Bejamin, stars of Fox Bob's Burgers have created a solution. Enter the Flotsam General Store, an entirely new concept in celebrity shopping collaboration. Fans will recognize their voices and their wry humor from their work onscreen and off. Benjamin is best known for his cartoon voice work from Dr. Katz, Professional Therapist to FX's Archer series, while Mirman has long been fixture on the alt. comedy world, even hosting his popular, annual, self-titled "Eugene Mirman Comedy Festival."
For them, success is about what is on the inside; specifically, what is inside of their "Mystery Sacks." Available in small, medium and large, these unknowable bags offer consumers and fans a chance to own an artisanal item that has been "hand conceived" using "positive sourcing" methods. But what does this all mean? They took a moment recently from their busy schedules of performing, curating, shipping and handling to give us an inside look in to their new venture.
New York Observer: You describe the Flotsam General Store as a "Post-Structural Online Shopping Experience," can you expand on this thought for the more layman consumer?
Jon Benjamin: It may be just easier to read (Michel) Foucault's The Order of Things or Thomas Kuhn's The Structure of Scientific Revolutions and take a drink whenever you come across the word "paradigm."
Eugene Mirman: We're sort of like the now-defunct late-90s company "Kozmo," where you could pick movies or various things on a website and they will deliver them within the hour — except with us you can only buy a small bag and it will take 2- to 3-months for it to be delivered.
NYO: Who is your ideal customer?
JB: Creative types, non-creative types, morbidly depressed adolescents. Fans of our comedy, fans of Ron "Tater Salad" White's comedy, fans of knickknacks and "unusables."
EM: I would say confident women in their 30s and 40s and curious, 25-year-old men.
NYO: Tell us about your curation process. How does an item make the cut?
JB: We set a high standard for our concepts and designs and then we start to slowly cut away at those standards till we reach an acceptably low standard. We have high hopes to be able to make more items available that were too difficult to mass produce for the first go around. We are a bit like the apple computer of the maker movement- clunky and inefficient to start but in 25 years, flotsam will be probably be market dominant.
EM: We oil our hands up,  reach deep into each other's minds and pull out items we believe are reasonable to manufacture. We have three principles that we follow for these items — they must be honest, they must be a joy and they must be able to go in the wash, even if it ruins them — meaning, nothing is bigger than a washing machine.
NYO: Can you offer a sneak preview as to what your clientele can expect to receive in the Mystery Sacks?
JB: One of the items starts with an 'a' and ends with a 'n.'
EM: If you put any of these items in a toilet, it would either flush or clog it — but none belong there.
NYO: Where do you source the contents? Seriously, is this an elaborate way of cleaning out your desks and closets?
JB: None of the items are repurposed. I was going to throw in some of my old camp yearbooks, but I only had three of them. Eugene did want to want to include a cast iron outdoor fireplace, but it was cost prohibitive.
EM: It's true. I really wanted to include a fireplace, but it was way too expensive and heavy. All the items we are including are hand-conceived by us. None are repurposed.
NYO: Where do you fit in with Goop and other celebrity lifestyle brands?
JB: We're like Goop's socially awkward uncle.
EU: A lot of products in general claim to make your life better — the perfect sneaker to make you better at sports, the perfect beer to make you attractive — all those things are lies. Our mystery bag is the only actual product that can turn someone's life around — that can make an unwanted pregnancy, wanted — that can make a bitter family dispute over inheritance melt away. We sell bags of momentary happiness.
NYO: Any plans to expand the brand or do tie-ins with your hit shows?
JB: We would most likely get sued if we do that, but Eugene and I are both huge fans of law suits.
EU: No.
Sadly, this means Archer and Bob's Burgers-themed Mystery Sacks are off the table, so at least we can be sure of some things that are not in the bags. However, while what Flotsam actually sells may remain a riddle wrapped in an enigma stuffed into a lovely gift bag, it may yet prove to be the perfect thing for those hard-to-shop for friends and loved ones. Just imagine their surprise in finding one of these items – plucked right from the brain of these popular voiceover artists – under the tree…or on the floor where the tree would have been, since shipping takes a bit of time.