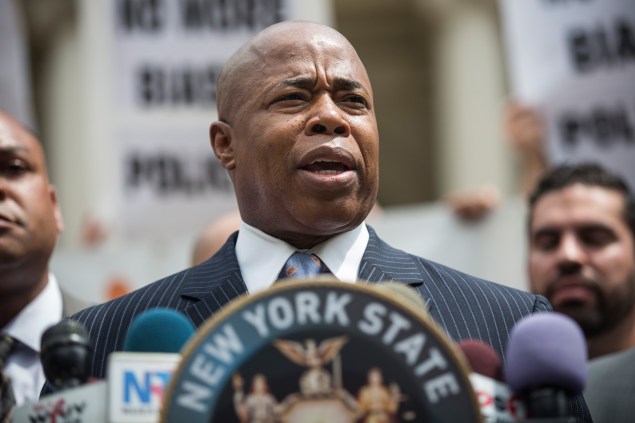 Brooklyn Borough President Eric Adams seemed to rebuke NYPD Commissioner Bill Bratton on the airwaves this morning for labeling the shooting death of Akai Gurley at the hands of Officer Peter Liang in the stairwell of a Brooklyn housing project as "an accident."
Speaking on the Brian Lehrer radio program, Mr. Adams–a former police officer and co-founder of the reform group 100 Blacks in Law Enforcement Who Care–denounced what he termed "a quick assessment" of the incident moments after the eponymous show host played a clip of Mayor Bill de Blasio's police chief speaking about the shooting last week.
"No one was in the stairwell but the victims and the police officers involved, and we cannot do what so many people do and make a quick assessment, we have to drill down on the evidence," Mr. Adams said. "Because we are talking about the continuation of someone's life, the termination of someone's life, and that must take a very thorough investigation to determine was anything inappropriate done, was it accidental action, or was it a criminal action, and I think the system must go forward to determine that."
Mr. Adams noted that the 27-year-old, fresh-out-of-the-academy Mr. Liang was patrolling the unlit stairwell with his gun drawn, and was partnered with another rookie officer, when he fired the shots that ended the 28-year-old Mr. Gurley's life. News reports claimed Mr. Liang was "panicked" at the time of the incident.
"Those houses, public housing, can be a dangerous environment in the stairwell. But when you are unholstering your gun and your finger is on the trigger, you put yourself at a disadvantage that you don't have time to make an important decision," Mr. Adams said. "That could have been a police officer that was walking in that hallway doing a vertical or inspecting the stairs. So by having an unholstered gun with your hand on the revolver, you can only jeopardize the lives of innocent people, and you also jeopardize the lives also of your fellow police comrades as well."
Mr. Adams echoed popular calls for first-year cops to work with veteran officers until they become accustomed to the daily stresses of police work.
"There should be a small transition to that environment, and you do that by having a seasoned officer with young rookies to help them through some of the apprehension, the fear, the uncertainty as you take your first steps as a police officers," Mr. Adams said. "We need to view this as a teaching moment on how we teach new recruits."
Update: Mr. Adams' office contacted the Observer to deny that his comments were intended to be critical of Mr. Bratton.
"It is inaccurate at best to characterize Borough President Adams' remarks on today's Brian Lehrer Show as denouncing or rebuking anything other than the tragic death of Mr. Gurley. He has been consistent in saying that every shooting, including this one, needs to be investigated thoroughly by the District Attorney's office in order to determine whether there was accidental or criminal behavior," said spokesman Stefan Ringel. "Thorough investigations are at the foundation of our criminal justice system, a system that the Borough President has worked in and fought to improve throughout his 30-plus year career in public service. Borough President Adams is proud to support Commissioner Bratton's ongoing efforts to advance the public safety of our city, and to work with him on the challenges facing this borough."