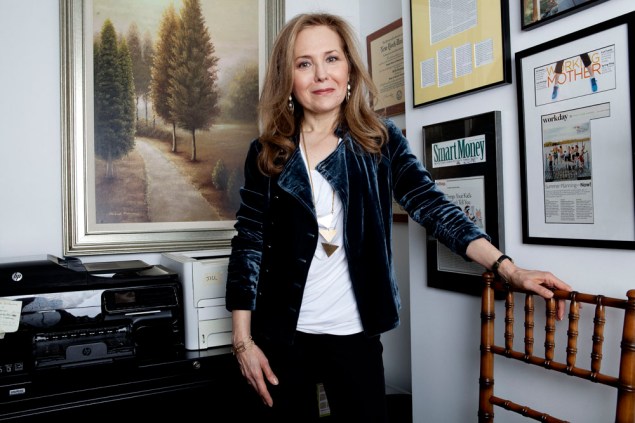 When Andrew Blum, 17, was searching for something to do last summer, his mother did what affluent parents have always done for SAT prep, sports coaching and tutoring—outsource.
"He'd already been on a teen tour, and I didn't think the usual college summer programs that everyone goes to or working for a friend of mine on Wall Street would be stimulating enough," his mother, Gale Eisner, says. "We were looking for something unique. I didn't know where to start."
Ms. Eisner was also looking for something that would help her son, then a high school sophomore, stand out when he applies to college next year. Despite a backlash against over-scheduled teens—a letter from Harvard's Dean of Admissions on the college's website urges applicants to opt for "an old-fashioned summer job" and "psychological downtime"—such pleas hardly quell the anxiety many families say they feel about the college admissions process, and summers in particular, as a season to beef up those CVs.
So Ms. Eisner turned to Jill Tipograph, a professional "pre-college planner," whose company, Everything Summer, helps teenagers pick summer activities that will impress admissions officers. Gone are the days when scooping ice cream or returning as a counselor to a favorite camp served to pad resumes. High-achieving teens looking to land a spot at an elite university have traded in summer reading for lab research, exotic travel and volunteering. The goal: spend the summer accomplishing something.
"I ask kids, 'What's your story? Who are you outside of school?,' " Ms. Tipograph says. "The top, top colleges in this country know from your transcript that you can handle the courses. But how are you going to contribute to the community?"
For Andrew Blum that meant highlighting his love of travel as well as the Mandarin skills he developed as an underclassman at Avenues, the Manhattan private school known for its immersion program and more than $43,000 yearly tuition. "I said, 'Andrew, this is what you're going to focus on. Let's make this your profile,' " Ms. Tipograph says. Of the menu of 11 experience opportunities she presented to Andrew and his mother in a 27-page proposal, he chose an internship in Shanghai and a leadership conference at Northwestern University in Chicago. "I got to really delve into business life in China," Andrew explains.
Ms. Tipograph's well-heeled clientele primarily hails from the Upper East Side, Tribeca and the fashionable parts of Brooklyn, but thanks to word-of-mouth she now counsels clients throughout the U.S., Europe and as far away as China. "Some of my families have to use code names," she reveals. "They are the 1 percent, discerning parents who want the their children to have the best summer experiences."
A petite woman wearing rimless glasses and an immaculately highlighted do, Ms. Tipograph, 55, looks very much like the lean-in parents she advises. Nowadays, she mostly makes house calls, but some families still visit her cozy Midtown office across the street from the Harvard Club. "I feel at home here on university row," she says.
Ms. Tipograph herself attended NYU for both undergrad and business school and spent many years in marketing. After she endured the arduous process of finding a suitable sleepaway camp for her own daughter, she turned her attention to camp selection consulting. ("I thought, 'Hey, maybe I can make a career out of this,' " she says.) Business boomed, but she found that as her clients aged out of camps, they were looking for what to do next. Thus, her pre-college counseling program was born. Though Ms. Tipograph may be one of the few consultants focusing mainly on summer planning that may change soon. "Increasingly, our consultants are assisting families with an exploration of summer and gap year options," says Mark Sklarow, the CEO of the Independent Educational Consultants Association, which Ms. Tipograph belongs to.
Today Ms. Tipograph advises roughly 100 teens a year and has become, in her words, "a full-service family concierge." She not only scours the world for educational and enrichment opportunities, she also helps families fill out the paperwork, make payment deadlines and recommends any number of development specialists. "Food allergists, people who help with learning processing challenges, college consultants … I know them all," she boasts.
Part CEO, part den mother, part therapist, Ms. Tipograph talks a lot about "teaching kids resilience" and "unleashing their potential." She spends at least an hour and a half in an "intake meeting," delving into each kid's psyche: Do they prefer academic enrichment, sports or service? Do they need air conditioning or is a tent an option? Then she makes parents leave the room so she can confer with the teen in private.
"She was really great drawing information out of my son," says Pamela Rausch, another Manhattan mother who enlisted Ms. Tipograph's help. "I couldn't come up with any summer ideas that he didn't find suspicious, but she was able to immediately put him at ease." Ms. Tipograph found her son, Emil Hottenroth, 17, both an engineering program at George Washington University in Washington D.C. and a travel program in Hawaii where he could surf, snorkel and backpack. "I even fulfilled my high school's [Packer Collegiate] community service requirement on the trip," he says.
After the initial meeting, Ms. Tipograph and her team—she employs an assistant and a few researchers—will find between 10 and 12 programs that fit the family's wish list. For the adventurous "techy," she might recommend kayaking in Colorado and a coding program. A theater-loving teen? A focused experience in musical theater, complemented by a rigorous program in playwriting. The gifted golfer? A junior master's program. Though her clients have deep pockets and large networks, Ms. Tipograph sometimes must temper expectations: "If, for example, you want your child to do biomedical research—the type that usually goes to a college grad—then I can't help you," Ms. Tipograph acknowledges.
Ms. Tipograph charges $350 per hour and works on retainer. But Ms. Eisner, Andrew Blum's mother, says her investment paid off. Andrew was one of 100 students recently nominated to be part of the prestigious 100,000 Strong Foundation, which aims to strengthen U.S.-China relations. "Andrew's China story, the experience he had there, is going to be a big part of his college application. Hopefully that will differentiate him," she says. "And get him in."
Stephanie Abrahams contributes to The New York Times, Forbes and TIME magazine.