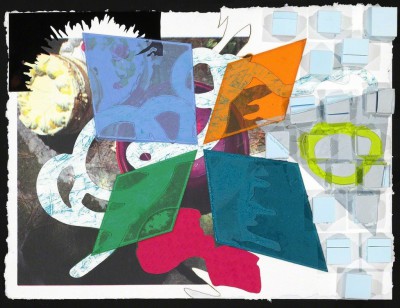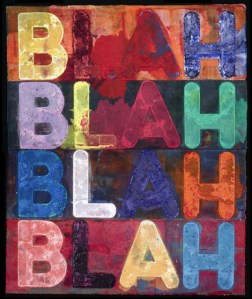 Artists Will Cotton and Alex Katz showed up. So did Lee Fensterstock, who heads up Marco Polo Capital Markets, and industrialist Nelson Blitz, Jr., along with museum curators from the Museums of Fine Arts Boston, Houston and MoMA. Interior designers Juan Montoya, Matthew Patrick Smyth and Sandra Nunnerly were also among the 1,500 people on hand for the opening of the Print Fair, held annually by the International Fine Art Print Dealers Association
Why the crush?  "Michael Kimmelman (New York Times art critic) called print collectors train-spotters," said author Ann Fensterstock, who, along with her husband Lee, has built a formidable collection by heavyweights Henri Matisse, David Hockney as well as Ellsworth Kelly and Bushwick artists, too, over the past twenty-five years.
The  fair, at the Park Avenue Armory at 67th Street, is open through Sunday afternoon. The surprise is that, beyond the requisite Rembrandt and Whistler etchings, William Blake engravings and period Japanese woodblocks, there's a ton of contemporary work, even 21st-century work, on view this year. For instance, the L.A. branch of Gemini is sporting a Robert Gober Untitled lithograph of prison windows.
New York's downtown Two Palms is offering Jessica Stockholder's inventive 2009 Swiss Cheese Field 6, a monoprint with silkscreen, felt fabric, laser cuttings and chunks of Styrofoam priced at $15,000.
Mel Bochner's 2014 mixed media Blah, Blah, Blah, tagged at $85,000 at the Two Palms booth, sold quickly opening night. Powerhouse print collector Jordan Schnitzer, who flew in from Portland, Oregon snapped up that work in Day-glow magenta with acid yellows and greens.
Two Palms is also offering 2012 Chuck Close Woodburytype images, meaning they are produced in an 1860's photography process. There's Obama in happier times, an unblemished Kate Moss and even Brad Pitt. For images of such depth, they're a mere $7,500, though a diptych of supermodel Kate costs $20,000.
The Old Print Shop, not so old here, has Peter Milton's Sight Lines 2012 IIIEclipse. It's a collaged archival digital print on film, encased in an LED light box. The captivating 19th-century Paris street scene is complete with a Metro stop.  There's a monkey, a curled up cat and even an image of Georgia O'Keeffe.
Chelsea dealer Mary Ryan is showing work by Korean artist, photographer and painter Sangbin IM (that's his name: two capital letters together.)  "He shoots multiple images, Photoshops some by changing scale, upping color saturation and repositions others in a collage like manner while painting portions, which he then photographs," explains Ryan.  The price of 2014 Highline is $15,000.
But going further back in history, Upper East Side works-on-paper specialist C. G. Boerner is hawking a grand 1714 engraving of the Duc de Villars in armor with an ermine-trimmed cloak. It's by no less than Pierre Drevet who served as royal engraver to the court of Louis XIV. And that regal image costs $3,500.