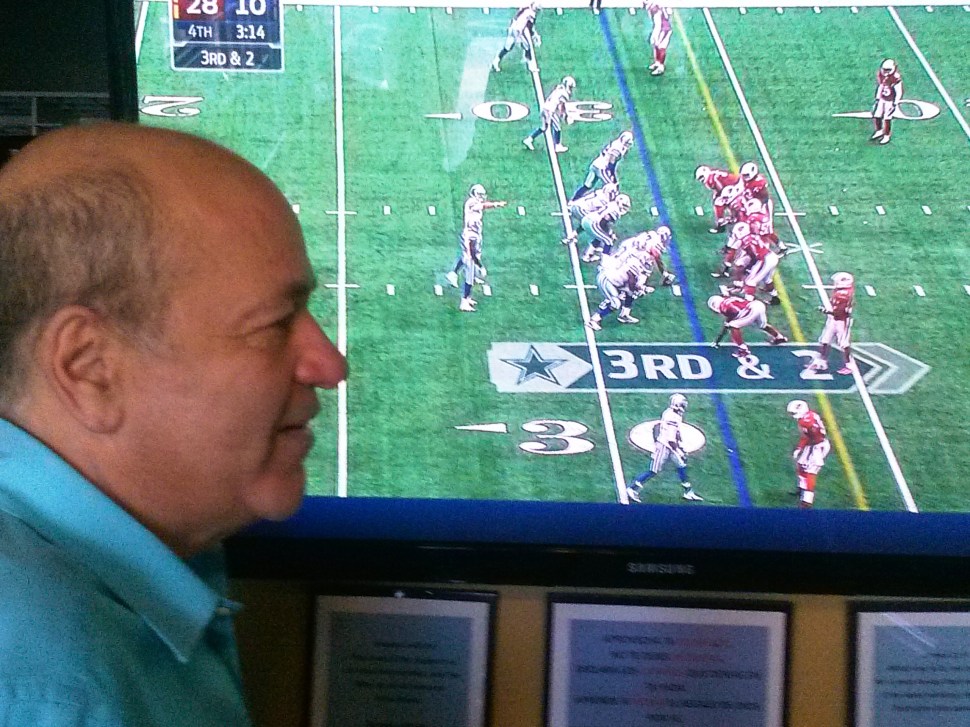 ELIZABETH – There is an excruciating war going on here with long-term political consequences under the deadpan reality of a less than competitive contest at the top-of-the-ticket.
It comes down to this on Tuesday: Rafael Fajardo and his two allies on the ballot and control of the local Board of Education they have run since 1996, up against a PAC affiliated with state Sen. Ray Lesniak (D-20) and the Union County Democratic Line headed by U.S. Sen. Cory Booker (D-NJ).
"Every kid from Grade 3 on has a laptop now; I watch the kids in their school uniforms; three Blue Ribbon schools – School No. 21,
22, and 7," said Fajardo, in his office a short way from downtown, where a sign stands: "SOS: Save Our Schools. Stop City Hall Takeover."
It's emotional for him.
A Cuban immigrant, he still carries the School Identification Card he had when he went to George Washington School No. 1.
He sees Lesniak advancing on the 26,000-child school system he carefully constructed over many years, which will unravel the day after Election Day if he and Paul Perreira and Stefano Calella lose to Ana Maria Amin, Malik Jackson and Maria Caravalho, in his view.
This wharf-front gladiatorial contest goes back years.
Building on years of political success and local School Board dominance, Fajardo had Lesniak on defense in 2011 as his organization took Elizabeth in the primary but lost district-wide.
Lesniak proceeded to go on a tear after that, weakening the Board of Ed through a variety of devices until handfuls of Fajardo's closest allies ended up arrested for fraud, one of whom – Marie Munn – became the face of abuse in the school lunch program.
In 2012, Lesniak's ally Mayor Chris Bollwage ran over the Fajardo team's challenger and last year, the outfit again got clobbered in the primary.
"I had double knee replacement surgery in the 2011 Democratic Primary," Lesniak said in the lead-up to a much more convincing win over 2013 challenger Donna Obe.
Now Lesniak has Fajardo backed up and chopped down to that last strand afforded by the school board majority, hanging in the balance after Lesniak and Bollwage picked off one seat in 2012 and then two last year.
"They are greatly weakened after we exposed their chicanery and skullduggery," Lesniak groused, as the PAC associated with him, the Committee for Economic Growth and Social Justice, ramrods salvo after salvo against Fajardo's "Continue the Progress" slate.
"Why did the Board of Education take money from YOUR pocket?" one piece exclaims. "To pay over $5.5 million dollars in unprecedented legal fees, more than any other district in the state."
Out if they fail to win two of the three seats in question, Fajardo and his allies are hitting back hard.
"Senator Lesniak and Mayor Bollwage will have absolute control of the Board of Education budget if Jackson and Caravallo are elected," reads one partisan newspaper piece. "$489,000,000 million dollars of the childrens' money is at stake."
Jackson works at the City Hall Health Department. Caravalho works as a zoning officer for the city.
"You're talking about eliminating independent control of the school board and giving it to City Hall," Fajardo said – and to Lesniak, the senator with close ties to the casino gaming industry.
Fajardo said he estimates that by the time it's all over, the Committee for Economic Growth and Social Justice will have led a $500,000 effort to remove him from office Tuesday.
Lesniak was out of town today – and will be through Election Day.
"He's in Paris – that's how confident he is of victory," Fajardo cracked.
The senator's chief of staff, Tony Teixeira, pointed out that Lesniak is in France to receive an award and to speak at the New Jersey State Bar Association mid-year conference, but otherwise would be in attendance at a victory party Tuesday night.
The organization took up the slack.
At a rally at the Portuguese Club earlier Sunday, a charged-up Booker leapt through a door onto a stage backed by some others on the ballot here, Assemblyman Joe Cryan (D-20) among them; he's running for sheriff.
There were out-of-town fledgling gubernatorial candidates in attendance too, prominently displayed: Jersey City Mayor Steven Fulop and Assemblyman John Wisniewski (D-19).
Assemblywoman Annette Quijano (D-20) ran the 500-person event, along with veteran aide Julie Diaz.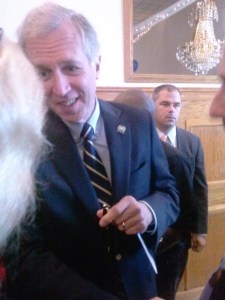 "The pundits say we're going to stay home," Booker cried to the Latino and Portuguese crowd. "We cannot wait. We should not equivocate. We need to pass comprehensive immigration reform right now."
The line got a big roar from the audience.
Somewhere Booker's Republican rival Jeff Bell cringed.
Going after the Latino vote in a limited, underfunded way, Bell has argued throughout this contest that Booker's White House ally, President Barack Obama, could have accomplished immigration reform when his party controlled both houses of Congress.
"Instead he focused on other things, like the Affordable Healthcare Act," Bell complained.
But Bell doesn't have Booker's money to get that message out there.
If he has friends in Elizabeth, it's among those Elizabeth Board of Education allies who argue that the presence of a weak Republican challenger to Booker – and a weak challenger to Cryan – will indeed depress turnout.
Booker's at the top of Line A above Lesniak and Bollwage's Board of Education candidates.
Elizabeth is overwhelmingly Democratic.
The senator and mayor are confident that the ballot itself will be the guillotine blade that falls finally on the wounded Fajardo and his team.
"We're hoping the fact that Bell is on the opposing ticket will put Elizabeth to sleep," said a hopeful source close to the BOE leader.
The longtime vanguard of this outfit, Fajardo had been off the board for three years and eleven months when he and his fellows decided on May 8th that he would replace a board member who would not be pursuing re-election.
"My family knew it would be ugly," Fajardo said. "They knew Lesniak is the man who once said to me, 'Everyone has a price, what is yours?'"
He looked out at the city.
"If they get in there on Tuesday, they're going to take Jennifer Cedeno out as assistant superintendent and replace her with Frank Cuesta," Fajardo said. "Jennifer Cedeno is a superstar. She made School No. 7 into a Blue Ribbon School. Frank Cuesta?"
The BOE's leader's eyes drifted up to the football game on in his office.
"That's like pulling Peyton Manning off the field and replacing him with… Mark Sanchez," Fajardo said.
If the powerful, politically connected PAC tattoos Fajardo and his crew on Tuesday, sources say the implications of that kind of spending mechanism on local politics will reverberate beyond the dimensions of this local battle between two proud warlords and across North Jersey.
Amid the coming and going of BOE workers on a Sunday afternoon, Fajardo stocked another runner with supplies to take into the field in preparation for Tuesday.
She was keeping a frantic pace.
"My sister," Fajardo said.