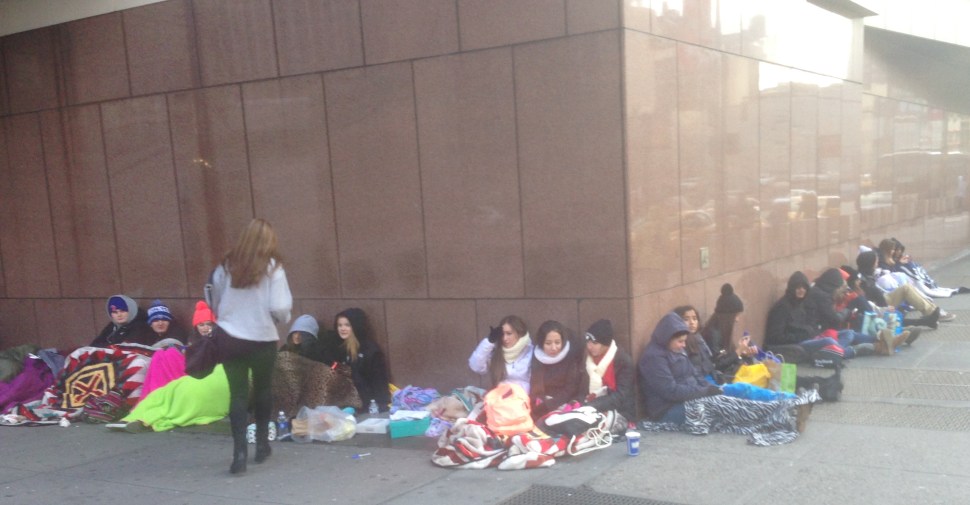 As the weather turns frosty, much has been made of the sudden increase in homelessness around New York City. But that's not what's happening in this photo, which depicts young people clad in blankets and winter clothing on the perimeter of Madison Square Garden.
These young and chilly waifs were not homeless at all (at least not the ones to whom the Observer spoke Friday morning) but instead had been waiting since Thanksgiving night in hopes of a better spot on the floor at tonight's Hoodie Allen concert.
Hoodie Allen—aka Plainview, Long Island sensation Steven AJ Markowitz—has built his rabid following the hard way. The adorable rapper's debut album, "People Keep Talking," was released last month and cracked Billboard's Top 10 despite virtually no airplay or support from mainstream media. So he's gone around the tastemakers, offering to call everyone who bought his first record personally (he says he's logged about 28,000 calls so far) and giving out his real phone number to fans who want to leave a voicemail that might make it onto a record. His impossibly tuneful "No Interruption" video, featuring a highly hair-gelled Markowitz in a Knack-era skinny tie with requisite rap video girls, has notched 17 million views and counting, with observations like
I gotta fake ID and a check list.
It goes never meet a girl on Craig's List.
And never spend your money on a necklace.
3 square meals, homie gotta have breakfast.
Innovative marketing strategies should come as no surprise from a rapper who graduated from Wharton and took a job as an exec at Google before deciding to pursue his passion for rhyming full-time. Self-described devoted members of the Hoodie Mob, several eager fans told the Observer that it was an honor to spend the holiday preparing to greet a hometown hero.
My favorite song is "Cake Boy," chirped Rebecca, pleased to have come from Bellmore on Long Island's south shore, "only fifteen minutes from Plainview."
"Small Town," piped up Gianna Varriale, who comes from Nutley, NJ. With mention of the heavenly fare at her hometown's Ralph's Pizzeria, Ms. Varriale proudly informs the Observer, "I almost got a job at Ralph's." She arrived at 7 am because, "The earlier you get here, the better seat."
Andrew Sutton and his friend Jared came from central Jersey, arriving at about 4:30 am. Mr. Sutton cites as his favorite "A throwback song called 'No Faith in Brooklyn.'"
One young lady said that the colder it got, the more it mattered that she be up close in the free-for-all general admission seating. As she devoted herself to perfecting what appeared to be her fourth or fifth hand-lettered sign, her friends began talking to the boys in line just behind them.