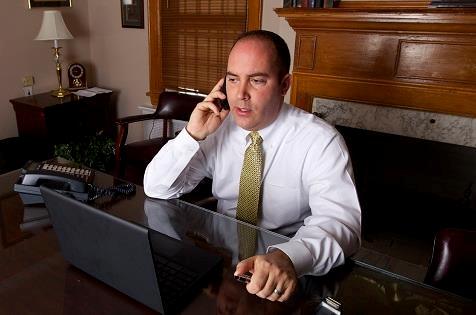 To those onlookers from the far side of the county border, one of the surprise outcomes of Election Night occurred in Passaic, where incumbent GOP Clerk Kristin Corrado hung on and defeated Democratic challenger Jeff Gardner.
Many observers assumed Gardner would get coat-tailed by U.S. Rep. Bill Pascrell (D-9) and U.S. Sen. Cory Booker (D-NJ) in a majority Democratic county.
While it didn't work out that way, Gardner isn't bitter, and says he knew from the outset that the contest would be extremely competitive.
Several key dynamics contributed to the result.
"The perception from outside the county was at odds with the county," said the chairman of the Hawthorne Democratic Party, an attorney by trade. "It was an uphill race for me. They were hard pressed to find anyone to go up against Kristin because they didn't think she was beatable. At the start it was believed no one could win, but when I became the candidate people thought 'maybe he can win.'"
Corrado beat Gardner 41,785 to 40,532.
Her margin of victory roughly equaled the advantage she had over Gardner in vote by mail ballots: 1,100 – a margin that occurred only in the clerk's race. The successful Democratic freeholders won the vote-by-mail duel with their challengers by 300 votes. Local Republican leader Peter Murphy – a former regular Republican Party chairman – drove that effort.
"They obviously had a very concerted effort by the VBMs," Gardner said.
PolitickerNJ asked Gardner how his hometown performed for him, and asked whether there might have been any lingering bitterness on the part of those wounded allies of former state Sen. John Girgenti (D-35).
Following Girgenti's nay vote on marriage equality, Gardner wrenched the chairmanship of the local party organization away from the long-serving-senator. Then redistricting relegated Girgenti to the 2011 slag heap.
Gardner said he hit his vote projections in Hawthorne.
"In the clerk's race in 2009 when we first lost this office, Kristin Corrado won Hawthorne by 1,200 and change and this year we lost by just shy of 500," said Gardner. "Those are good numbers, well within our target. I have no doubt there are some lingering effects from past battles but that's part of politics."
Murphy's local sphere of influence in Woodland Park pulled votes into the Corrado column. Democratic Freeholder Terry Duffy – a tavern owner in Paterson – bought an early event ticket for Gardner but supported Corrado.
The fact that the incumbent Republican mayor of Clifton was among 15 candidates running for local council seats – only two of whom were Democrats – also probably played a factor in flattening Gardner's chances.
Corrado has strong ties to Clifton.
But Gardner said he loved running and wants to run again.
"Running in Passaic County is incredible," said the candidate. "People are living such diverse and interesting lives – lives that you would never see unless you were involved in a campaign. It was very rewarding. I regret we didn't get the win in the end. But people say the close ones are the hardest. I don't think so. I think it's harder to get lose in a landslide. I am at peace with the close outcome."