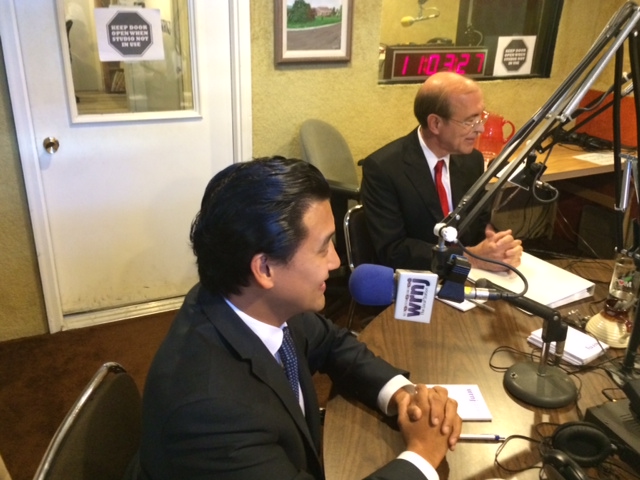 Rep. Scott Garrett (R-5) upbraided President Barack Obama in the wake of last night's executive order on immigration.
Garrett argued that by granting work permits to approximately five million undocumented workers, the President would violate his oath to uphold the Constitution.
"After repeated admissions that the Constitution precludes him from granting amnesty, President Obama has chosen to cast aside his oath to uphold the supreme law of the land and is going to grant amnesty anyway," Garrett said. "The president's frustration with Congress, as the Washington Post's editorial board noted, 'doesn't grant the president license to tear up the Constitution.'  No provision of the Constitution grants the president the power to change the law simply because the president disagrees with Congress.  This sets a fatal precedent – is there no longer any limit to a president's power?
"…President Obama has also turned his back on American workers and law-abiding immigrants.  At a time when American workers are desperate for jobs, the president has decided to unfairly reward those who have blatantly broken the law with blanket amnesty and work permits, allowing them to directly compete with American workers for jobs that are hard to find already.  I am committed to undoing the damage this unconstitutional action will have on our republic."
The movement conservative congressman cited a New York Times article in which Obama himself explained why he could not act on this by executive order.
In a Telemundo interview in September 2013, Mr. Obama said he was proud of having protected the "Dreamers" — people who came to the United States illegally as young children — from deportation. But he also said that he could not apply that same action to other groups of people.
"If we start broadening that, then essentially I'll be ignoring the law in a way that I think would be very difficult to defend legally," Obama told Jose Diaz-Balart in the interview. "So that's not an option."
During a news conference in Australia, he said that his earlier answers about the limits of his executive authority were prompted by people who asked him whether he could enact, by fiat, a bipartisan immigration bill that had passed the Senate, which would have provided a path to legalization for more of the 11 million unauthorized immigrants here.
"Getting a comprehensive deal of the sort that is in the Senate legislation, for example, does extend beyond my legal authorities," Mr. Obama said Sunday. "There are certain things I cannot do."
The President was pressed on that very issue during a Google Hangout in February 2013. An activist asked whether he could do more to keep families from being "broken apart" while Congress remained gridlocked on immigration legislation.
"This is something that I have struggled with throughout my presidency," Mr. Obama said. "The problem is, is that I'm the president of the United States, I'm not the emperor of the United States. My job is to execute laws that are passed.
Earlier this week, the President insisted to the New York Times that he had not changed his position.
"During a news conference in Australia, he said that his earlier answers about the limits of his executive authority were prompted by people who asked him whether he could enact, by fiat, a bipartisan immigration bill that had passed the Senate, which would have provided a path to legalization for more of the 11 million unauthorized immigrants here."
"'Getting a comprehensive deal of the sort that is in the Senate legislation, for example, does extend beyond my legal authorities,' Mr. Obama said Sunday. 'There are certain things I cannot do.'"